How to Get Text Messages from Someones Phone without Touching The Actual Phone
Da, ai auzit bine titlul, acum este posibil să spargem de la distanță mesajele text ale cuiva pe telefonul mobil cu tehnologia pe care o avem în prezent posibilitățile sunt nelimitate. Astăzi, rareori vezi că cineva nu folosește smartphone-uri precum Android, iOS și Windows, acestea au capacitatea nelimitată în comparație cu telefoanele mobile normale cu memorie mai mare și milioane de aplicații dezvoltate de pe piață, ai nevoie doar de cineva care să codeze un program pentru tine .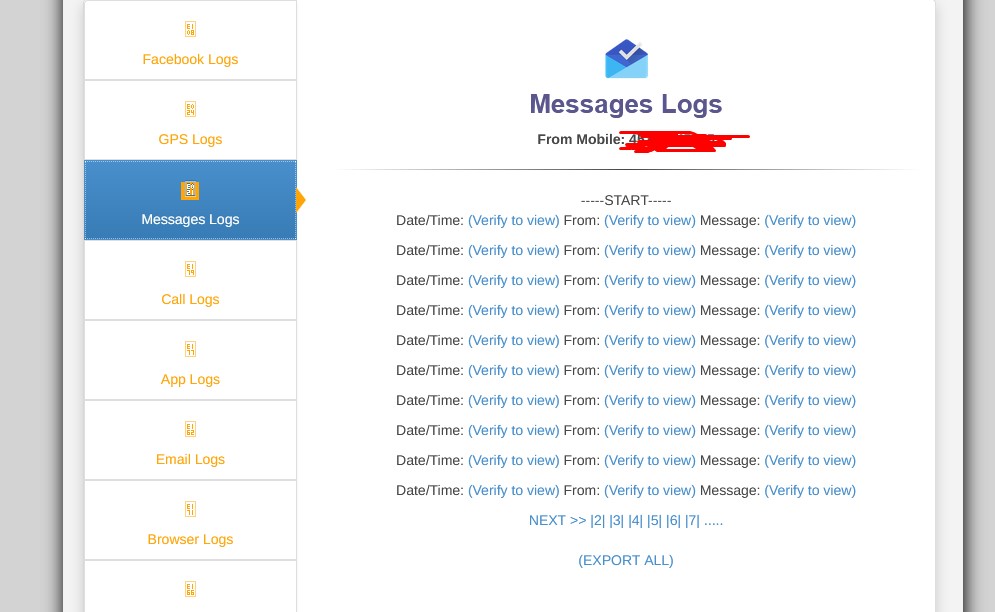 ACTUALIZAȚI: We are proud to say that this method still works after 2 years of revealing! Constantly updated to this year 2023.
Procesul include descărcarea de la distanță a tuturor mesajelor de pe telefonul mobil prin intermediul internetului. Gateway-ul dvs. este numărul mobil al victimei. Trebuie să achiziționați numărul mobil al victimei și să îl introduceți în câmpul unde cere. Victima trebuie să fie conectată la internet conexiunea WIFI preferabilă, deoarece datele nu sunt destul de stabile. Detalii complete despre instrucțiunile de mai jos.
Crearea de la distanță a mesajelor text de pe telefonul oricui utilizând numărul lor de mobil

Sounds like magic right? However, this is a possible thing to do with the software tools I am going to share with you below you can just list James Bond on their mission impossible movies with high-end spy tools. Spy anyone, even your cheating husband or wife. Are you ready? Read the full instructions below to get started.
Legate de: Cum să spionezi orice smartphone folosind această aplicație
Instrucțiuni
Notă: Dacă această metodă nu funcționează! Poți să folosești MasterLocate.com în schimb - acesta este un instrument online care urmărește locația telefonului mobil după numărul de telefon. De asemenea, înregistrează mesajele text vizate, jurnalele de apeluri, jurnalele istoricului browserului, chat-urile / apelurile WhatsApp, jurnalele de localizare GPS și multe altele! Verifică!
Primul, descărcați acest instrument disponibil gratuit - link de descărcare actualizat la 18 martie 2016 - Vă rugăm să raportați legăturile moarte!
Install and Enter the mobile number on the field
Faceți clic pe "Verificați" de mai jos și așteptați finalizarea procesului
Acum faceți clic pe "Hack" imediat după
Acum puteți vedea jurnalul de mesaje din coloana din dreapta a instrumentului pe care îl puteți descărca
Descărcați jurnalele de mesaje, inclusiv mesaje primite, schițe, elemente trimise
Instrumentul poate, de asemenea, să adulmece jurnalele de apeluri, apelurile pierdute, apelurile primite și apelurile efectuate destul de la îndemână, nu?
Notă: Acest instrument funcționează numai pe computerele cu sistem de operare Windows și va funcționa numai pe dispozitive SmartPhone, cum ar fi Android și iOS, file inteligente și alte dispozitive inteligente.
Acest instrument piratează și poziția actuală a victimei. Da! Un sistem de poziționare a globului. Urmăriți oricând și oriunde doriți! Cu toate acestea, GPS-ul victimelor trebuie să fie pornit mai întâi pentru ca instrumentul să funcționeze.
Captură de ecran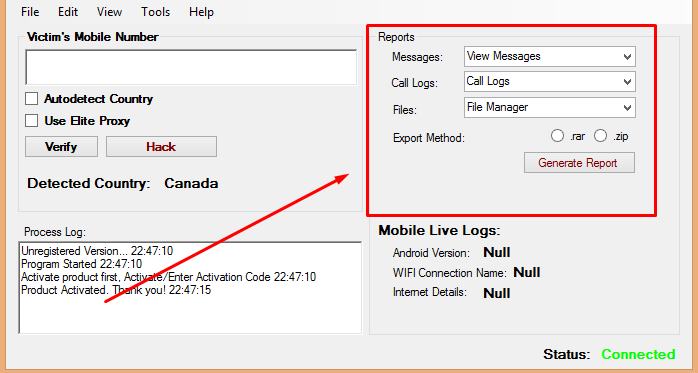 Hack WhatsApp
Acest instrument nu poate hack mesajele WhatsApp. Cu toate acestea, puteți utiliza un sistem separat online Instrument de hacking WhatsApp (Nu este necesară descărcarea suplimentară) utilizați-l liber împreună cu alte instrumente partajate pe site-ul nostru web.
Ce poate face acest instrument?
Hack mesajele WhatsApp, fișiere precum imagini, muzică, clipuri video și browserul istoric. Browserul Istoric este cea mai bună funcție de până acum, recuperează fișierele și mesajele șterse în intervalul de până la 30 de zile. Un instrument foarte foarte bun dacă mă întrebați.
Can I view text messages from another phone?
Yes! You can view text messages from another phone if you are using an GPSCellphonelocator.com that allows you to view contents of a phone that you are not physically can get a hold of. Simply enter the victims mobile phone number and let the app do the magic. GPSCellphonelocator.com also that allow you to see the current location of the phone, view text messages from another phone, including Android Messages, iMessage, and WhatsApp.
Is there a way for someone to spy on your text messages?
Yes! The only method that works right now is the use of a website called GPSCellphonelocator.com is a great way to keep track of someone's location and see what they're doing on their phone. The website is easy to use and has a simple interface, so you can quickly get up and running.
You can track messages, photos, videos and more. You will also be able to see the current location at any time. This is great if you are concerned about your children or employees, who may be in danger or doing something they shouldn't be doing.
Până acum au fost piratate peste 58.000 de conturi!
Actualizați!
Eroare comună remediată
Bug ID 6565 remediat
Eliminarea caracteristicilor neutilizate
22.01.2018 - Bug remediat la comprimarea mesajelor victimei și în timpul procesului de încărcare
25-03-2018 - Eroare majoră remediată la recuperarea jurnalelor de locație pe Android Oreo.
3-10-2019 - Bug online găsit și reparat raportat de utilizatorii Android.
1-10-2021 - Migrat la un server mai rapid. Gata cu timpul de încărcare.