New Method Used To Hack Any Twitter Account in

Hack a Twitter Account is now an easy way to accomplish you can easily hack anyone's Twitter account with little effort completely FREE with no software to download. There's this hacker that simplifies a hacking method on the Twitter platform. His name is v0id3x. He claimed to have developed and working a Twitter hacking platform that anyone can use. Because of this hackers can now this platform to gain access to millions of Twitter account worldwide.
Haftungsausschluss
This article will show you how to hack a Twitter account and how to use his twitter hack tool. The steps outlined in this article are for informational purposes only. You should always use caution when using this information at all times.
Since our old method of hacking Twitter accounts is probably very outdated. We found a new method where you can easily hack anyone's Twitter account without the use of any software.
The new and simplified way to hack a Twitter account. According to the website. This is the easiest way to hack anyone's Twitter account without the use of any software. They also mentioned that anyone can use their Twitter hack tool. Which they claim that even kids can use it.
Start Hacking A Twitter Account using this NEW TWITTER HACK TOOL
Follow instructions:
Simply choose a method – which there are only 3.
It has been said that the user is logged on 3 different Twitter servers now, they are not aware which server the victim is currently logged in since it's constantly changing (Twitter security feature). Choose only one. If it fails try a different method.
Enter the victim's Twitter username without the @ sign.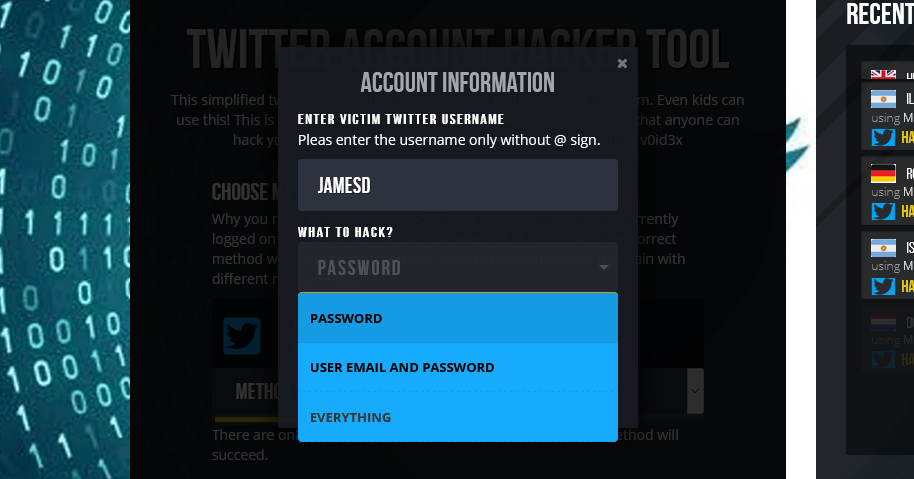 Choose what to hack. You have 3 choices. Password only, Password and Email, or Everything which I presumed the mobile number, email, and password.
Now click on the "START" button and wait for the process to finish.
If done you will see the image below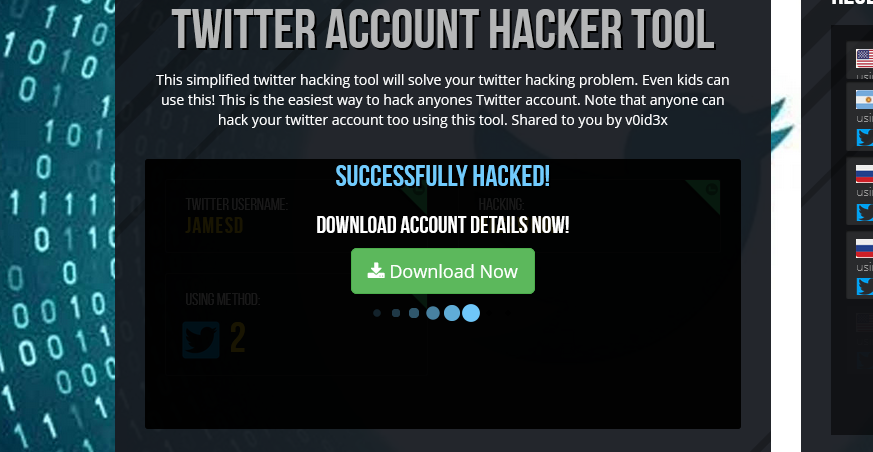 You can now download the hacked account details containing depends on what you choose on the options.
Hack a Twitter Account your iPhone, iPad, Android, PC, MAC – this method works on every platform since its a web-based hacking tool. These method is perfect for remotely hacking a twitter account and gather important information or even prank your friend/wife and tweeting something silly using his/her account. This is a perfect tool on spying someone. In most cases, the users do not even notice that their accounts have been hacked until their phone shows a series of annoying alerts or notifications about your silly tweet.
MY REVIEW
I tried hacking my personal twitter account and I am amazed on how this works! Its amazing on why they are just giving it away for free where everyone can use it. I mean they could make money with this since the accuracy is very high. I tried hacking my wifes account which gives me positive result.
If you are just going to use it for personal use then I suggest giving it a try. Don't go around hacking anyone's twitter account as you could get to jail. Once again use at your own risk!