Instagram is an incredibly popular social media platform that allows users to share their photos and videos with the world. But what if you just want to view the accounts of some of your favorite people, or stalk on your ex-girlfriend or boyfriend? You can't just go in his/her profile view his/her instagram feed because its a private account! To view their feed you have to follow them first and you have to wait if they accept your follow request and if its not then you don't really have a choice.
Don't fret! We'll show you how to View Private Instagram Accounts without Following Them. After all, if you're interested in what's going on inside those accounts and here's a little trick for you we have found online. Read on…
But Why People Make Their Instagram Account Private?
But first let's learn why users are making their Instagram accounts private? There are actually hella a different reasons why. Some users choose to make their accounts private because they don't want people viewing their content on the platform, while others do so because they want to keep their personal information private.
There are actually benefits to having your account private. If you have a public profile, you can post whatever you want and anyone can see it. This can lead to:
Unwanted attention from strangers or even people who just don't like what you're posting or how you're posting it.
Keeping your profile private will help protect yourself from the types of harassment from people you do not want because of having an open profile.
Not dealing with all the negativity you read on the comments.
Or maybe they're just looking for a way to keep their posts from showing up in search results, which is another common reason to opt out of public posting.
Here's a Trick to View Private Instagram Accounts without Following Them
If you read all the above reasons why users wanted their account private then you still want to view their private accounts then here's the trick for you.
Primero, ve a https://socialprivateviewer.com/
Haga clic en el "Unlock Instagram Profile".
Enter the username of the private Instagram profile you want to view contents from and click "Check Username"
Haga clic en el "This is the Account"Para continuar.
If you are asked what you would like to do then choose among the 3 options.
Wait for the process and done!!!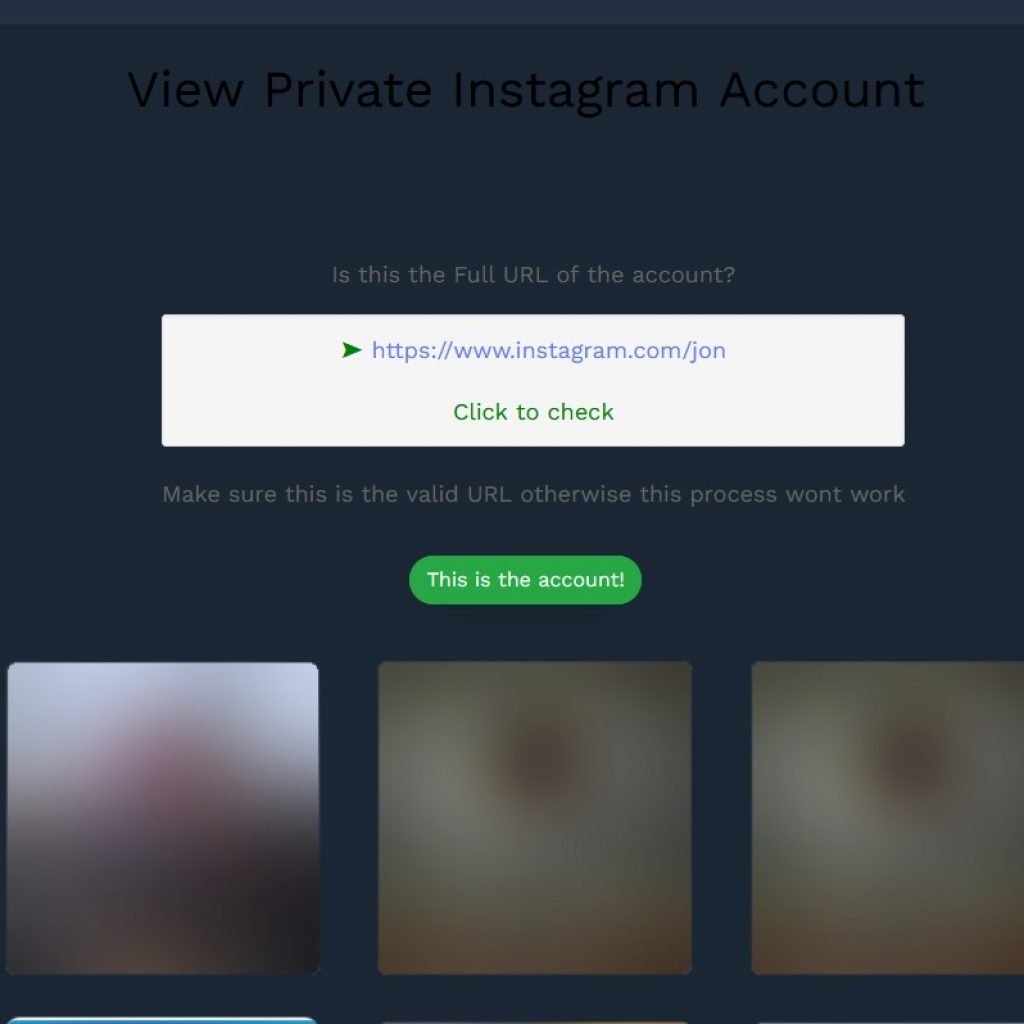 SocialPrivateViewer is an extremely helpful tool for viewing private Instagram accounts as I have tried it myself. It's not only a great way to check out private Instagram accounts, but it's also a great tool to download the photos/videos the private account has on their feed.
This website offers to view private instagram accounts you folowing the account I have tried it myself and it works. But there are other websites out there that you can work with. First, you can use socialprivateviewer.com—the easiest and most reliable way to get access the private account you want to view. Second, you can try InstaLook.com, which is also easy to use but may not work since its very old and outdated.
So, that's all I hope I helped you solve you issue on viewing the contents of a private account. If you have comments or questions regarding this post feel free to comment below.