Hey there, tech enthusiasts! Have you ever stumbled upon a RAR or a zip archive files and you just couldn't wait to open, only to discover it's password-protected and you don't know the password? Well you are not alone! As I personally experienced this multiple times. But, fear not, as in this blog tutorial, I'll be teaching you on how you can easily unlock password-protected RAR files without using any kind of software, and access your long-awaited files.
On this guide we'll be exploring various methods available in the internet, but one tool that stands out and its now my favorite rar password unlocker, because it is easy to use and really really quick on cracking passwords of any rar file unlike the others that will take you 30 minutes before successfully unlocking a simple password. The other thing that make this tool so special is its 100% FREE! So buckle up as we are going to uncover this step-by-step guide on how to unlock a RAR file without using any kind of software. Let's get started!
Step by Step Guide On Unlocking RAR Password Using EZZY
EZZY is a WinRAR and Zip file password unlocker tool that can be used both online and offline. Yes, you can easily unlock password protected rar files online that's why I mentioned without the use of any kind of software. Here's how.
Method 1: Online Unlocking Method (100% FREE)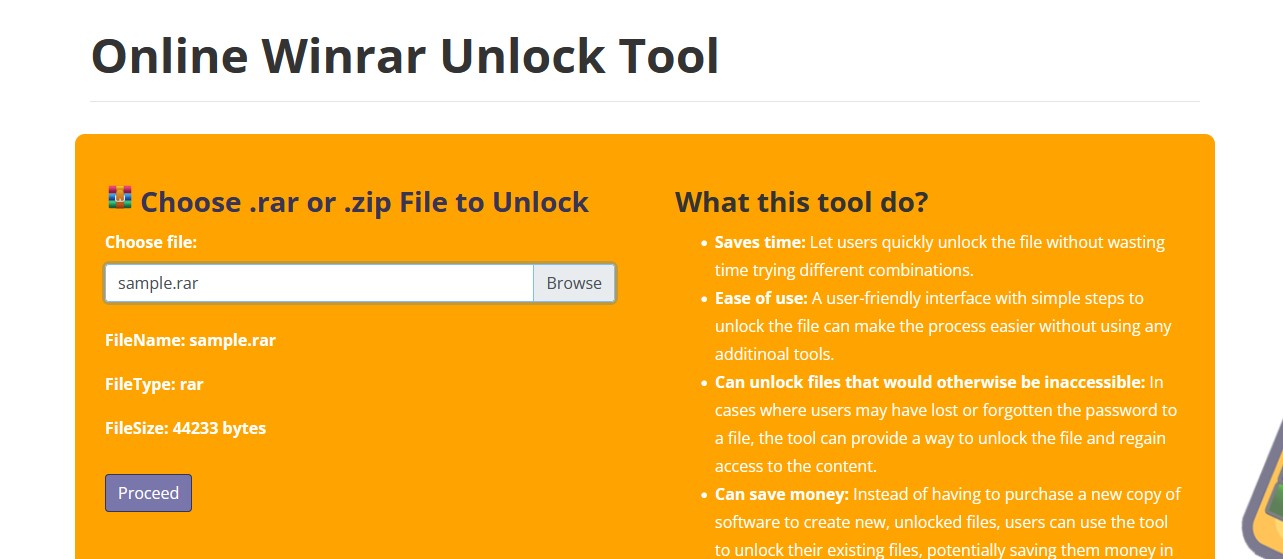 Make sure that your won't exceed 20MB as the online tool only allow less than 20 megabytes of file to work. If you exceed, you will now use the Desktop version of the tool.
After choosing the file, click on the "Proceed" button on pop up menu click on the "Unlock Button".
At this point, we are simply going to wait until the process is finish. Don't worry this is the quickiest rar password unlocker I found so far.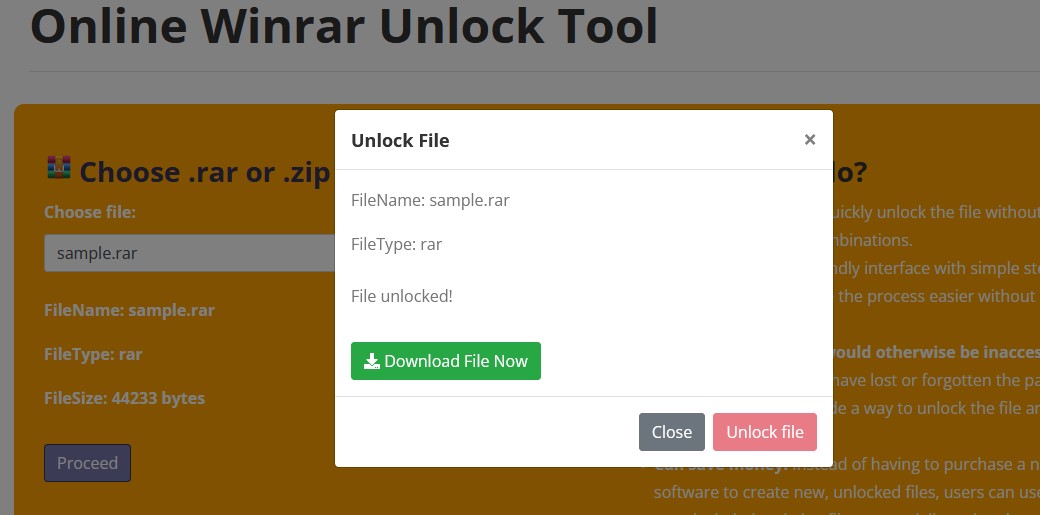 After like 3 minutes, you are now ready to download your file. Click "Download File Now" to download your file without the password.
Method 2: Offline Desktop Tool (100% FREE)
EZZY Unlocker Tool has an offline version of the tool as well, this tool removes the 20mb limit on the online version. Plus the good thing is this tool is also FREE!
Ga eerst naar https://www.ezzyunlocker.com/index.php and click on "Download". You will download the zip file containing the main file, simply unzip it. You are now ready to use it no installation is required.
Open the EZZY Rar password remover tool.exe file, first you are going to "Activate Product". Don't worry activation is 100% FREE you only need to complete some free surveys to get your activation code and start working on unlocking that stubborn RAR file.
(Note that some anti-virus software may detect the .exe file as malicious, you may want to scan the file just to be safe. But so far its safe for me.)
After the activation. Click on "Browse" button to Add your RAR file. Select the file and click "Open" to add it to the program.
Choose your attack type: The EZZY Rar password remover tool offers three different attack types to choose from: Brute Force, Brute Force with Mask, and Dictionary. Select the attack type that best suits your situation, based on how much you know about the password.
Click on the unlock button and wait for the process to finish.
After that click on the "Extract Files" and wait again.
After that click on the "Save Files".
Create a folder to save the files and done!
Video Tutorial: Unlock RAR Passwords
Voordelen
Quick and efficient RAR Unlocker
100% FREE Tool (No strings attached!)
User-friendly interface, perfect for beginners
Supports multiple attack types, catering to various password complexities
Compatible with all RAR format versions
Works with .ZIP files too!
Minimal impact on system resources during the unlocking process
Supports Windows 10/11
24/7 Support.
There you have it! With the EZZY Rar password remover tool, you can now unlock those pesky password-protected RAR files with ease! No software to download, No FEES to pay. Absolutely gorgeious method! No more frustration, no more waiting – just a quick, efficient, and user-friendly solution to help you access your precious files. So go ahead and give it a try, and let us know how it works for you. Happy unlocking!