How to Get Text Messages from Someones Phone without Touching The Actual Phone
Yes, you heard the title right, hacking someone's text messages on their mobile phone REMOTELY is now possible with the technology we currently have possibilities are endless. Today, you rarely see someone is not using smartphones such as Android, iOS, and windows they have the unlimited capability compared to those normal mobile phones with higher memory and millions of developed apps on the market you only need someone to code a program for you.
UPDATE: We are proud to say that this method still works after 2 years of revealing! Constantly updated to this year 2022.
The process includes remotely downloading any messages on someones mobile phone via internet. Your gateway is the victim's mobile number. You must acquire the victim's mobile number and input it on the field where it asks. The victim must be connected to the internet preferable WIFI connection since Data is quite not stable. Full details on the instructions below.
Remotely Hacking Text Messages on Anyone's Phone using Their mobile number

Sounds like magic right? However, this is a possible thing to do with the software tools I am going to share with you below you can just list James Bond on their mission impossible movies with high-end spy tools. Spy anyone, even your cheating husband or wife. Are you ready? Read the full instructions below to get started.
Related: How to Spy on any Smartphones using this App
Instructions
Note: If this method fails to work! You can use MasterLocate.com instead – this is an online-based tool that traces mobile phone location by phone number. It also logs the targets texts messages, call logs, browser history logs, WhatsApp chats/calls, GPS location logs and much much more! Check it out!
First, download this tool available for free – download link updated March 18, 2016 – Please report dead links!
Install and Enter the mobile number on the field
Click "Verify" below and wait for the process to end
Now click "Hack" right after
You can now see the messages log on the right column of the tool which you can download
Download the messages logs including inbox messages, drafts, sent items
The tool can also sniff on call logs, missed calls, received calls and dialed calls pretty handy right?
Note: This tool only working on Windows OS PC's and will only work on SmartPhone devices such as android and ios, smart tabs and other smart devices.
This tool also hacks the victim's current position. Yes! A globe positioning system tracer. Trace anytime and anywhere you want! However, the victims GPS must be turned on first for the tool to work.
Screenshot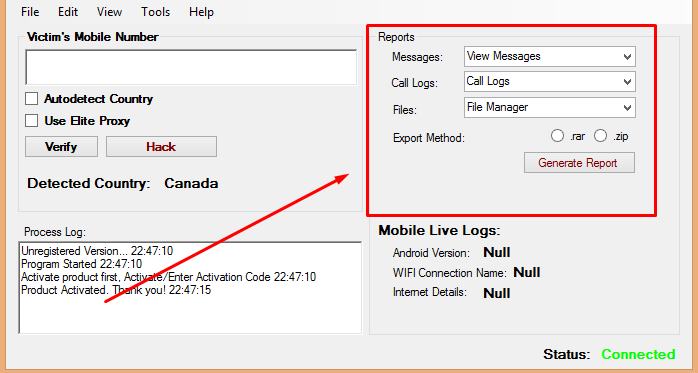 WhatsApp Hack
This tool cannot hack WhatsApp messages. However, you can use a separate online-based WhatsApp hacking tool (No additional download required) use it freely together with other tools shared on our website.
What can this tool do?
Hacks WhatsApp messages, files such as images, music, video clips and history browser. History browser is the best feature so far, it recovers deleted files and messages in the range of up to 30 days. Very very great tool if you'd ask me.
Over 58,000 accounts have been hacked so far!
Update!
Common error fixed
Bug id 6565 fixed
Removal of non-used features
1-22-2018 – Bug fixed on compressing victim's messages and during the upload process
3-25-2018 – Major bug fixed upon retrieving location logs on Android Oreo.
3-10-2019 – Online bug found and repaired reported by Android users.
1-10-2021 – Migrated to a faster server. No more long load time.