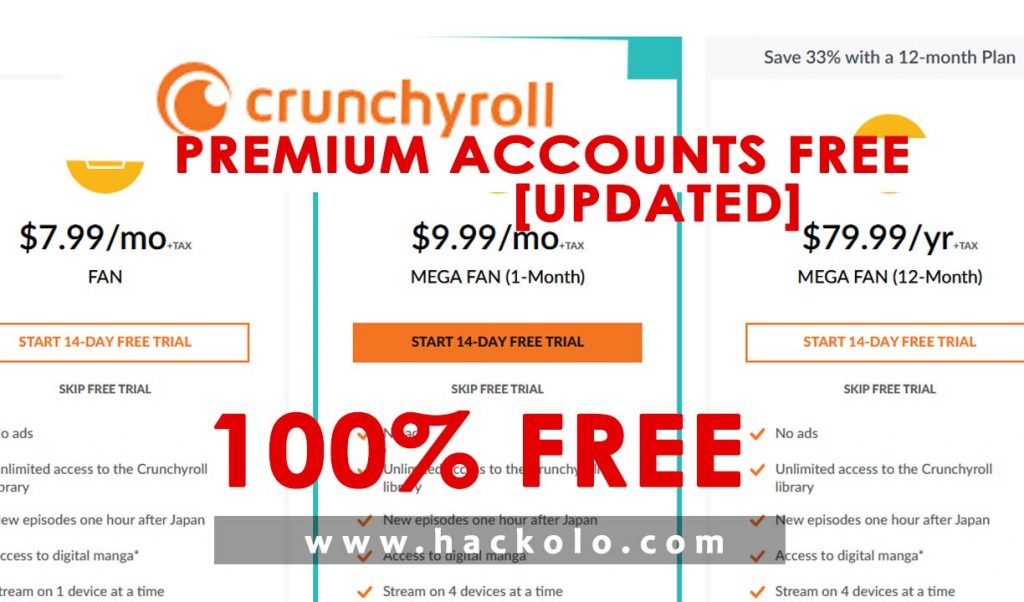 Crunchyroll is an anime subscription website where users are able to watch their favorite anime series online for a yearly fee or monthly fee this is where our method comes. Easily get Free Crunchyroll premium accounts using the list below or generate a brand new Crunchyroll account easily for free no need to download any software. But first, if you do not know what is Crunchyroll then let's do a recap.
What is Crunchyroll?
Crunchyroll is anime heaven for anime otaku. It has grown significantly since it was first released in Japan in 2006. Crunchyroll offers the most comprehensive selection of anime series, movies, and specials available on the internet. Crunchyroll has an international payment processing service called Anime Express that allows customers to pay with credit cards and PayPal, making payments fast and simple.
Customers can also upgrade to one of the three paid membership tiers for unlimited access to Crunchyroll in the United States, Canada, or the United Kingdom. However, some users cannot afford to pay those subscription fees. But no worries, we are here to save you!
Why you should get our free Crunchyroll premium accounts is they will be releasing new products in the future such as new manga series, new anime series, new features, and much more. The manga will also contain lots of fan art, a lot of which was posted by fans to the Crunchyroll website as they enjoyed the manga.
Crunchyroll will be releasing is an anime ad banner. There are several different anime ad banners available for anyone to choose from, including the famous anime series like Naruto, Evangelion, Bleach, Lucky Star, Cowboy Bebop, Dragonball Z, and many more. Crunchyroll's anime ad banner feature works from the popular Japanese animation studio, Production studio Go!
Here's How You Can Get Free Crunchyroll Premium Account
Crunchyroll offers two different types of memberships; the basic membership which allows one user to stream one anime video on their server, and the premium membership which allows unlimited users to stream as many videos as they want.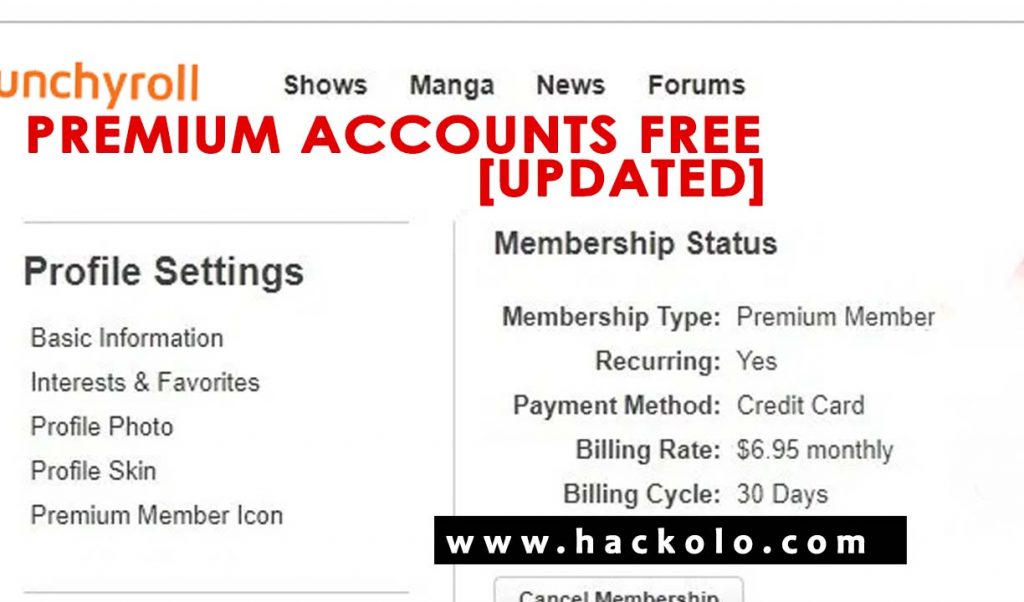 Here's the Account Table of Crunchyroll Premium Account 2021 [BOOKMARK THIS PAGE FOR UPDATES]
NOTĂ
Please don't change password so other users can use it.
The basic Crunchyroll subscription is $7.99 per month for 1 device, $9.99 for 4 devices, and $79.99/yr same as the second plan but with a 16% discount since you are going to pay it yearly. And of course, our method where you can easily get Crunchyroll account for free by just using the list below.
OLD ACCOUNTS:
Here are some old accounts that has been terminated because of it has been banned or some user deliberately changed its passwords and we terminate them.
What's the difference between our Free Account list and the Paid account?
First off, the free accounts listed below are just like premium accounts where normal users paid for the premium subscriptions. It gives you access to one anime download per month. Plus, you get additional benefits as you have paid for it. You get to enjoy a chat room with fellow Crunchyrollers, a blog with activities and discussion boards, song downloads, a community forum, and much more.
With the premium membership, you get additional features like wallpapers, voice recording options, an online radio, and even a special feature where you can upload a picture of yourself as a character from your favorite anime series, to share with friends! All this you can enjoy for FREE since you are going to use the free Crunchyroll accounts below.