Here's an easy method to generate valid credit card numbers complete with details such as name, address, country origin and even security details such as CCV and PIN. Note that this credit card numbers are valid credit card numbers but the details generated along with it are totally fake and does not work for buying stuff online!
The only use of these credit card are for verification purposes and other eCommerce details for web master and administrators that want to test valid credit card details on their website. If you are a website owner that want to populate website with payment processing payments this is for you.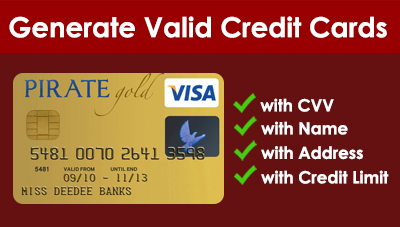 Another use of these credit cards is for users that don't want to expose their real financial details such as credit card details to some untrustworthy website and only want to confirm its authority using these fake credit card details generated.
If you want to generate a working credit card number visit this link instead.
How to generate a fake credit card number
Simply visit https://xedricity.com/ – this website offers various web tools and one of that is the credit card generator.

Hover to its "Projects" menu and find the "Credit card generator" tool. That's it!
Choose what type of credit card issuer you want to generate your credit card from.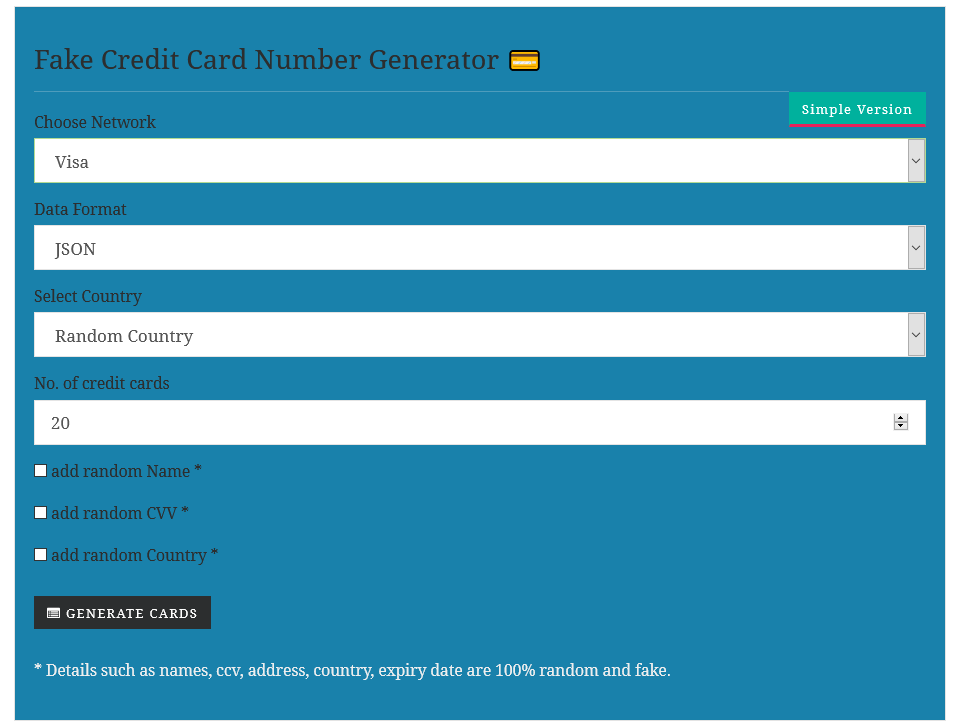 You can choose the DATA format of the output value of your credit card numbers
Choose the origin country that the credit card should be came from.
Choose how many credit card numbers with details you want to generate.
and finally, you can choose to add name, CCV and add random country instead of specific country.
Note that the name and CCV are completely random details.
Click the "Generate Cards" button and your credit card numbers with details should be ready in few seconds!
Valid Credit card Numbers with MOD10 Algorithm
The website xedricity.com tools claims that these credit cards follow the rule formula of Luhn Algorithm or the Modulus 10 which is the formula real credit card numbers are using.
On this website you can generate the following credit card numbers with fake details:
Generate Valid Visa Credit Card Numbers
Generate Valid Mastercard Credit Card Numbers
Generate Valid JCB Credit Card Numbers
Generate Valid Discover Card Credit Card Numbers
Generate Valid American Express Credit Card Numbers
Credit Card Numbers for Trial Products
Some websites claims that these credit card numbers work with free trial products such as the free trial on Netflix which offers you to watch free Netflix for 30 days. I have not confirmed the validity of this claim as I have not tried it myself. Won't hurt on trying though its FREE anyways.