Método para piratear teléfonos móviles Android a través de Internet
I'm pretty sure there were many times you wished you could somehow get to know what the other person is hiding from you (happens often in relationships) and how you could hack into their mobile and see the contents of their mobile such as their messages, multimedia files (photos & videos), contacts, delivery reports, etc. And to make matters worse, you might not understand the complexity of hacking procedures and wish if only there were a way by which you could hack into their mobile, especially Androide Los telefonos.
Well, if the victim happens to be using an Android smartphone then your luck has just opened up because now we shall disclose a simple way of hacking into an Android smartphone. Basically, you have to download the relevant software from a trusted site (make sure you don't download from any third party site since it could be malicious and if installed, could steal your browsing history or make your files corrupt). What's pretty amazing is that such software also are available for free which means you don't have to spend any $$$ just to acquire the hacking software.
NOTA: Antes de comenzar, me gustaría dejar en claro que no promovemos a las personas a piratear el teléfono inteligente de otros y este artículo está escrito con el único propósito de educación. No seremos responsables de cómo el lector utilice dicha información.
Funciones de pirateo de teléfonos Android:
Anonimato total - La víctima nunca se dará cuenta de que está siendo pirateada en ningún momento.
Acceso completo a su móvil - Mensajes de texto, Administrador de archivos (videos, imágenes y archivos).
El móvil de la víctima podría usarse para una variedad de propósitos, como un micrófono, una cámara, para enviar SMS.
Adquirir todos los archivos - Todos los archivos en su móvil pueden ser descargados por usted en su computadora.
¡Funciona VÍA Internet! - No es necesario disponer físicamente del móvil de la víctima durante todo el proceso. ¡Todo el proceso se realiza de forma remota desde una conexión segura siempre que haya Internet!
Requisitos
La víctima y el pirata informático deben permanecer conectados a Internet durante todo el proceso de piratería.
Solo funciona si conoce el código de país del número de móvil y el número de móvil en sí.
Instrucciones completas.
¡PROPINA! También puedes usar MasterLocate.com - esta herramienta es una aplicación en línea que puede usar sin descargar ningún software en su PC o dispositivo móvil. Con esta herramienta puede rastrear la ubicación GPS de los objetivos en tiempo real, rastrear mensajes de texto, ver registros de llamadas, ver registros de chat de WhatsApp e incluso registros de actividad de Facebook. Visitar MasterLocate.com para más información.
(NOTA: Los enlaces de descarga se acortan. Simplemente haga clic en "OMITIR AVISO PUBLICITARIO"Para continuar a la página de descarga)
Simplemente ejecute el software y es posible que deba activarlo antes de usarlo por completo.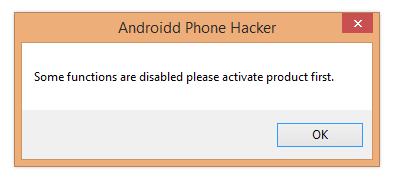 Active el producto yendo a Ayuda> Activar producto> y haciendo clic en "Obtener código de activación" si no tiene el código de activación o Ingrese el código de activación si ya lo tiene.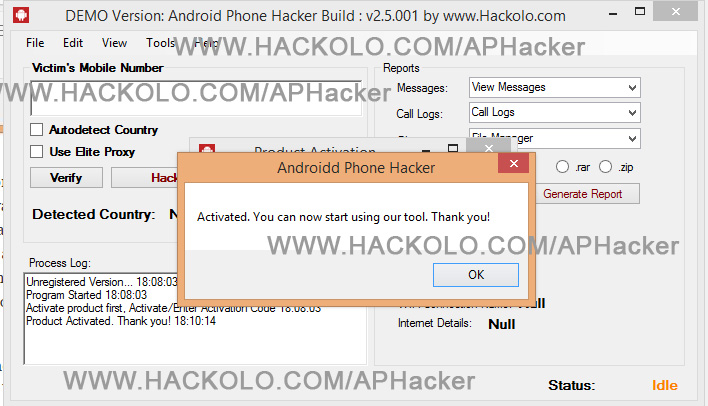 Ahora, todo lo que tienes que hacer es ingresar al Número de teléfono móvil de las víctimas. Debe asegurarse de que sea un usuario de un teléfono Android y esté conectado a Internet.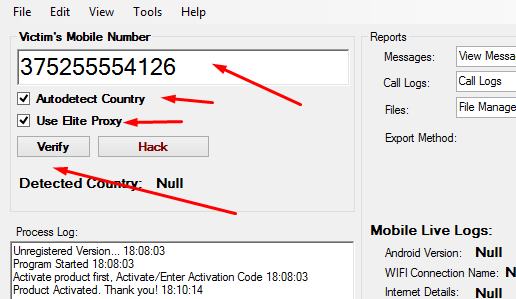 Click on Verify and wait until you are connected and the country has been detected.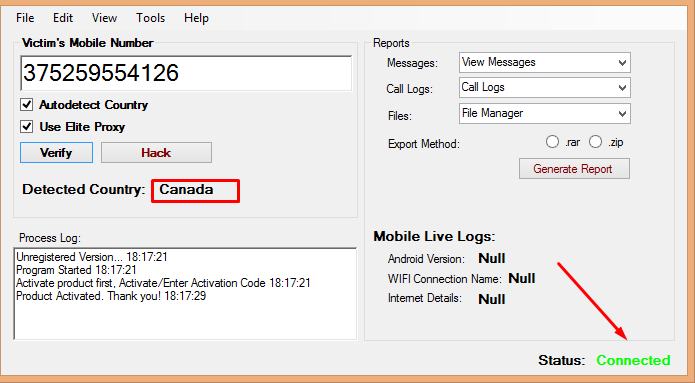 Ahora, en el "Reporte" En la sección, puede examinar los archivos que desea adquirir y exportarlos utilizando el método de exportación disponible.
¡Esta increíble herramienta es de uso gratuito y no le cobrará ni un centavo por usarla! Asegúrese de no dañar a nadie al usar esta herramienta. Nosotros, el creador, revocamos la legalidad de cualquier persona que use nuestra herramienta.
Descargo de responsabilidad:
La herramienta es solo para fines educativos. No pretendemos dañar su dispositivo móvil al utilizar esta herramienta. Es un reclamo completo en nombre de los usuarios. ¡Úselo bajo su propio riesgo!
Actualizaciones:

1-23-2015: Enlace actualizado, error común solucionado

24/8/2015: Enlace actualizado y se agregaron más espejos nuevos. Disculpas por la actualización tardía.

1-25-2016: Software updated to comply on recent changes on 2016 software versions. Enjoy!

3-28-2019: Software actualizado después de mucho tiempo. Error solucionado en todos los módulos y mayor tasa de éxito en la ubicación del número de móvil ingresado por el usuario.
También podría gustarte:
Es posible que también desee probar nuestro WLMobileFreezer App - Esto congela (cuelga) el teléfono inteligente de tu víctima. Divertido ¿verdad? También puede rastrear su ubicación actual siempre que esté conectado a Internet.
ACTUALIZACIONES:
1-20-2018 - Error solucionado al recuperar los registros de chat de las víctimas usando la API de gráficos de Facebook v2.0
3-25-2018: actualizado con el trabajo con las versiones actuales de Android, a saber:
4-20-2019 – bug removed on retrieving data as android updates their permissions.
10-11-2019 – bug removed during the connection between the victim profile and host profile
5-17-2020 – bug removed fixed showing 404 not found.
10-11-2021 – bug removed during the process of retrieving the location data of the host account
1-12-2022 – due to demand we have added support on old version of android
8-10-2022 – Updated to support more versions of android
Funciona perfectamente con estas versiones de Android
Android 2.3 Gingerbread (API 9) 2.7.1 Android 2.3.3 Gingerbread (API 10)
Android 3.0 Honeycomb (API 11)
Android 4.4 Ice Cream Sandwich
Android 4.1 Jelly Bean
Android 4.4 KitKat
Piruleta Android 5.0
Android 6.0 Marshmallow
Android 7.0 Turrón
Android 8.0 Oreo
DESCARGO DE RESPONSABILIDAD
Nos gustaría aclarar que no hay forma de que hackolo.com esté asociado con ninguna de las siguientes aplicaciones o enlaces publicados anteriormente.