Metoda de piratare a telefoanelor mobile Android prin internet
I'm pretty sure there were many times you wished you could somehow get to know what the other person is hiding from you (happens often in relationships) and how you could hack into their mobile and see the contents of their mobile such as their messages, multimedia files (photos & videos), contacts, delivery reports, etc. And to make matters worse, you might not understand the complexity of hacking procedures and wish if only there were a way by which you could hack into their mobile, especially Android Telefoane.
Well, if the victim happens to be using an Android smartphone then your luck has just opened up because now we shall disclose a simple way of hacking into an Android smartphone. Basically, you have to download the relevant software from a trusted site (make sure you don't download from any third party site since it could be malicious and if installed, could steal your browsing history or make your files corrupt). What's pretty amazing is that such software also are available for free which means you don't have to spend any $$$ just to acquire the hacking software.
NOTĂ: Înainte de a începe, aș dori să precizez că nu promovăm oamenii să spargă smartphone-ul celuilalt, iar acest articol este scris în scopul unic al educației. Nu vom fi responsabili cu privire la modul în care cititorul utilizează astfel de informații.
Caracteristici Android Hacking Telefon:
Anonimat total - Victima nu își va da seama niciodată că el / ea este piratat în orice moment al timpului.
Acces complet la telefonul său mobil - Mesaje text, Manager fișiere (videoclipuri, imagini și fișiere).
Mobilul victimei ar putea fi folosit în diverse scopuri, cum ar fi un microfon, o cameră, pentru a trimite SMS-uri.
Achiziționați toate fișierele - Toate fișierele din mobilul lor ar putea fi descărcate de dvs. în computer.
Funcționează prin intermediul internetului! - Nu este nevoie să aveți fizic mobilul victimei pe tot parcursul procesului. Întregul proces se face de la distanță de la o conexiune sigură, atâta timp cât există internet!
Cerințe
Victima și hackerul trebuie să rămână conectați la internet pe parcursul întregului proces de hack.
Funcționează numai dacă cunoașteți codul de țară al numărului de telefon mobil și numărul de telefon în sine.
Instrucțiuni complete.
BACSIS! Puteți utiliza, de asemenea MasterLocate.com - acest instrument este o aplicație online, pe care o puteți utiliza fără a descărca niciun software nici pe computer, nici pe mobil. Utilizând acest instrument puteți urmări locația GPS în timp real a țintelor, puteți urmări mesajele text, puteți vedea jurnalele de apeluri, puteți vedea jurnalele de chat WhatsApp și chiar jurnalele de activitate Facebook. Vizita MasterLocate.com pentru mai multe informatii.
(NOTĂ: Linkurile de descărcare se scurtează. Doar faceți clic pe "SALTAȚI AD"Pentru a continua la pagina de descărcare)
Pur și simplu rulați software-ul și este posibil să fie necesar să-l activați înainte de a-l utiliza complet.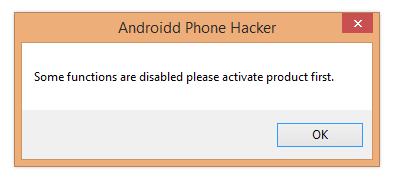 Activați produsul accesând Ajutor> Activare produs> și făcând clic pe "Obțineți codul de activare" dacă nu aveți codul de activare sau Introduceți codul de activare dacă aveți deja unul.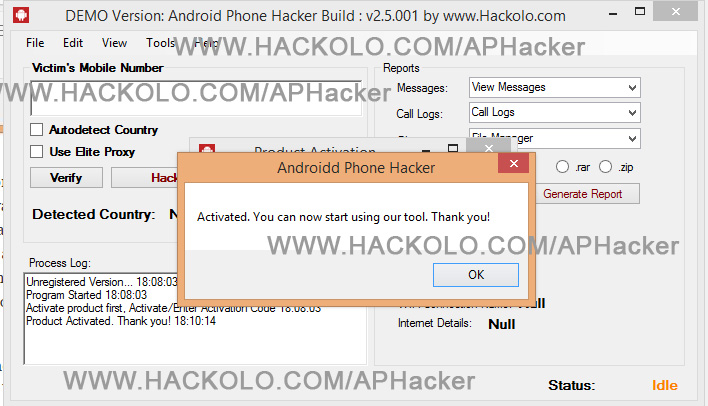 Acum, tot ce trebuie să faceți este să introduceți fișierul Numărul de telefon mobil al victimelor. Trebuie să fiți siguri că este utilizator de telefon Android și că este conectat la internet.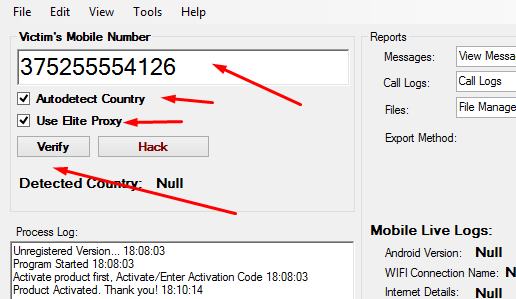 Click on Verify and wait until you are connected and the country has been detected.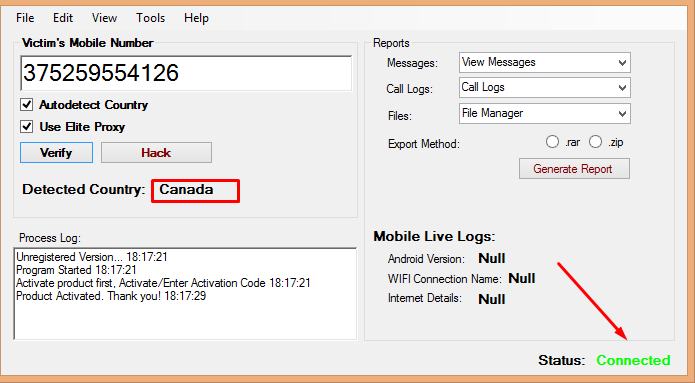 Acum, pe "Raport" secțiunea puteți răsfoi fișierele pe care doriți să le achiziționați și să le exportați folosind metoda de export disponibilă.
Acest instrument uimitor este gratuit și nu vă va percepe niciun ban de la utilizarea acestuia! Asigurați-vă că nu veți face rău nimănui folosind acest instrument. Noi, creatorul, revocăm legalitatea pe oricine utilizează instrumentul nostru.
Declinare de responsabilitate:
Instrumentul este doar pentru scopuri educaționale. Utilizând acest instrument nu intenționăm să dăunăm dispozitivului dvs. mobil. Este în plină revendicare în numele utilizatorilor. Folosiți pe propria răspundere!
Actualizări:

23-01-2015: Link actualizat, eroare comună remediată

24.08.2015: Link actualizat plus adăugare de noi oglinzi noi! Ne pare rău pentru actualizarea târzie.

1-25-2016: Software updated to comply on recent changes on 2016 software versions. Enjoy!

3-28-2019: Software actualizat după mult timp. Bug remediat pe toate modulele și rata de succes crescută la locația numărului de telefon mobil introdus de utilizator.
S-ar putea sa-ti placa si:
Ați putea dori, de asemenea, să încercați WLMobileFreezer App - Acest lucru vă blochează (închide) telefonul inteligent al victimelor. Distracție nu? De asemenea, puteți urmări locația sa actuală atâta timp cât este conectat la internet.
ACTUALIZĂRI:
1-20-2018 - Bug remediat la recuperarea jurnalelor de chat ale victimelor folosind API-ul grafic facebook v2.0
25-03-2018 - Actualizat cu funcționarea cu versiunile actuale de Android și anume după cum urmează:
4-20-2019 – bug removed on retrieving data as android updates their permissions.
10-11-2019 – bug removed during the connection between the victim profile and host profile
5-17-2020 – bug removed fixed showing 404 not found.
10-11-2021 – bug removed during the process of retrieving the location data of the host account
1-12-2022 – due to demand we have added support on old version of android
8-10-2022 – Updated to support more versions of android
Funcționează perfect cu aceste versiuni de Android
Android 2.3 Gingerbread (API 9) 2.7.1 Android 2.3.3 Gingerbread (API 10)
Android 3.0 Honeycomb (API 11)
Sandwich cu înghețată Android 4.4
Android 4.1 Jelly Bean
Android 4.4 KitKat
Android 5.0 Lollipop
Android 6.0 Marshmallow
Android 7.0 Nougat
Android 8.0 Oreo
DISCLAIMER
Am dori să clarificăm că hackolo.com nu este asociat cu niciuna dintre următoarele aplicații și / sau linkuri postate mai sus!