¿Qué es WhatsApp?
Mensaje de Whatssap - es una aplicación de mensajería móvil multiplataforma que le permite intercambiar mensajes sin tener que pagar por SMS. WhatsApp Messenger está disponible para iPhone, BlackBerry, Android, Windows Phone y Nokia y sí, ¡esos teléfonos pueden enviarse mensajes entre sí! Debido a que WhatsApp Messenger usa el mismo plan de datos de Internet que usted usa para el correo electrónico y la navegación web, no hay ningún costo para enviar mensajes y mantenerse en contacto con sus amigos.
Además de la mensajería básica, los usuarios de WhatsApp pueden crear grupos, enviarse imágenes, videos y mensajes multimedia de audio ilimitados.
Cómo acceder a la cuenta de WhatsApp de otra persona
Hackear cuenta de WhatsApp y los archivos y textos de las víctimas ahora están disponibles para el público de todo el mundo. Cualquiera ahora puede piratear Cuenta de WhatsApp sin que te atrapen incluso sin que las víctimas sepan que su cuenta está siendo pirateada sin más preámbulos, me gustaría presentarles nuestra propia Herramienta en línea WhatsApp Hack. Sí, esto se basa en línea y no descargará nada para piratear la cuenta de WhatsApp de nadie rápidamente.
Take note: This is not your typical WhatsApp hack tricks that you can just find anywhere.
Puede piratear utilizando cualquier máquina que tenga, ya sea en su dispositivo móvil (Android, iOS, Symbian) o de escritorio. Recuerde que esta es una herramienta en línea que necesita Internet para acceder a ella.
WhatsApp Hack Online - Sin software para descargar
Sí, nuestra herramienta funciona en línea, lo que significa que no necesita descargar ningún tipo de software solo para hackear la cuenta de WhatsApp de alguien con nuestra interfaz gráfica de usuario fácil de usar, ahora puede piratear rápida y fácilmente, todos pueden hacer esto, incluso los niños. Hemos utilizado los servidores más rápidos que puede encontrar en el planeta para la capacidad de piratería más rápida en millones de usuarios de WhatsApp en todo el mundo. Solo necesita saber el número de teléfono de su víctima para piratear su cuenta. Suena realmente muy fácil, ¿verdad?
Lea las características completas de nuestra capacidad de piratería a continuación y sorpréndase de lo rápido que era nuestro servidor y lo poderoso que es este sistema.
¡Esta es la única herramienta de piratería de WhatsApp que se actualiza constantemente con las actualizaciones recientes en los servidores de WhatsApp!
Características de Whatsapp Hacker:
Hacks Online – No software to download – WhatsApp hack online
Hackea a los usuarios incluso conectados
Hacks ultrarrápidos de hasta 3 minutos de pirateo
Hacks History incluso archivos eliminados
Hackea videos / imágenes y textos
Funciona en todas las plataformas (móviles o de escritorio)
100% funcionando y gratis
NOTA: ¡Esta herramienta de pirateo de WhatsApp funciona en todas las plataformas! Android, iOS, Blackberry, PC and Windows Phone. Casi todos los tipos de plataforma, lo que sea.
Capturas de pantalla e instrucciones:
Ir - http://wappleak.com/ - para comenzar a piratear la cuenta de WhatsApp.
Ingrese solo números que no pueda escribir caracteres.
Ingrese el país también
Elige que hackear
Optional browse history – hack WhatsApp chat history
Seleccione la opción de exportación
Durante la descarga, verifique primero para ayudarnos a evitar los spammers. (Si no puede verificar usando su PC, use su dispositivo móvil para acceder al sitio web)
¡Hecho!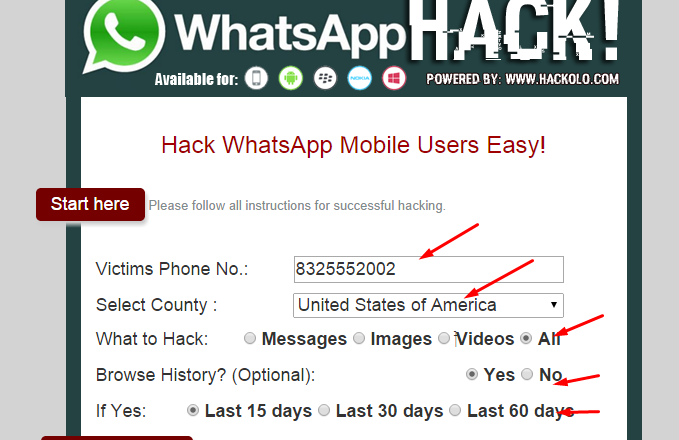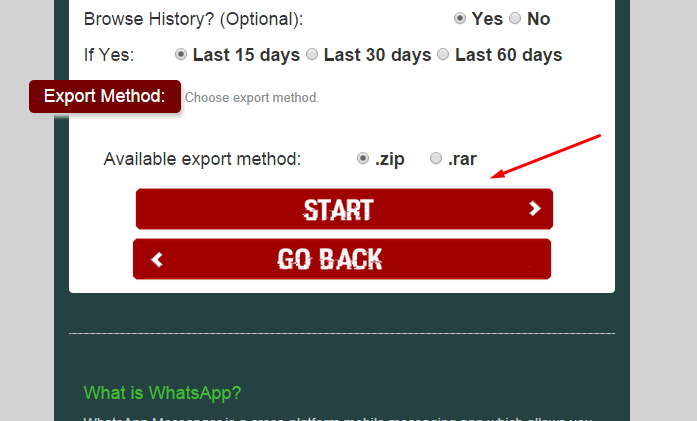 ¿Cómo hackear WhatsApp? ¡Empieza aqui!
Para comenzar a piratear, simplemente visite ———–> http://wappleak.com/
Nota: Si no puede verificar usando su PC, use su dispositivo móvil para acceder al sitio web
Versión 3.0
¡Wapphacker ha sido actualizado!
Versión 2.0
Bienvenido a WhatsApp Hacker v2.0, ahora una capacidad de pirateo más precisa utilizando la GUI de respuesta de servidor más rápida.
Versión 3.0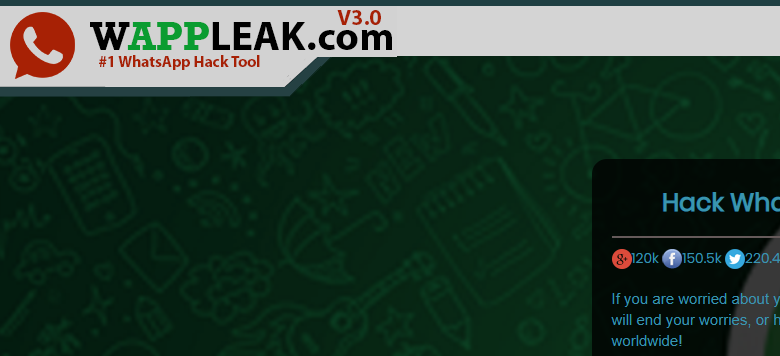 Nos gustaría presentar la versión 3.0 de nuestra herramienta de piratería de WhatsApp que cualquiera puede usar desde cualquier lugar. No es necesario aprender a codificar. ¡Simplemente ingrese el número de teléfono móvil de la víctima objetivo y comience el proceso de piratería!
Actualizado para los parches de seguridad de WhatsApp 2020
La versión 3.0 está equipada con los últimos parches contra los módulos de seguridad de WhatsApp.
Trabajar de forma independiente para evitar errores al recuperar los detalles de la cuenta de usuario de destino sin cifrado.
Visite la versión 3.0

http://wapphacker.com/ – ¡Mejor y más poderoso que nunca!
¿Tarda demasiado?
If the process is taking too long to respond please refresh the page and do it again. Because sometimes we are loaded with users on hacking accounts we can't comply everyone. Si el proceso se detiene, actualice la página y vuelva a intentarlo.
¿Qué hay de nuevo?
Se eliminó la opción de país, sin embargo, se debe ingresar el código de marcación
Sistema de interfaz de usuario mucho más sencillo
Se eliminaron errores como la congelación de compresión y la congelación de validación
¿Sigue pensando?
Ahora con más 100+ comentarios positivos ¡seguramente estos usuarios no pueden estar equivocados! Están usando esta herramienta constantemente y continuarán haciéndolo. Estamos creciendo continuamente en número, nadie puede vencernos ahora a menos que la policía se entere. Jajaja ¡Feliz piratería!
Actualizaciones:
3-1-2015 - Hackeado con éxito 12.000 cuentas de WhatsApp ¡en todo el mundo! Principalmente de India y Estados Unidos.
3-3-2015 - ¡Obtuve más de 100 comentarios positivos de nuestros usuarios! gracias.
11-30-2015 - El método sigue funcionando y el número creciente de actividades de piratería es cada vez mayor.
4-13-2016 - Existen numerosos sitios web que imitan wappbreaker.com ¡y actúe como si brindaran el mismo servicio! Estos sitios pueden dañarlo en lugar de ayudarlo. Uso único http://wapphacker.com/
3-3-2017 - Se corrigieron errores y se agregaron cambios de seguridad habituales.
9-4-2017 - Errores corregidos y cambios de seguridad habituales.
Actualizaciones 2018
3-20-2018 - Errores habituales corregidos y cambios de seguridad.
3-23-2018 - ¡Se corrigió el error al descargar imágenes y videos pirateados!
2019 Updates
Hackeado con éxito 56,054 cuentas de WhatsApp desde su lanzamiento
3-10-2019 - Error solucionado en tiempos de espera elevados.
6-5-2019 - Opciones de descarga actualizadas
Actualizaciones 2020
1-1-2020 : ¡Trabajando entonces nunca antes! La versión 3.0 se ha lanzado al público.
Los errores principales se corrigieron desde la versión anterior 2.0.
El servidor seguro y la velocidad de descarga han aumentado drásticamente.
Tienes preguntas?

Si tiene preguntas, cree un hilo en nuestro sitio del Foro oficial: http://forum.hackolo.com/

Asegúrate de buscar primero en el foro para evitar la duplicación de hilos.