What is WhatsApp?
WhatsApp Messenger – is a cross-platform mobile messaging app which allows you to exchange messages without having to pay for SMS. WhatsApp Messenger is available for iPhone, BlackBerry, Android, Windows Phone and Nokia and yes, those phones can all message each other! Because WhatsApp Messenger uses the same internet data plan that you use for email and web browsing, there is no cost to message and stay in touch with your friends.
In addition to basic messaging WhatsApp users can create groups, send each other unlimited images, video and audio media messages.
How to access someone else's WhatsApp account
Hacking WhatsApp account and browsing victims files and texts are now available for the public around the globe. Anyone now can hack anyone's WhatsApp account without getting caught even without the victims knowing that his/her account is being hacked without further ado I'd like to introduce to you our very own WhatsApp Hack Online tool. Yes, this is online based and you won't download anything to hack anyone's WhatsApp account fast!
Take note: This is not your typical WhatsApp hack tricks that you can just find anywhere.
You can hack using any machine you have either mobile (Android, iOS, Symbian), or desktop. Remember this is an online tool you need the internet to access it.
WhatsApp Hack Online – No Software to Download
Yes, our tool works online-based meaning you don't need to download any kind of software just to hack someone's WhatsApp account with our user-friendly GUI now you can hack fast and easy, everyone can do this even kid. We have used fastest servers you could find on the planet for fastest hacking capability across millions of WhatsApp users worldwide. You just need to to know your victim's phone number to hack his account. Sounds really really easy right?
Read the full features of our hacking capability below and be amazed how fast our server was and how powerful this system is.
This is the only whatsapp hacking tool that constantly being updated with the recent updates on whatsapp servers!
Whatsapp Hacker Features:
Hacks Online – No software to download – WhatsApp hack online
Hacks users even logged on
Hacks blazing fast up to 3-minute hacking
Hacks History even deleted files
Hacks videos/images and texts
Works on all platform (mobile or desktop)
100% Working and Free
NOTE: This WhatsApp hacking tool is working on all platforms! Android, iOS, Blackberry, PC and Windows Phone. Almost all kinds of the platform you name it.
Screenshots and Instructions:
Go to – http://wappleak.com/ – to start hacking WhatsApp account.
Enter only numbers you can't type characters.
Enter country also
Choose what to hack
Optional browse history – hack WhatsApp chat history
Select export option
While downloading please verify first to help us avoid spammers. (If you are unable to verify using your PC please use your mobile device to access the website)
Done!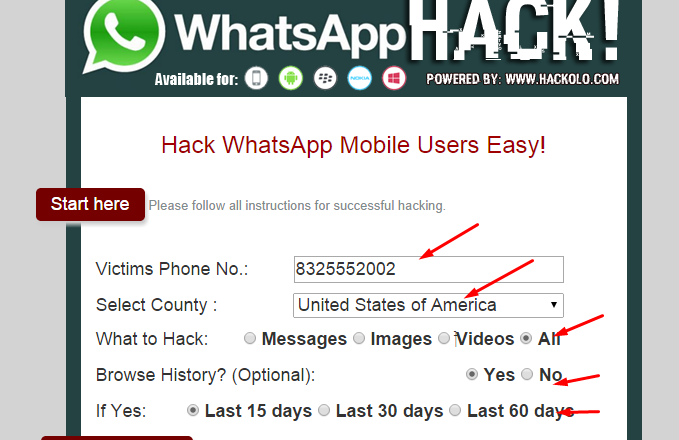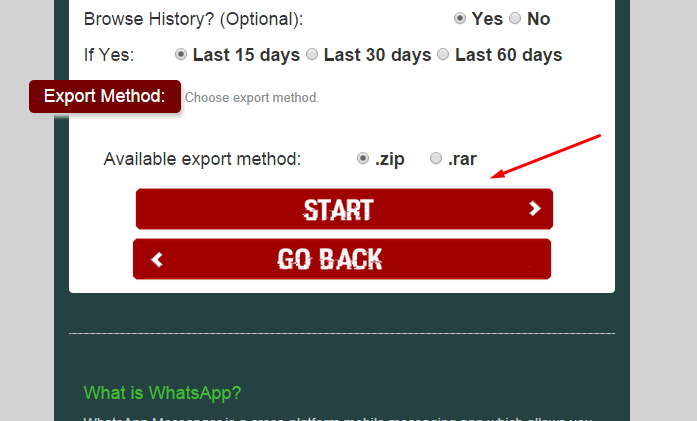 How to Hack WhatsApp? Start Here!
To start hacking simply visit ———–> http://wappleak.com/
Note: If you are unable to verify using your PC please use your mobile device to access the website
Version 3.0
Wapphacker has been updated!
Version 2.0
Welcome to WhatsApp Hacker v2.0 now more accurate hacking capability using the fastest server response GUI.
Version 3.0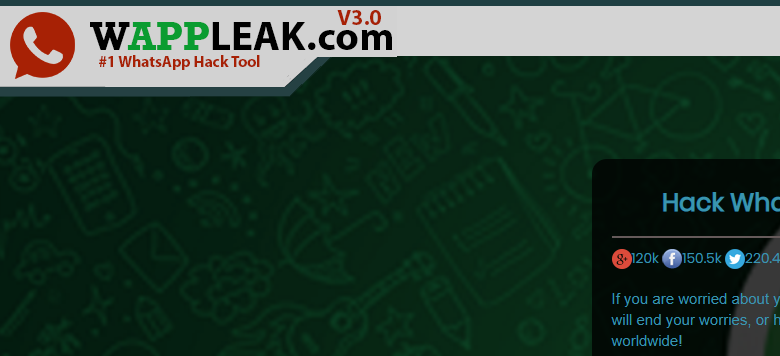 We would like to introduce the 3.0 version of our WhatsApp hacker tool that anyone can use from anywhere. No need to learn hard coding skills. Simply enter the mobile number of the target victim and start the hacking process!
Updated for 2020 WhatsApp Security Patches
Version 3.0 is equipped with the latest patches against whatsapp security modules.
Working independently to avoid errors upon retrieving the targets user account details without encryption .
Visit for Version 3.0

http://wapphacker.com/ – Better and more powerful than ever!
Taking too long?
If the process is taking too long to respond please refresh the page and do it again. Because sometimes we are loaded with users on hacking accounts we can't comply everyone. If the Process stops please refresh the page and try again.
What's new?
Country option removed, however, dial-code must be entered
Much easier user-interface system
Removed bugs like compressing freeze and validation freeze
Still thinking?
Now with over 100+ positive comments surely these users can't be wrong! They are constantly using this tool and will continue to do so. We are continually growing in numbers no one can beat us now unless the police find out. LOL! Happy hacking!
Updates:
3-1-2015 – Successfully hacked 12,000 WhatsApp accounts worldwide! Mainly from India and USA.
3-3-2015 – Reached 100+ positive feedback from our users! thank you.
11-30-2015 – Method is still working and the growing number of hacking activities just got bigger and bigger
4-13-2016 – There are numerous websites imitating wappbreaker.com and act as if they provide the same service! These sites may harm you instead of help you. Only use http://wapphacker.com/
3-3-2017 – bug fixed and usual security changes added.
9-4-2017 – bug fixed and usual security changes.
2018 Updates
3-20-2018 – Usual bug fixed and security changes
3-23-2018 – bug on downloading hacked images and videos has been fixed!
2019 Updates
Successfully hacked 56,054 WhatsApp accounts since launched
3-10-2019 – Bug fixed on heavy waiting time.
6-5-2019 – Download options updated
2020 Updates
1-1-2020 : Working then ever before! Version 3.0 Has been released to the public.
Major bugs are fixed from previous version 2.0.
Secured server and download speed has dramatically increased.
Got Questions?

If you got questions please create a thread on our Official Forum site: http://forum.hackolo.com/

Make sure you searched first the forum to avoid thread duplicates.