2023 Tutorial to Hack Someone's SnapChat Account & Password
Entonces estabas buscando cómo hackear el Snapchat de alguien para ver o descargar los registros de chat o imágenes / videos de la víctima. Estás perfectamente en el lugar correcto, ya que hoy voy a compartir mi método de trabajo sobre cómo pirateé las cuentas de mi amigo y descubrí algunos chats sucios y vergonzosos junto con algunas fotos y videos indecentes. Al principio, realmente no creía que las cuentas de SnapChat pudieran ser pirateadas, este pensamiento cambió cuando me encontré con este sitio web que te dice exactamente cómo hackear las contraseñas de SnapChat.
SnapChat es una aplicación de mensajería instantánea / redes sociales que está disponible tanto para Androide y iOS this tool gives its users the ease of accessing friends exchanging chats/images and videos. However, this app is a victim of hackers that constantly looking for vulnerabilities. Fortunately, (for us) they have succeeded and here I am today sharing you a method on how to someone's snapchat account.
Cómo hackear la contraseña de Snapchat

New Method 2023

This isn't your conventional password cracker tool that forces its way to guess the victim's account. This directly injects its way into SnapChat account database servers and look for username strings and gathered needed data just like users password, chatlogs/images and videos.
¿Qué obtendrás de hackear cuenta de SnapChat?

Un archivo zip comprimido que contiene el nombre de usuario y la contraseña de la cuenta de la víctima, registros de chat, imágenes / videos enviados y recibidos. Fantástico, ¿verdad? ¡Funciona como nunca antes de 2020 actualizado!
Propina: Ven aquí para ver los archivos de muestra, obtendrá después de descargar el archivo zip comprimido que contiene los detalles de la víctima.
Necesita saber más leyendo las características a continuación.
caracteristicas:
Hackear contraseña de SnapChat / registros de chat / imágenes y videos.
¡Hackea registros de chat dentro del rango de fechas hasta por 60 días!
Snapchat hack sin encuesta
Constantemente actualizado para evitar registros de errores de los servidores.
100% Uso gratuito: ¡sin cargos ocultos!
100% Anónimo! - Nunca se deje atrapar por el uso de este servicio.
¡Seguro y eficaz!
¡Más de 23,021 cuentas han sido pirateadas en todo el mundo desde marzo!
No hay software para instalar / descargar.
Descargar imágenes / videos completos enviados y recibidos
Captura de pantalla e instrucciones sobre cómo piratear el Snapchat de alguien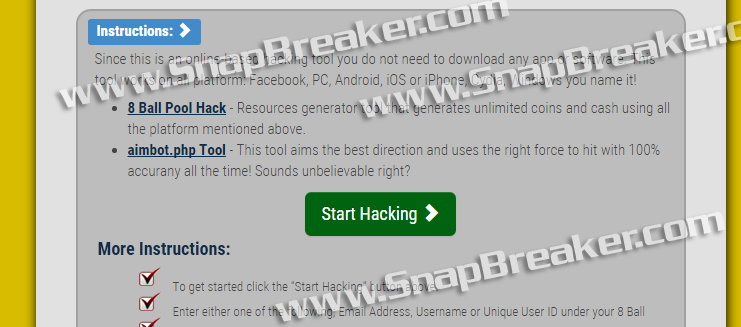 Haga clic en el "Empezar a piratear"Botón
Enter the Victims Account username
Hack Password es "garrapata" por defecto
Elija el rango de fechas para recuperar los registros de chat
Elija la opción Imagen / Videos o Descargar todo
Haga clic en "Estoy de acuerdo y continúo"Botón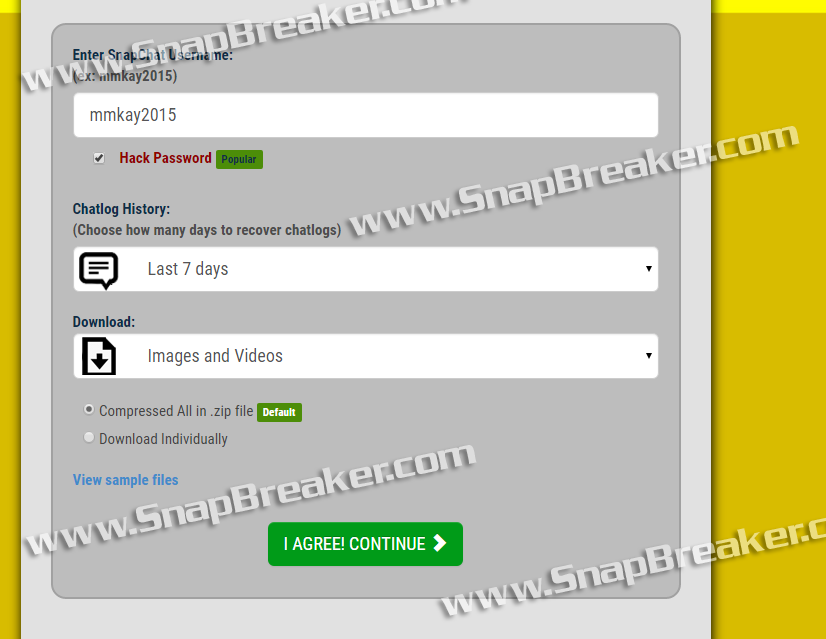 Wait for the hacking process (Nota: si el proceso se detiene o parece estar en pausa, actualice e intente nuevamente)

Verifica que eres humano si te preguntan (Tip: Complete a task to continue the process. It's FREE and EASY)

Hackear la contraseña de la cuenta SnapChat de forma inalámbrica
Ahora puedes fácilmente piratear la cuenta de alguien sin el uso de ningún software o sin siquiera tocar el dispositivo móvil de la víctima. Todo lo que necesitas es su nombre de usuario para empezar a piratear. ¿Qué tan fácil es eso? Incluso puedes acechar a tu víctima sin que tenga la menor idea.
(Descargo de responsabilidad! This tool is for educational purposes only. Files and or digital entities are NOT directly stored on hackolo.com server. Hackolo.com is not liable for any damages made by using the methods mentioned above to entities involved.)
PD: ¡Úselo bajo su PROPIO RIESGO!
ACTUALIZACIONES:
11-02-2018: Actualizado a un nuevo dominio de snaphackmaster.com a socialcheats.net
3-40-2019: error solucionado al recuperar los detalles de la cuenta de la víctima, como la dirección de correo electrónico y el nombre de usuario.
30/01/2020: error corregido en el proceso de descifrado del hash de la contraseña que fue informado por varios usuarios de que los detalles que están obteniendo son caracteres completos o ilegibles.