Get Free Mobile Load or Free Mobile Internet
Here I am again sharing a useful tips for you guys. I am probably late for discovering this but I'll share it anyways. Have a good read.
One way to get Free Mobile Load is using mCent – this app gives you credits once you installed and use their sponsored apps. Each install may give you up to $0.50 of Mobile Load credits plus if you use the installed app you may get an additional credits. All in all enjoy up to $1.00 of credits after you install and use their sponsored apps. You may get annoyed with the apps you installed just because you want to get credits, don't worry you can always uninstall them once you got your credits. Also bare in mind that some apps requires you to have the app on your mobile for some days to get additional credits.
Below is the simple computation of how you can gain credits using the app.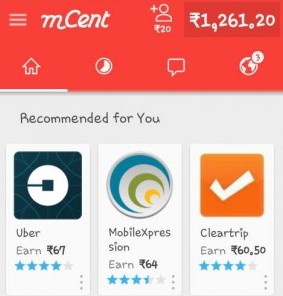 By Installing these 3 apps you will get a total of ₹191.5 and there are tens of apps you can install from. Look at the total earned numbers above ₹1,261.20 by just installing and using the sponsored apps.
Requirements:
Android phone with Internet
Ability to follow very simply instructions
That's ALL.
Get Started:
Get started by Downloading and Installing mCent App by going here
Open up mCent, sign-up and verify your account.
Install any recommended apps for you. (Ex. SKOUT). Note: Do not look for the sponsored apps outside mCent app you won't get credits.
After installing SKOUT you should sign-up and verify your account.
Now go back to mCent and watch your credits grow.
After gaining some considerable amount of credits you are now ready to RECHARGE – this is where you can convert your credits to real airtime load that you can use on texting, calling, free mobile internet or even sell it!
Pretty easy right?
NOTE: You should install sponsored apps to get credits!
What you can Gain from mCent
Gain unlimited credits
Convert credits to real airtime load to your mobile
Use this airtime load to texts, calls, free mobile internet or even sell it.
Now, that is some pretty easy trick to gain airtime balance that everybody can do as long as you have an android phone plus internet connectivity.