HummingBad Android Malware
The HummingBad malware is bad news for every Android phone out there. It had managed to get its hands on over 10 million Android devices around the world. You could be one of the unlucky Android owners that have a malware attached to their devices, stealing personal information and bombarding it with adware.
Hackers just won't run out of ideas when it comes to invading your devices for their own personal gains. Unsuspecting victims have important things to loss if they'll let this malware reside in their Android devices for an extended amount of time. Everyone should be careful when visiting or downloading things from the internet because they are full of naughty people. This malware spreads like wildfire and we are glad that it was immediately unmasked before it can perform additional damages.
What is hummingbad malware?
It is a sneaky malware that likes to consent itself with authority so that it can have access to your Android phone's operating system. Once having its much-needed access to your phone, it will proceed with its usual funny businesses.
You will start finding some bizarre advertisements on your phone that was never there before. Most of them will urge you to click them. Some apps that you've never installed may also start appearing. The first thing that will come into your mind is that someone is using your phone without your consent, and you are pretty much correct with that suspicion.
Hummingbad malware is spearheaded by a Chinese advertising company. This malware is usually engaged in a habit called "clickfraud," which involves luring Android users into clicking the ads displayed and produce revenues for Yingmob, their parent company.
To make the situation worse, this malware may also install additional malwares on your phone. If you have a rooted android device Hummingbad will gain "root access" to your phone's operating system so it will have major control on its processes. It can steal your personal details and sell them to earn even more revenues.
What can HummingBad Do?
Install Unwanted Apps to your device
Show unwanted advertisements
Set approved to collect important data from your phone
Install another malware
Top Countries Infected with HummingBad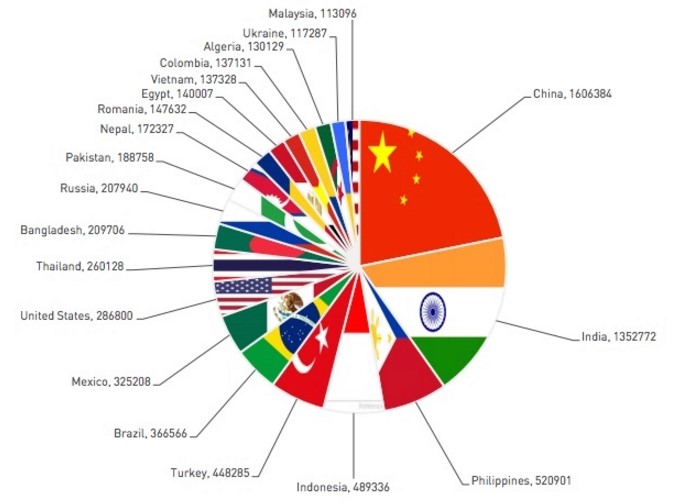 As you can see China and India are the most infected countries by HummingBad. HummingBad originated from China and presumably this will be top most infected one.
How to avoid this malware?
You certainly don't want this malware touching your Android phone. Once it is inside, forcing it out proves to be challenging. You don't want to reach the point where you have to perform a full factory reset, starting from scratch and losing some of your data.
Unfortunately, a factory reset is the best way to completely get rid of this malware. That's why you want to stay vigilant on what you will download from the internet. Some of them might be carrying hidden baggages.
Avoid apps from untrusted sources or apps from third-party apps. They are the most common sources of malware and viruses. Make it a habit to always get your apps from official sites like Google Play in order to make sure that you are not importing any bogus accessories along the way.
Antivirus apps are also helpful when it comes to protecting your device from malwares and viruses. There are antivirus apps that will offer protection for free and some are available for purchase. It is definitely worth coughing out some of your hard-earned dollars if it means safeguarding your Android device and your personal information from leaking.
How to know if my device is infected?
Devices that are carrying the hummingbad malware tend to display erratic behavior. It will display weird advertisements that seem to appear out of nowhere. They will have you click the ads as part of their trick to earn ad revenues out of the number of users that will click or view them.
Hummingbad malware will also load your Android phone with additional malware apps without you knowing. Since this malware uses the internet as a gateway during the process, you will experience a hike in data usage that is quite unexplainable.
The battery performance of your Android phone will also decline due to the malware's extra background processes. Using antivirus programs might further confirm if your device has indeed a malware lurking in it.
Hummingbad malware is hard to detect and it will serve you better if you just choose to prevent it from tampering with your Android device.
What should I do if I am infected?
What to do if you got infected?
If hummingbad got your device, then there is only one sure solution you can undertake to completely get rid of this malware.
Change your login details from a malware free computer to secure your accounts.
Start listing your contacts, settings, and important apps because you are about to perform a factory reset. Yes, you've heard it right, in order to make sure that hummingbad malware is utterly removed from your device, you have to conduct a full factory reset.
Take this experience as a special lesson and think twice before installing apps 

on your phone next time.

Only install apps from trusted sources like Google Play. Also, make sure that a competitive antivirus is active on your Android phone to further aid you against malwares.