Hacking Private Photos of Someone on Facebook
So you encountered a person in Facebook and want to see their pictures but you found out that they are private. Perhaps there are other ways to see their profile picture and the rest of their album? Yes, there are!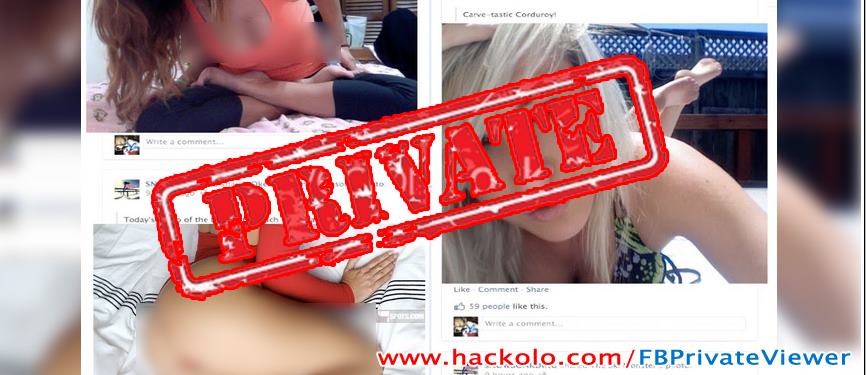 How to View Private Photos of Someone on Facebook? Easy!
Assuming you don't want to include yourself in playing with URLs of Facebook images, one of the ways is to download software to view their profile photos and other albums. This piece of software can on be found here on our website and nothing else as we are the sole developer of this. All you have to do is install that software in your PC, run that application and provide the Facebook id of that person. For getting the Facebook ID you must visit their Facebook account and copy the URL from the address bar and paste it in the required field. After clicking on the 'submit' button you could then have list of URLs of their photos. It's very easy read the full instructions below.
Full Instructions:
Download and Install FBPrivatePhotoViewer tool using the link. (NOTE: Link is shortened. Just click on "SKIP THIS AD" to continue to the download page.)
Copy the Victims Facebook Profile URL (example: https://www.facebook.com/james)
Paste it on the tool where it requires.
Click "Extract private photos only or all photo albums"
That's it! Extract the photos on the default windows location C:\\Desktop\FBPrivate\Photos\User4445\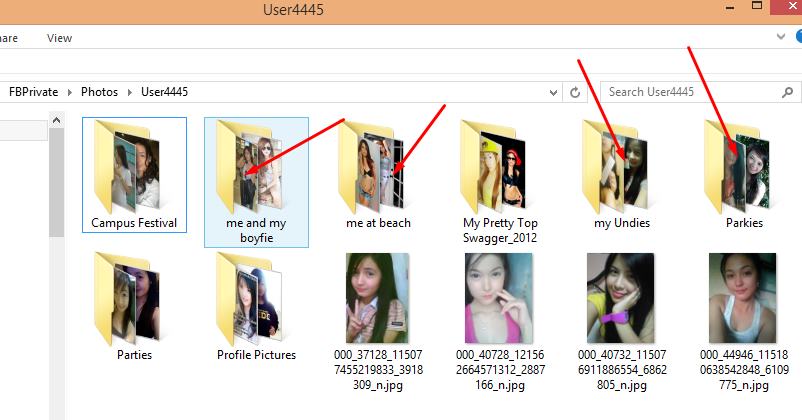 This is the simplest and most effective way to view private photos of someones you are interested in. You might find some daring and NSFW photos LOL. Just keep it yourself to keep you away from bigger troubles.
Screenshots:
Activate the product first – Very easy simply go to Help>Activate Product and you will be redirected to the download activation code page. Simply verify the download the code.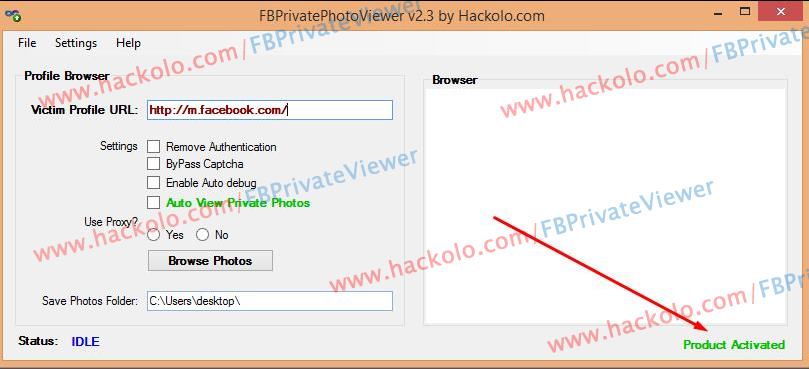 Enter the victims profile URL on the textfield "Victims Profile URL" just enter the user address just like the example on the image below.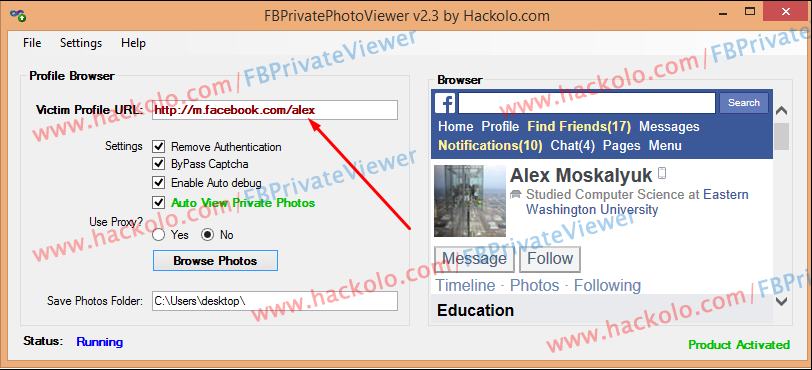 Other Method but not effective:
You could perhaps have a mutual friend in some cases, then the task becomes simpler for you. Since a mutual friend has complete access to the other person's Facebook albums, he or she could then send you the URL of those photos and by visiting these URLs, you could have complete access to their photos.
Private Photos Uploader Disclaimer
This also goes to say that you should never upload such pictures in Facebook where you can be compromised since there are, in reality, no way at all to prevent someone else (who has a decent knowledge of how the internet works) from getting access to those photos. Facebook is known for its weak security.
A way of protecting yourself is to never upload such photos and keep it on your drive so no one can never disclosed it nothing is secure on the internet. In this way, step number 3 does not work. But still there always will remain a loop hole for others to exploit.
Got Questions?

If you got questions please create a thread on our Official Forum site: http://forum.hackolo.com/

Make sure you searched first the forum to avoid thread duplicates.