Online een veilig wachtwoord genereren
Wachtwoordgeneratoren of online websites die op verzoek van gebruikers generieke wachtwoorden genereren, winnen tegenwoordig enorm aan populariteit. Net zotrong wachtwoordgenerator kan worden gebruikt als alternatief voor gebruikers of wachtwoordbeheerders die automatisch een willekeurig wachtwoord genereren dat gebruikers willen gebruiken omdat het veilig en beveiligd is. In de afgelopen 15 jaar zijn een aantal van dergelijke online websites en systemen zeer actief geweest om gebruikers te beschermen die hun oorspronkelijke gegevens en wachtwoorden doorgeven aan kwaadwillende en zwendelwebsites. Er wordt ook voorgesteld om het eerste algemene model voor deze systemen te gebruiken en de mogelijkheden voor instantiëring kritisch te onderzoeken.
Een van die websites die een veilig wachtwoord aanbieden, is https://www.safepasswordtool.com/ dat is een geweldige website die gebruikers de mogelijkheid biedt om direct veilige wachtwoorden te genereren.

Gebruik een veilige wachtwoordgenerator
SafePasswordTool.com - biedt de beste functies voor het genereren van een veilig wachtwoord dat op een willekeurige manier wordt gegenereerd, waarbij geen brutaal algoritme dat gokt!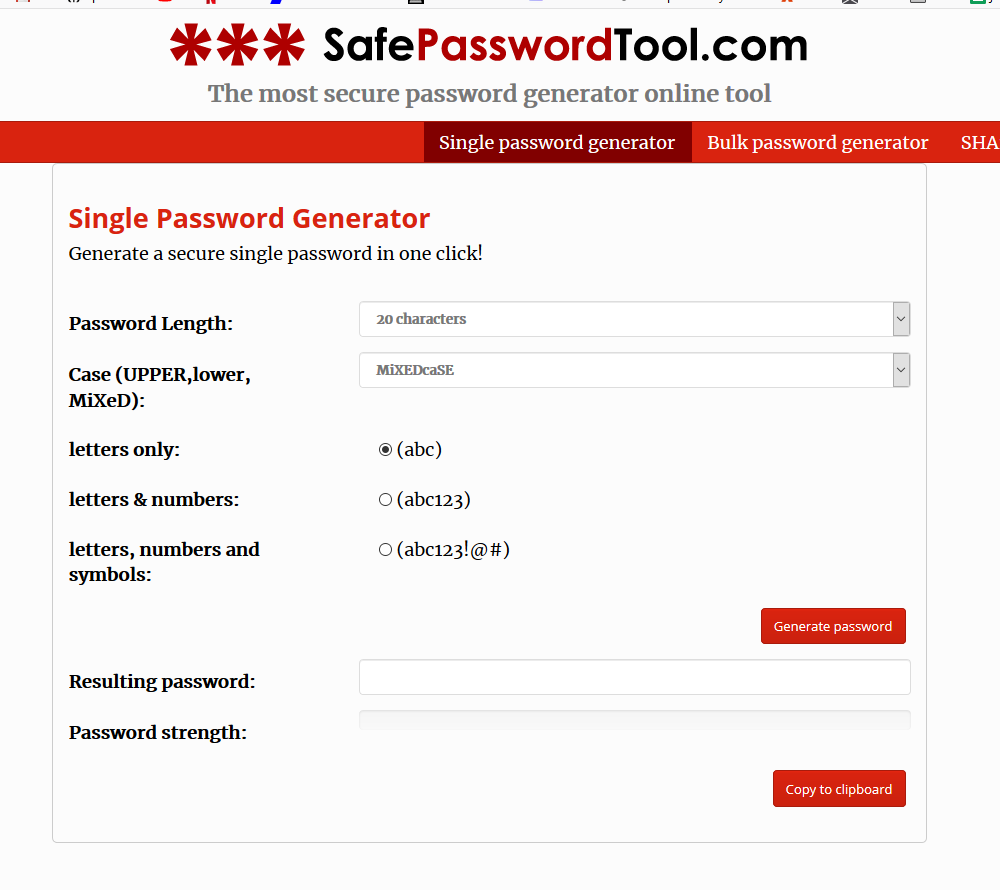 Genereer direct veilige wachtwoorden!
Massale veilige wachtwoordgenerator
U kunt alfatekens gebruiken, gemengd met numerieke tekens, en zelfs symbolen!
Genereer eenvoudig tot 100 veilige wachtwoorden
U hoeft geen software te downloaden.
U kunt uw wachtwoord in ALLE hoofdletters combineren met kleine hoofdletters!
Waarom moeten websites voor het genereren van sterke wachtwoorden worden gebruikt?
Als je een fervent lezer bent van hackolo.com, zul je zien in onze eerdere berichten dat er talloze gebruikers zijn gehackt door hackers die hun wachtwoorden online of zelfs verkoop gebruikersgegevens. Deze wachtwoorden kunnen gemakkelijk worden gehackt vanwege de eenvoud van hoe ze worden gemaakt of gekozen door de gebruiker.
Sommige gebruikers kunnen zelfs hun voornaam gebruiken in combinatie met hun verjaardagen, wat erg kwetsbaar is voor hacking. Sommige hackers gebruiken brute-force-methode om uw wachtwoord te hacken. Brute-force is een hackmethode waarmee de hacker miljoenen combinaties in zijn wachtwoordwoordenboek probeert te raden om uw wachtwoord te raden.
Een tip om een sterk wachtwoord te maken, is om een datum als nummer te gebruiken, niet je geboortedatum. Zeg de verjaardag van een beste vriend, gebruik alleen het jaar. Zeggen 1998 nu gemengd met je bijnaam toen je een kind was! Zeggen Buck nu heb je Buck1998 (let op: gebruik altijd een willekeurige hoofdletter). Voeg nu om het veiliger te maken een willekeurig symbool toe en zeg '@", nu heb je Buck @ 1998 - dit is een zeer sterk wachtwoord dat u gemakkelijk kunt onthouden en heel moeilijk te raden.
Vindt u het moeilijk om uw eigen veilige wachtwoord te maken?
Vindt u het moeilijk om uw eigen veilige wachtwoord te maken? Dan weet je waarom we hebben gemaakt SafePasswordTool.com - deze website bespaart niet alleen je tijd bij het maken van je wachtwoord, maar genereert alleen het veilige wachtwoord dat geen enkele robot ooit kan raden!
SafePasswordTool.com - maakt gebruik van een zeer geavanceerd algoritme dat alleen WILLEKEURIGE PASWOORDEN genereert die niet overeenkomen met welk woordenboek dan ook. Geloof me niet? Bekijk dit wachtwoord dat door de website is gegenereerd en vertel me of het niet veilig is.
Voorbeeldwachtwoorden gegenereerd door SafePasswordTool.com
3t$67h$ & v @ #YbQh! $d43
dp8$B19QjYACliP#tl94
dkY#kjbKUP84u5E#r$27
h6$0%! 8#rIi! PjHH! J76
@Jr_kuiper
0R34 @ qKl$mC @ tOHq#g05
108wtqgB & ShX# @ eLbT25
18A8ol#$FxGWmRTigk30
Zoals je kunt zien, zijn deze erg sterk en zal niemand dit wachtwoord ooit onthouden, zelfs niet als je er een paar minuten naar staart! Dat is een sterk wachtwoord.
U hoeft deze wachtwoorden niet te onthouden
Ja, dat klopt, u hoeft deze wachtwoorden niet te onthouden. U kunt altijd een wachtwoordbeheerprogramma waar u uw wachtwoorden kunt opslaan. Sommige wachtwoordbeheerprogramma's die tegenwoordig veel worden gebruikt, zijn de volgende:
Laatste pas (beschikbaar in Mac, Windows, Android en iOS)
Dashlane (beschikbaar in Windows, Mac)
True Key (beschikbaar voor gebruikers van Windows / Microsoft Edge)
Keeper (beschikbaar in Windows, Mac, iOS, Android)
Sticky Password (beschikbaar in Mac en Windows)
In de meeste gevallen als u een antivirusprogramma heeft. De wachtwoordbeheertool is een populair programma. Net als in Avast, waar u hun Avast Password Manager Tool kunt gebruiken, zie onderstaande afbeelding.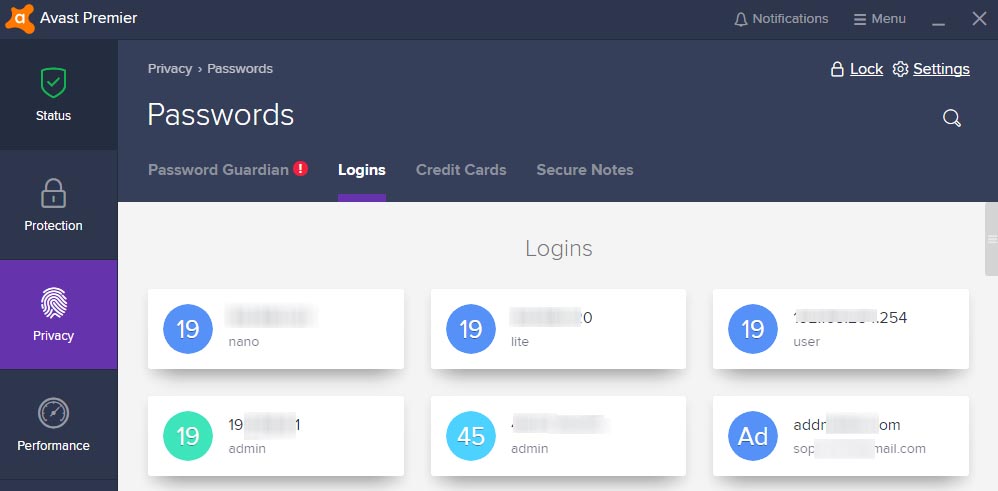 Deze tools zijn redelijk handig, nu hoef ik geen wachtwoorden te onthouden!