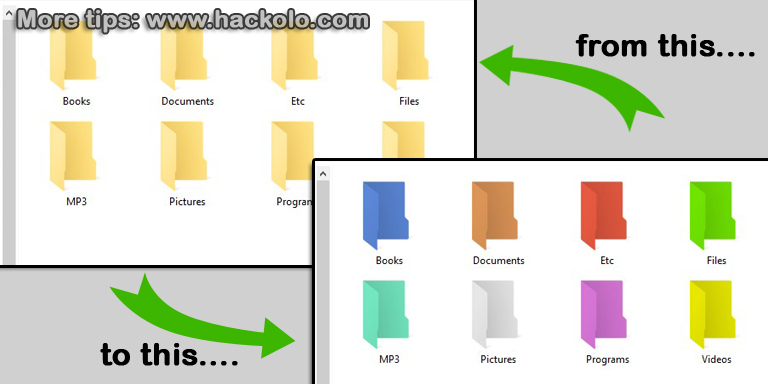 Tip om mapkleuren in Windows te wijzigen
Er zijn tegenwoordig heel veel mapaanpassingen beschikbaar, maar vandaag ben ik echter net een geweldige tool tegengekomen die verandert je saaie gele mapkleur in verschillende in Windows! Dit is super gaaf, je zou het misschien eens willen proberen. Merk op dat je geen codeervaardigheden nodig hebt, installeer gewoon de software en je bent klaar om te gaan.
Als u een overzichtelijke pc-map wilt en u de map gemakkelijk kunt herkennen aan de hand van hun kleuren, is dit de beste oplossing voor u. Kies uit allerlei verschillende kleuren die je nodig hebt! Gast, ik zeg het je meteen nadat ik het heb geïnstalleerd, ik voel me zo 'Waarom heb ik dit net ontdekt? Dit scheelt zo veel van mijn tijd! "
Klaar? daar gaan we…
Systeem vereisten:
Instructies:
De software heet Folder Colorizer door Softorino.com bezoek gewoon hun website en zoek naar de software of gewoon klik hier om het direct te downloaden.
Installeer de software.
Ga na de installatie naar de map waarin u de kleur wilt aanpassen.
Klik met de rechtermuisknop op het map > Kies "Inkleuren"En kies vervolgens de kleur van uw keuze. Alle kleuren zijn beschikbaar, dus er is genoeg om uit te kiezen.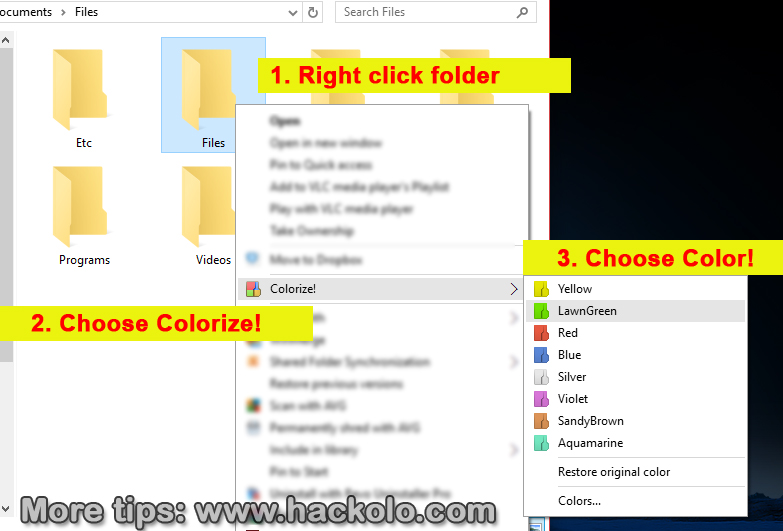 Wacht na het kiezen van de kleur een tijdje als de mapkleur niet alleen verandert druk op F5 om te vernieuwen de pagina. Of klik met de rechtermuisknop ergens en kies 'Vernieuwen".
Het zou de kleur nu moeten veranderen! Dat is het! Is het gewoon niet?
Dat is mooi, is het niet? Nu kunt u uw mappen gemakkelijk en met het grootste vertrouwen herkennen of ordenen. Dit bespaart meer tijd omdat u de map die u zoekt niet hoeft te zoeken op maptitel, maar onthoud gewoon de kleur, zodat u deze gemakkelijk kunt herkennen om het browsen nog sneller te maken!
Dit werkt op USB Stick-mappen?
Aangezien het proces software omvat die op de machine moest worden geïnstalleerd, is een draagbare USB-stick helaas niet mogelijk. Dit kan werken op de machine waarop u de software hebt geïnstalleerd en de USB-stick hebt geplaatst, maar wanneer u de USB-stick op andere machines plaatst die niet over de Folder Colorizer-software beschikken, zal het zeker niet werken.