Here's my Top 5 List of Best Website Traffic Monitor
Real-time Website traffic monitoring is an important ingredient in your website success. Using this monitoring services you can see which part of your website is lacking in which you can take address. You can monitor which post/topic is gaining popularity and giving you exact number of unique visitors or if you are really getting visitors, you can see your progress over the weeks, months even years. You can check if your website was down. Website monitor is really important for web marketers, bloggers, businesses and personal website owners.
On this post I am going to list every website analytics service I have tested and rank them according to their features which I personally like and find them a necessary feature that every website administrator should consider.

Yes clicky, probably you haven't heard of this analytics service but this one is my favorite. Why? It has everything I wanted plus it offer a FREE PLAN for all users FOREVER. Not trial for a few days but forever! Though the free plan is quite limited but still has every features necessary to successfully monitor your website.
If you are planning to upgrade to premium plan they offer the cheapest plans that you could ever search of from a web analytics service online! Don't believe me? Then do your research and come back here.
Quick Features:
Offers FREE plan
Heatmaps
Track your Goal
Retrieve website traffic history from the begining– now this is one of the best feature they got you can retrieve your website analytics from the time you first added it clicky.
Keyword monitor – monitor which keywords you are getting traffic from.
Locale users – Monitor your visitors by CITY
Users Entry and Exit Points – monitor visitor entrance and exit points
Monitor Website Downtime – one of the best feature clicky offers. You can monitor your website and notify you via email that your website is currently down.
Platform monitor – monitor you visitors device used on visiting your website.
All in all this is my best bet.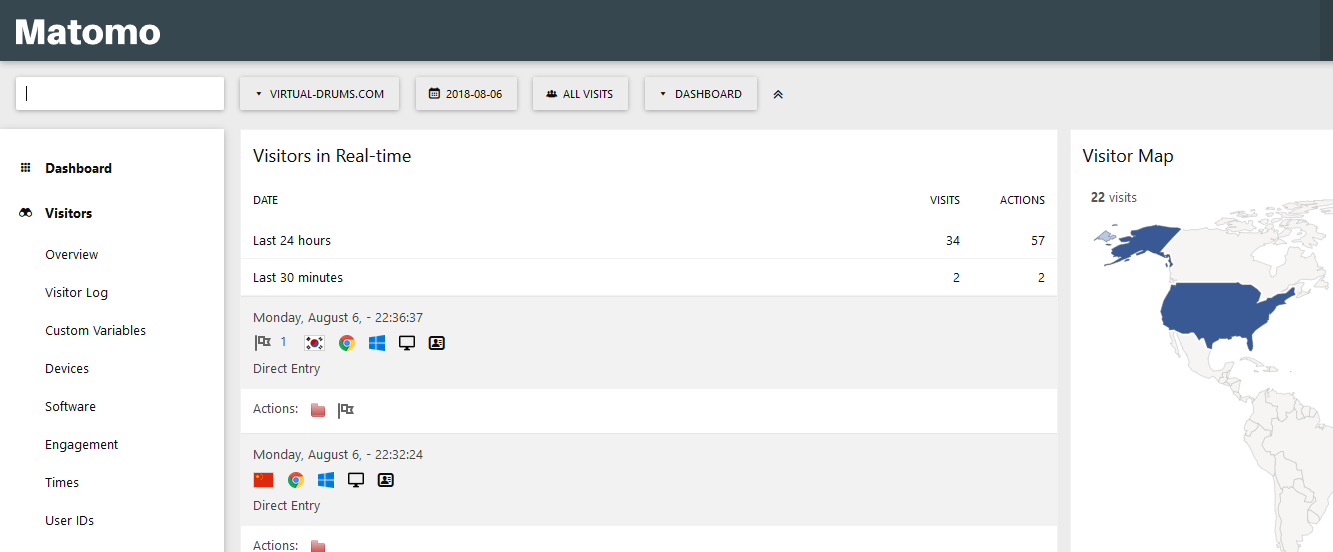 Matomo is one of the best web analytic software in the web it offers every website traffic monitoring service must have. Its is a 100% FREE real-time traffic monitor and it is self-hosted, meaning you ahve to have a dedicated domain or web host to use this. Matomo is for really good for web marketers and ecommerce business owners. It offers a lot of enterprise features such as A/B Split testing, Pixel Monitor, WooCommerce Analytics, Multi Channel Conversion Attribution, and much much more features.
Check out their demo page here: https://demo.matomo.org/index.php
Quick Features:
All feature of a basic website trafficm monitoring service plus:
100% Free and open-source software
A/B Split testing
Pixel Monitor
WooCommerce Analytics
Multi Channel Conversion Attribution
Bot Tracker
Customized Display Page
Though it is free, some very cool plugins require you to buy it such as Search Engine Keywords Performance that costs 149$ a year, Media Analytics costs 179$ a year, and the most cool feaure A/B Split testing that costs 229$ a year.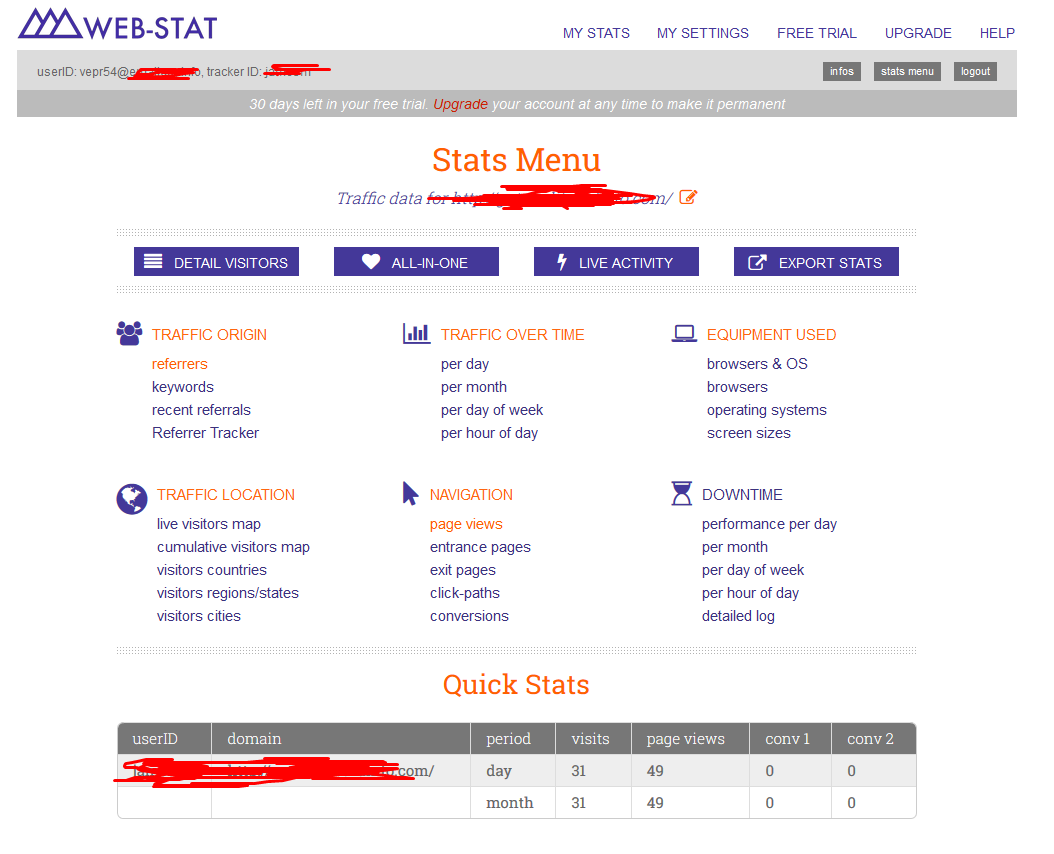 This web analytics tool is offering almost every features clicky has to offer exept they don't offer Heatmaps, goal monitoring, and Website Downtime monitor. This is one of the good website traffic monitoring service out there to say the least.
It offers FREE trial which is good for 30 days only. What I don't like with this service is that you have to click everything to see what you want. Unlike clicky that everything is displayed in one screen!
Quick Features:
Offers FREE trial for 30 days
Device monitoring
Locate Monitoring
Traffic monitoring
Keyword tracking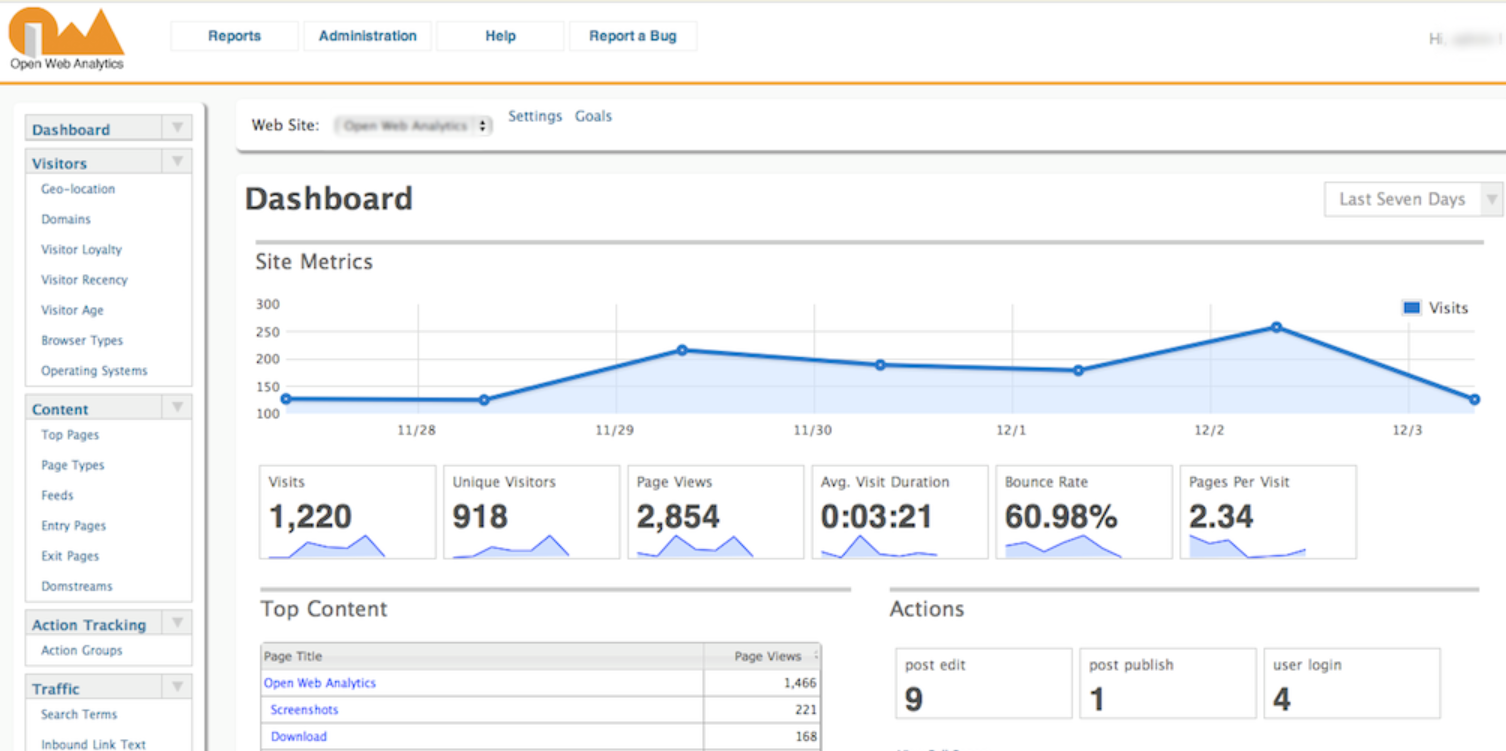 This is one of the coolest web analytics software out there that you can use for FREE! What I like on this particular software is their Interface. So sleek and simple. It has every important feature a good web analytics has to offer.
Post tracking
Visitors count
Platform visited from
Device used
Locale – Geo Location
Referrers and more.
One of the most basic website traffic monitoring out there. It lacks premium features though. But, hey its FREE!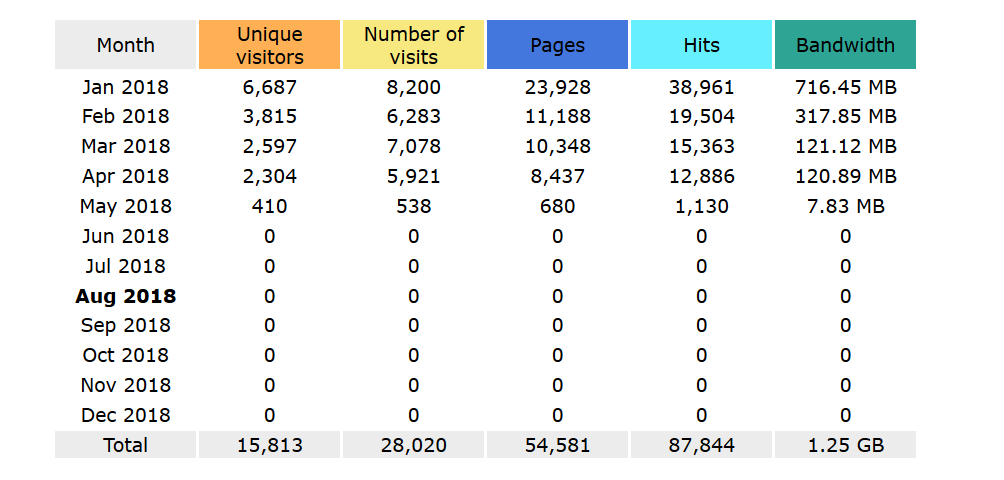 Awstats is probably the oldest stat analytics tool out their. It lack major premium feaurres but hey its FREE! Most hosting offer Awstats as default traffic monitoring tool, together with Webalizer. These traffic monitoring tool should be trusted though as it logs bot traffic as normal user.
So, there you have it. This is personally listed top 5 Best Analytics for every user.