How to Get 100% Youtube Subscribers
YouTube has become a highly reliable platform that people are using to upload and share their videos. However, you will need to build a big audience for your channel to grow and make considerable amount of profit on your youtube videos. Today I am going to show you an effective method on how you can gain free subscribers on your Youtube Channel. This is an extremely FREE way of promoting your content compared to using other providers that are still charging for similar services.
The Method:
It starts by signing up and this is a pretty simple step that requires just some few details. You will then be redirected to a page where you will be allowed to select the number of subscribers you need. It is important to confirm the URL you provide to ensure that the subscribers are added to the right channel.
Go to AddMeFast.com and register an account.
Verify your account and you are now ready to gain some points/credits.
Click on any of the platform on the right-side panel. (image below)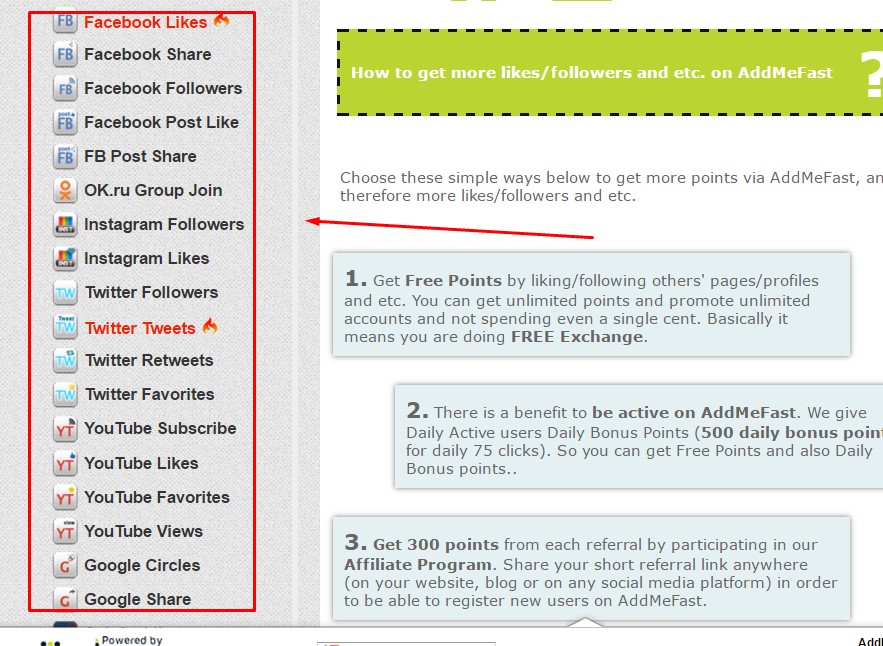 ex. If you have chosen "Facebook Likes". You will need to have an extra facebook account, don't use your personal one. You need to like the facebook fanpage to get 9 points. (see image below)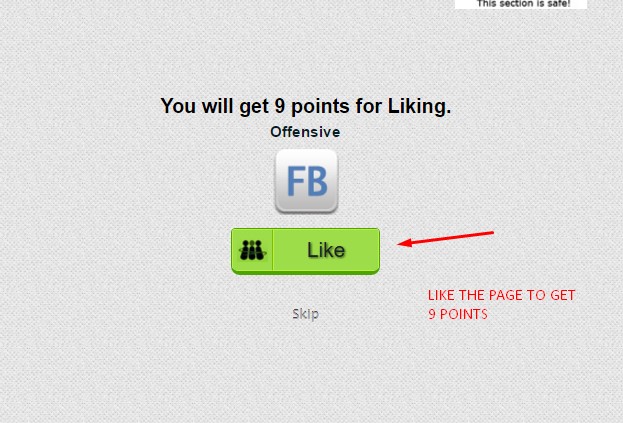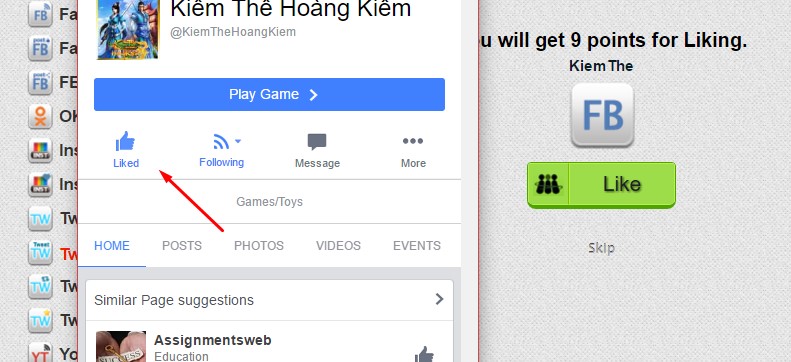 You have to do this again and again until you got 500 points!

And now you are ready to use your points on gaining Free Youtube Subscribers.
Click on "ADD SITE/PAGE". Choose Youtube Subscribers and enter your Youtube Channel ID. Your channel ID is the last part of your Channel URL. example: https://www.youtube.com/channel/UCR02Qglm1MnddVfrdDjl4Zg is your Channel URL, the UCR02Qglm1MnddVfrdDjl4Zg is your channel ID. Paste it on the required field and "turn on" the Total clicks and Daily clicks.
Sample Calculation:
You have 500 points. We will use all these points to get 100 subscribers on your channel. So we will need to input the following setup image below.
100 total clicks – total subscribers
10 daily clicks – 10 subscribers per day
5 CPC (cost per click) – the cost of each subscribers spend using your points. 5 x 100 subscribers is equals to 500.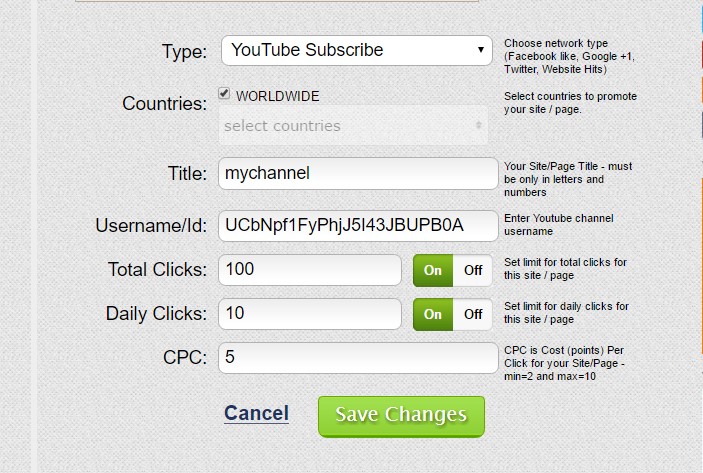 Click on SAVE CHANGES and you are done!

Now watch your subscribers grow as you add more and more points to your addmefast account.
Why You Need Tons of Youtube Subscribers?
Because the more the merrier – lets admit it its all because of money. You need to have tons of subs to get considerable amount of profit on your effort on making those videos.
To get famous! – we understand the risks involved in having fake subscribers and this is why we always take keen interest to provide active subscribers. Our database is also full of other interesting channels that you can subscribe to, watch videos, like or comment in order to earn points for your channel. These are the points that you will then be using to promote your content.
To get rich! – lets get Pewdiepie as an example this guy has 50 Million subs and still growing day by day. His net worth is more than $90 Million and do you know whats making him rich? His youtube CHANNEL! Now its no easy task replicating what he was doing but thousands are already following his lead. Don't get late. Act now!
Why do these numbers matter?
A wide subscription is extremely important in marketing your channel since this will significantly increase your chances of getting more views, likes and comments. YouTube is now greatly relying on "watch time" to gauge the success of a channel or some specific videos. This is the amount of time that a person will spend in watching the videos uploaded in a given channel.
There are some easy tips that you can use to make your audience like your content and this will be making it possible for you to receive repeated views. First, you should ensure that your videos are interesting and engaging before uploading. You should also develop close collaboration with channels that post similar content to attract their viewers. Using trailers is an effective way of telling your visitors what to expect from your videos.
Take action Now!
With all the said benefits of developing reliable subscribers, there's really no reason why you should be struggling to establish and grow your YouTube channel. Simply visit addmefast.com, do a quick sign up and get your new subscribers in a matter of hours. This can also help you to increase your Facebook likes, Twitter followers and Instagram followers among other irresistible offers.