WonderShare and it's Wonder
Nowadays, saving files made easier. Photos, documents, contacts, messages can now be saved in a mobile device. At the same time, deleting files is as easier as saving. There are also instances that files or data will be lost. So, if you are struggling with this problem, then this article will definitely help you. Wondershare have something to do with this problem. With the help of Wondershare, deleted or lost files can easily be recovered or restored. Any brands of android mobile suits with the recommended software by Wondershare. Deleted messages, contacts, photo, music or even videos can now be recovered with no hassle. This literally works on iOS, android, windows phone. ALL kinds of mobile!
Don't lose hope when you suddenly deleted that important file!
Because there's this little piece of software that will recover it for you! No matter the situation is, you can easily recover almost any file or even recover the file that is way too old to recover, WonderShare will magically bring it to life again!
The recovered data will be from recycle bin, backup, SD card, ROM, and RAM. Recovering lost data will be based on how data have been lost. Just like, mobile has been damaged by water or mobile parts have been busted, also factory setting restoration can another be a reason for lost data. Wodershare introduced Dr. Fone for Android data recovery. Recovery of files that are impossible to be restored now has a solution on how to have it again. Let Wondershare Dr. Fone do it for you.
To have Dr. Fone for Android, you have to install the software on your PC. The first thing to do in installing the software downloads the said program, then, double click the setup tool which is drfone-for-android_full1531.exe. After that, run the program. Once the program is being installed or being ready to use, you can now start the steps for recovering the lost data.
Step by Step Process:
Regarding with the steps of recovering the lost data, it is as simple as downloading applications. There are three steps on how to recover lost android files or data. The following are the steps on how to recover lost data.
Download and Install Wondershare Dr.Fone for Android 5.5.0 – Click for more info and Download Link! NOTE: Carefully read instructions on how to install Wondershare Dr. Fone for a successful installation.
First, is connect your device to the PC where the software has been installed via USB chord. NOTE: while connecting, make sure that there is no other started device management software in order to successfully connect it.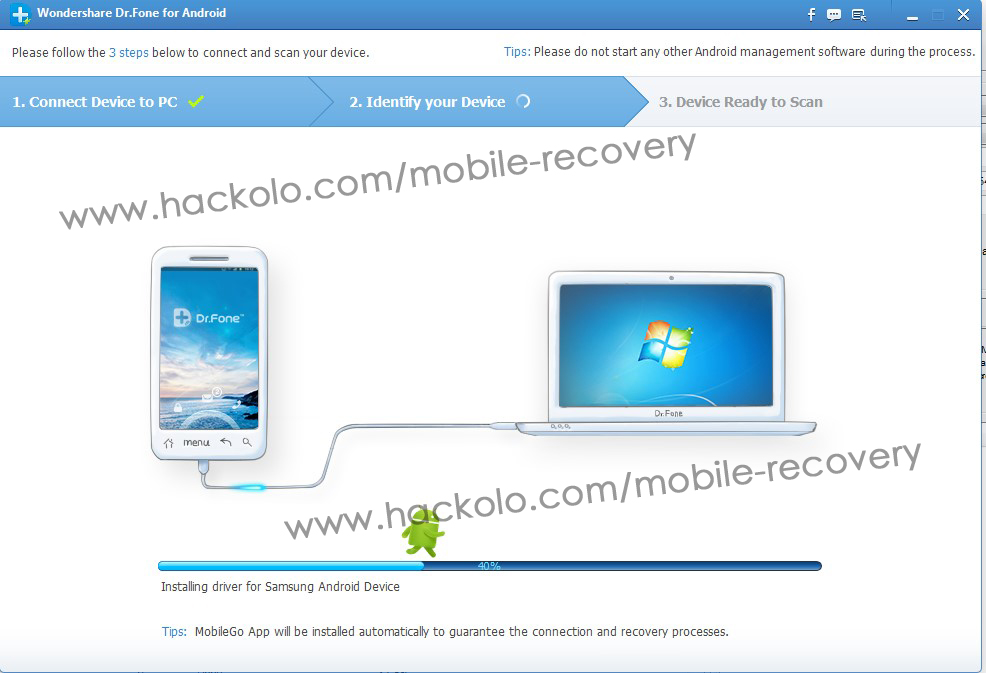 Please look at your phone while getting connected to the PC as it may ask some permissions that you need to "GRANT". After permission asked you will get connected just like the image below.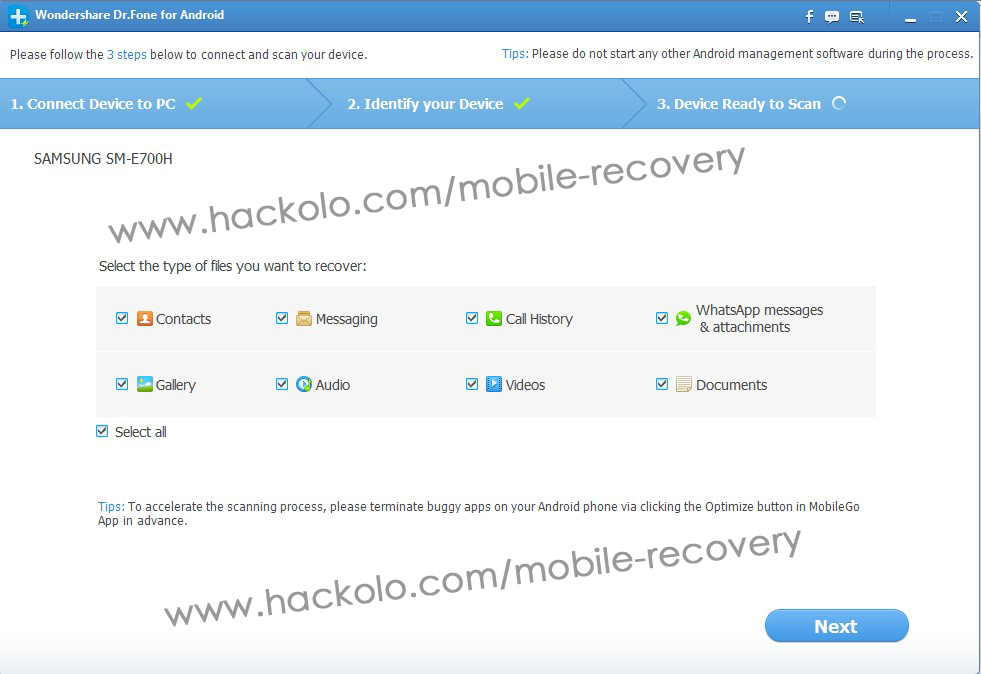 The second step will be identifying your device. Look on the screen of your PC, then identify your device, after identifying your device, you will see that there is a NEXT button, click it in order to start analyzing the data on your device. Then, after analyzing all the data on your device, proceed to the next step.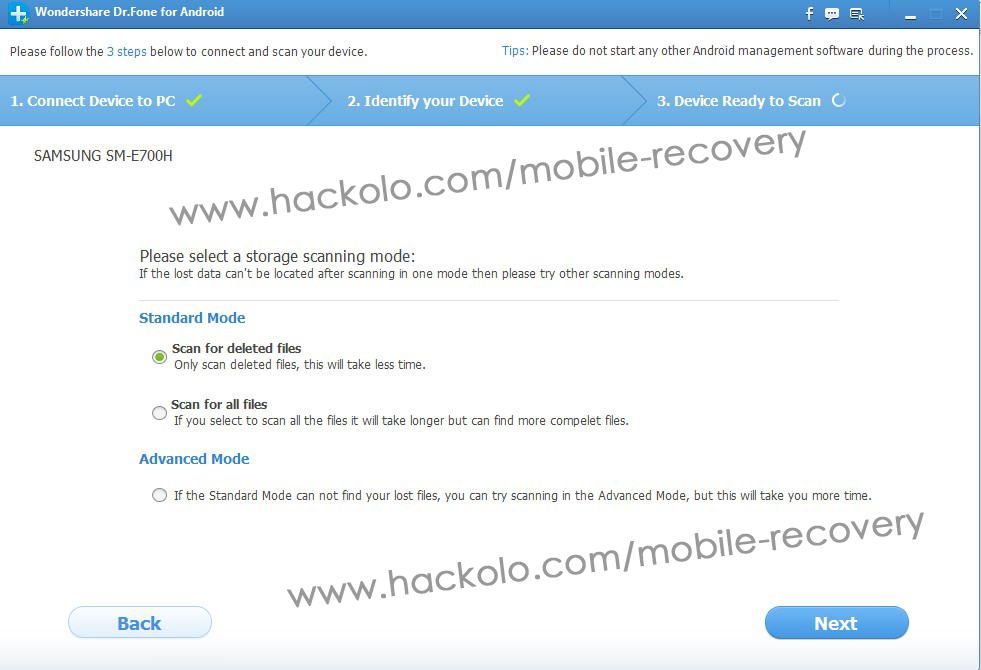 The third step will be scanning and recovering all the lost or deleted files. This will be the last step to do. All you have to do right now is wait for the process to complete take some little time though.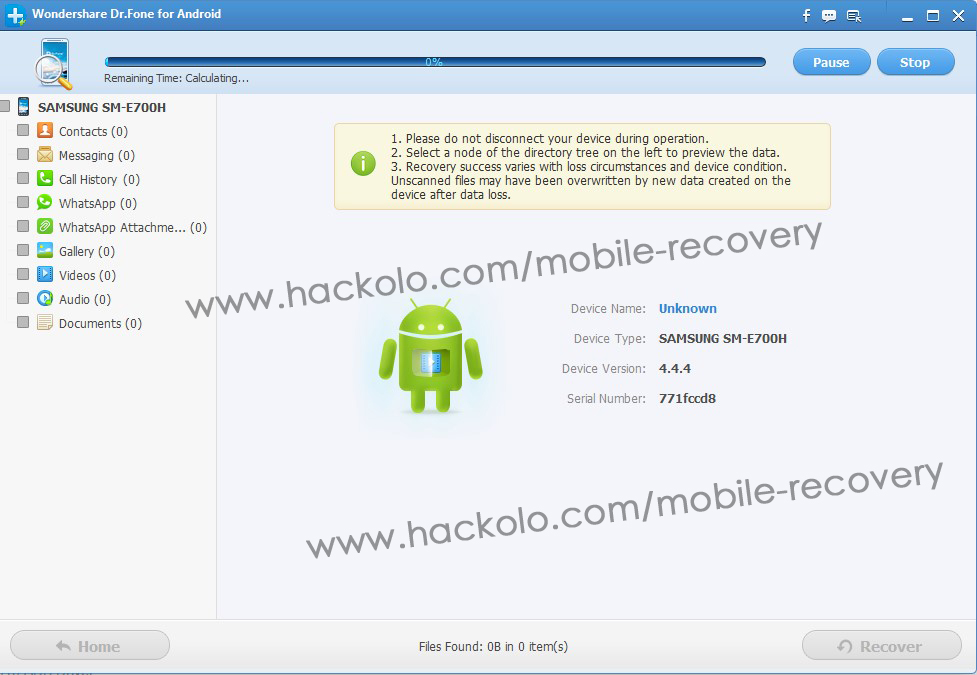 Once all the data or files are analyzing, you can now choose what file or data you will go to recover. So, this is it. Feel free to recover all the deleted files on your device.
Now, you don't have to be worried if all of your data on your device will be lost because Wondershare is ready to help you. You can easily recover the following: Contacts, Messages, Call History logs, Whatsapp Logs, even WhatsApp Attachments, Images, Videos, Audios/Mp3s and Documents! Now tell me if that doesn't wonder you.
So, what are you waiting for? Grab Wondershare software now to make PC and mobile problems be solved easily.