Getting Instagram Followers might be a very big pain in the ass especially to those people who know nothing about gaining it. If you are not a famous figure then you have zero chances about getting more followers except on asking your friends to follow you. And you searched google to gain Instagram Followers yet you end up on websites selling them which is very unlikely to you because you want to gain it for FREE. Here I am going to list down methods on how to gain FREE Instagram Followers.
Upon asking google you will end up signup up on social exchange sites which you will get followers if you follow back someone else. On this post I am going to share you methods on gaining it without following others back or without downloading any kind of software just to gain Instagram followers.
Methods:
I will list down methods and how you can gain yours without a hassle.
The social exchange system
Software to gain Instagram Followers
Websites giving Instagram Followers
Sneaky Social Locking script
Methods Explained
---
 Method 1: The Social Exchange System

Just like AddMeFast.com this system works when users follow others they will gain credits and depending on your credit amount you can gain Instagram followers. And of course you must follow others back this is where you need a fake account to use for gaining followers and your personal account to received followers? Pretty easy right?
Plus, there are iMacros script that will automate the process. Currently, I am using this iMacros script. Read carefully how to use this script.
AddMeFast Instructions:
Earn points by using the platforms available. Example Like pages or like fb posts to gain points.
After you reached some points you are ready to add your own Instagram account.


Choose "Instagram Followers" on the dropdown menu and Enter your Instagram Account URL.
And then choose how many followers you want to add on your account. Since you have less points you can't choose that many followers so I would suggest to follow the below setup if you have only 510 points.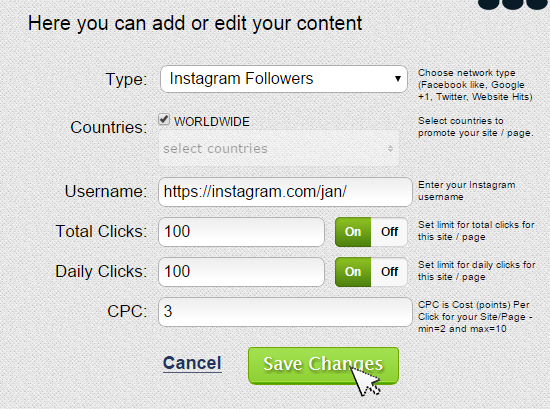 See Also:

Software to gain thousands of AddMeFast points or Addmefast generator tool download here.
---
Method 2: By Using a Software
Gaining Instagram Followers by using this software or using this mobile applications to gain Instagram Followers is very easy not like the social exchange method. By using this method its even more easier and will give you result in just a couple of minutes. Just click the links to start downloading them.
All you need to do is copy your Instagram Profile URL ex. http://instagram.com/jhames and choose the amount of followers you want to add and verify your campaign to get started.
---
Method 3: Websites Giving Instagram Followers

Website like SocialFreeBlasts.com  and FreeGramFollowers.com are the only legit websites I have found online that are truly giving Instagram Followers without a fuss. However, due to spam complaints you might need to verify yourself that you are a human and not a bot that is abusing the system to get more followers.
All you need to do to start a campaign is your instagram account URL ex. http://instagram.com/jhames and start using the system.
They are all for FREE
All the methods I have mentioned above are all FREE, yes! You can try them yourself you do not need to spend a single $$$ just to gain Instagram Followers.
I just shared you my goldmine on getting followers fast and easy look at these followers. Very persuading.
Updates:
Method is still working up to now March 2015.
No Issues has been reported for the past couple of months running.
Working smoothly on all users.