Hoe u eenvoudig een nummer op uw Android-telefoon kunt blokkeren
Als je je afvraagt of dit artikel iets voor jou is, stel je dan het volgende scenario voor:
Je bent aan het relaxen bij je thuis, liggend op de bank, wat televisie aan het kijken, als je ineens een sms krijgt. Nu kennen we allemaal dat gevoel als we onze telefoon horen piepen. Het is best spannend, nietwaar? Stel je voor dat je telefoon rinkelt of piept voor een bericht op het moment dat je iemand verwachtte.
Je pakt je telefoon, ontgrendelt hem en dan zie je: het is gewoon weer een bericht van diezelfde oude, saaie telemarketeers die proberen reclame te maken voor hun producten.
Nou, als je:
Ziek van mensen die je spammen met sms-berichten
Onbekende bellers die u 's avonds laat lastig vallen
Onbekende nummers sturen je sms'jes
Of gewoon als u een bepaald nummer het recht wilt weigeren om u opnieuw te bellen of te sms'en
Dit artikel is voor jou!
Het onderwerp van vandaag gaat helemaal over het blokkeren van nummers om u berichten te sturen en te bellen u op uw mobiele Android-telefoon. Deze methode werkt vrijwel met alle soorten Android-telefoons, zoals Samsung, LG en Huawei.
Hoe u kunt voorkomen dat een nummer u ooit nog hindert
Alles wat u moet weten, wordt weergegeven in het volgende deel van het artikel. Dus laten we beginnen.
Er zullen een aantal methoden zijn die stap voor stap laten zien hoe u een bepaald nummer aan de blokkeerlijst kunt toevoegen.
OPROEPLOGBOEK
De gemakkelijkste manier om te voorkomen dat een nummer u belt, is door uw oproeplogboek te gebruiken. Tik gewoon in uw lijst met oproepen en zoek naar het nummer dat u wilt blokkeren.
Zodra je het nummer hebt gevonden waarnaar je op zoek was, tik je erop en navigeer je naar de "Meer"Optie in de rechterbovenhoek. Zodra u 'Meer' selecteert, ziet u een vallend menu met de tekst 'Toevoegen aan afwijs lijst"Of"Blokkeer dit nummerr ".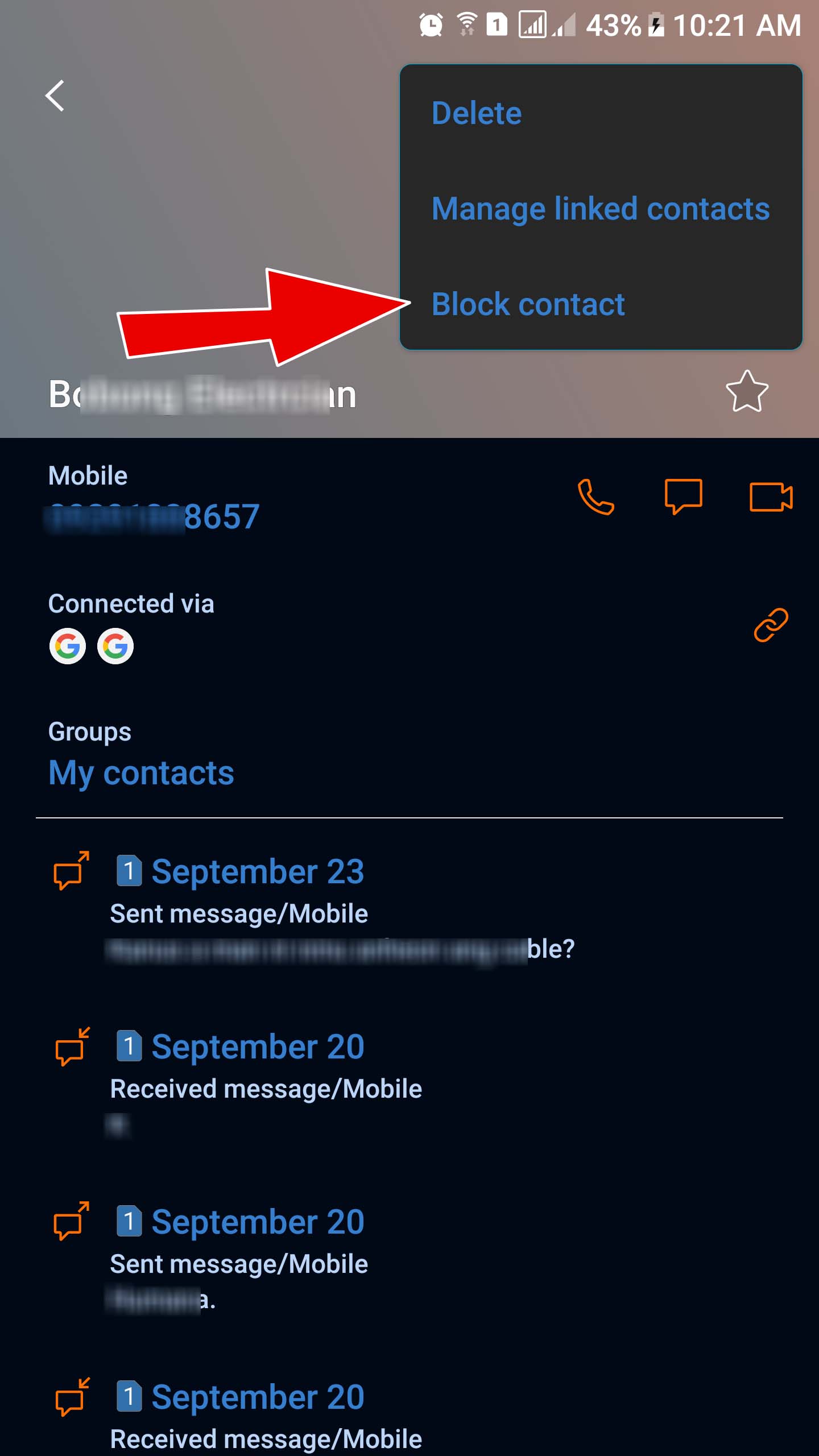 Hiermee wordt voorkomen dat het door u geselecteerde nummer u opnieuw belt, maar het belet u niet.
CONTACTEN LIJST
Laten we zeggen dat er een oude vriend van je is, misschien zelfs je ex die niet bij je vandaan kon komen, en nu proberen ze je dag en nacht te bereiken. Het enige dat u in dat geval hoeft te doen, is naar uw contactenlijst gaan en het onthouden nummer selecteren dat u wilt blokkeren.
Nadat je dit hebt gedaan, selecteer je eenvoudig de knop in de rechterhoek die er ongeveer uitziet als een potlood. Uw volgende en laatste stap is om op de drie stippen in de rechterbovenhoek te tikken en vervolgens het selectievakje naast 'Alle oproepen naar voicemail".
Gefeliciteerd! Je ex zal het nu moeilijk hebben om je te bereiken.
INSTELLINGEN
Door op de drie stippen te tikken, gaat u naar het menu en navigeert u zelf in de volgende volgorde:
Instellingen >> Oproep >> Oproepafwijzingen >> Auto Weigerlijst >> Maken.
Nadat je jezelf naar de laatste stap hebt genavigeerd, zal het vrij duidelijk zijn wat je moet doen. Android-telefoons bieden u een zoek- of invoerveld waarin u het nummer dat u wilt blokkeren of de naam uit uw contactenlijst moet invoeren.
ANDROID BLOKKEERT APPS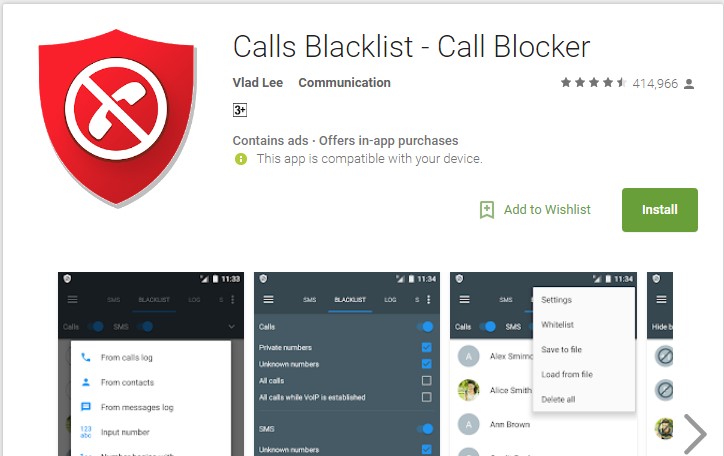 Als geen van deze drie methoden voor u heeft gewerkt en u op zoek bent naar een veel elegantere en gemakkelijk te gebruiken oplossing, dan is dit misschien het antwoord dat u hoopte te vinden.
Er zijn tal van apps voor Android-telefoons op de markt (Google Play Store) waarmee u een bepaald nummer kunt blokkeren om u te bellen of berichten te sturen. Omdat alle eerder genoemde manieren specifiek waren om te voorkomen dat een nummer u belt, zorgt deze oplossing voor alles.
Er is een verscheidenheid aan apps om uit te kiezen, maar mijn keuze zou de "Dhr. Nummer blokkeren oproepen en spam"En Oproepen Blocklist - Call Blocker-app. Met deze app kun je niet alleen een nummer blokkeren om je ooit nog een sms te sturen of je te bellen, maar heeft het ook veel coole functies, zoals voorkomen dat een heel netnummer je telefoon belt. Het is vrij eenvoudig en gemakkelijk te gebruiken.
Tal van apps om uit te kiezen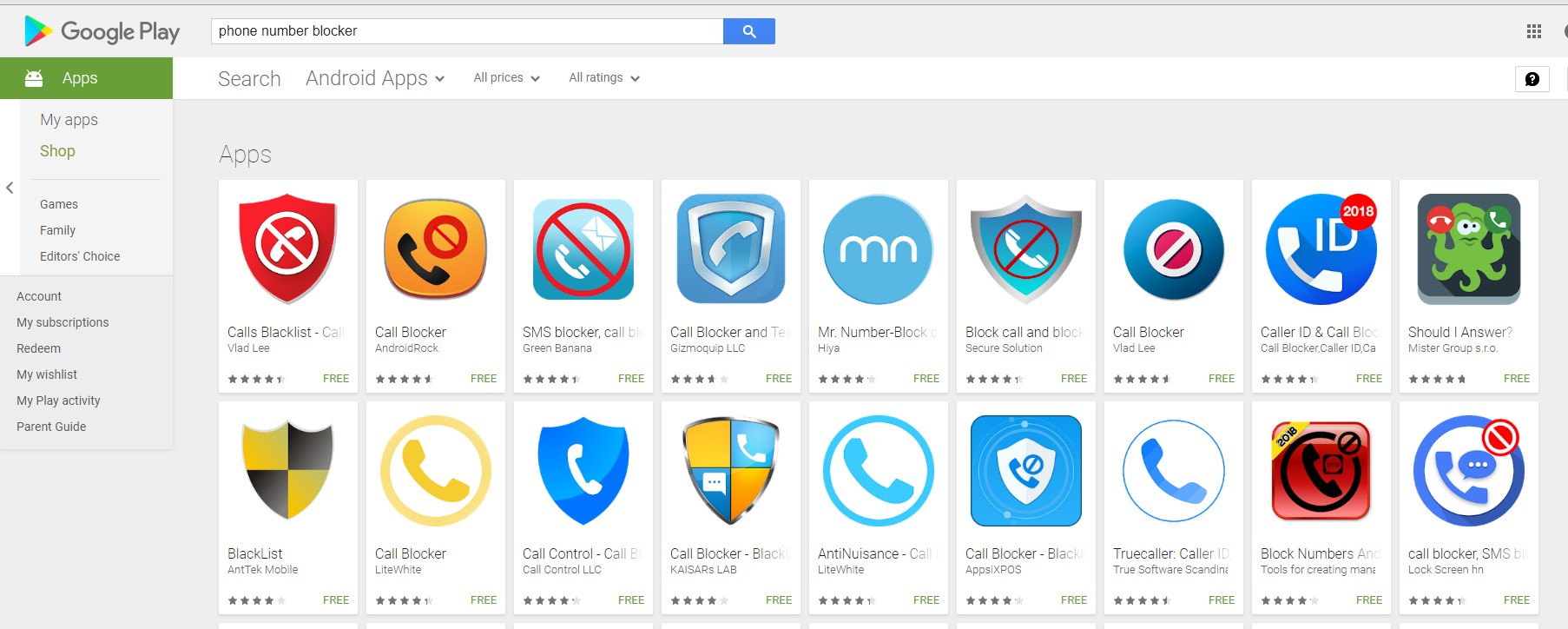 Als u niet tevreden bent met de functionaliteit van deze app, kunt u andere zoeken in het gedeelte "voorgestelde apps", onder de geselecteerde app, of gewoon de trefwoorden invoeren die u nodig hebt.
HET DEFINITIEVE VERDICT
Hoewel er veel verschillende telefoons en veel verschillende versies van Android zijn, zullen de eerder genoemde stappen u zeker de oplossing bieden waarnaar u op zoek was, aangezien ze min of meer hetzelfde zijn op elke telefoon.
Kies een van deze methoden en u zult spamvrij zijn! Bedankt!