How to Easily Block a Number on Your Android Phone
If you are wondering if this article is for you, just imagine the following scenario:
You are relaxing at your home, lying on the couch, watching some television, when all of the sudden you get a text. Now, we all know that feeling when we hear our phone beep. It's kind of exciting, isn't it? Well, imagine your phone ringing or beeping for a message right at the time when you were expecting someone.
You take your phone, unlock it, and then you see: it's just another message from those same old, boring telemarketers who are trying to advertise their products.
Well, if you are:
Sick of people spamming you with texts
Unknown callers bothering you late at night
Unknown numbers sending you texts
Or simply if you want to deny a certain number the privilege to call you or text you again
This article is for you!
Today's topic is all about blocking numbers from messaging you and calling you on your Android mobile phone. This method is pretty much working with all kinds of Android phone such as Samsung, LG, and Huawei.
How to Block a Number from Bothering You Ever Again
Everything you need to know will be displayed in the following part of the article. So, let's begin.
There will be a number of methods that will show, step-by-step, how to add a certain number to the block list.
CALL LOG
Probably the easiest way to block a number from calling you is by using your call log. Simply tap into your list of calls and search for the number you want to block.
Once you have found the number you were searching for, simply tap on it and navigate yourself to the "More" option in the upper right corner. Once you select "More" you will see a falling menu that says "Add to reject list" or "Block this number".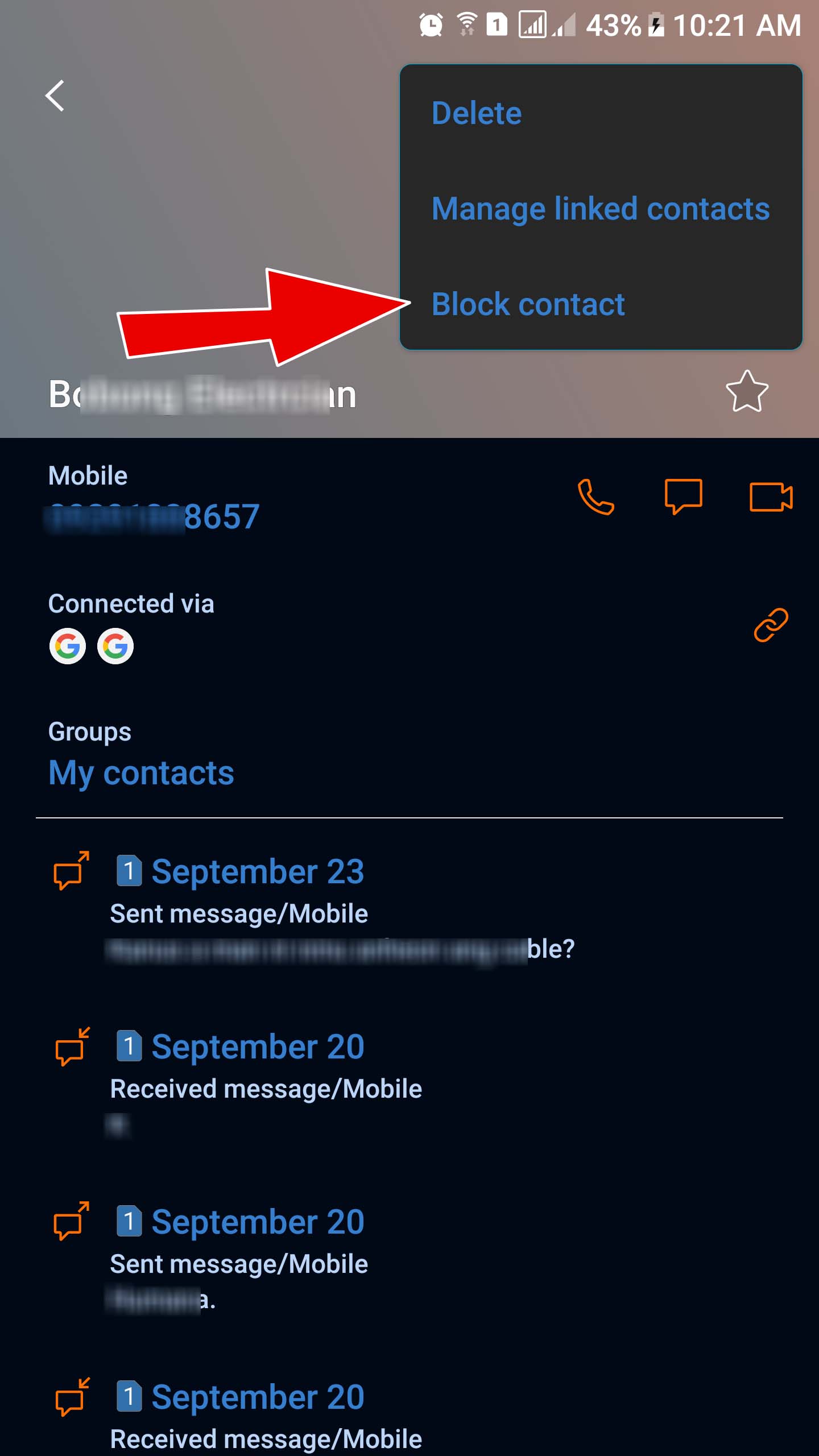 This will prevent the number you have selected from calling you again, however, it won't prevent it from messaging you.
CONTACTS LIST
Let's say there is an old friend of yours, maybe even your ex who couldn't move on from you, and now they are trying to reach you day and night. All that you need to do in that case is go to your contacts list and select the memorized number you want to block.
After you have done so, simply select the button in the right corner that pretty much looks like a pencil. Your next and final step is to tap the three dots in the upper right corner and then simply check the box located right next to "All calls to voicemail".
Congratulations! Your ex will have a hard time reaching you now.
SETTINGS
By tapping on the three dots, enter the menu and navigate yourself in the following order:
Settings >> Call >> Call Rejections>> Auto Reject List >> Create.
After you have navigated yourself to the last step, it will be pretty clear what you need to do. Android phones will provide you a search or enter box where you will need to enter the number you want to block or the name from your contacts list.
ANDROID BLOCK APPS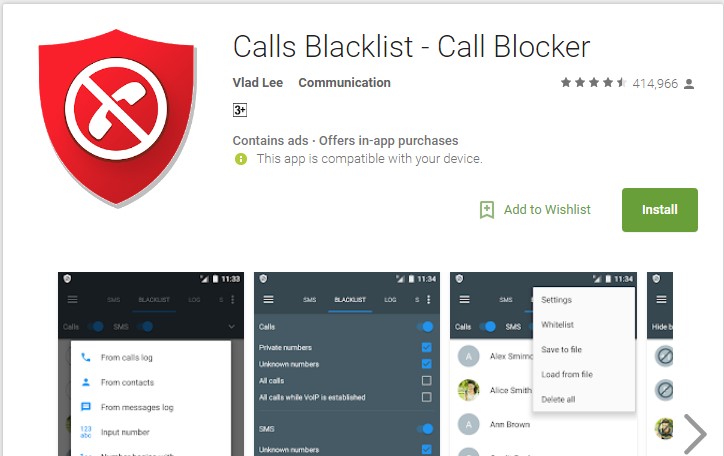 If none of these three methods worked out for you and you are seeking for a much more elegant and easy to use solution, then this might be the answer you were hoping to find.
There are plenty of apps for Android phones on the market (Google Play Store) that allow you to block a certain number from calling or messaging you. Since all of the previously mentioned ways were specifically for blocking a number from calling you, this solution will take care of everything.
There is a variety of apps to choose from, however, my choice would be the "Mr. Number Block Calls & Spam" and Calls Blocklist – Call Blocker app. This app allows you to not only block a number from texting you or calling you ever again but also has many cool features like preventing an entire area code from calling your phone. It is pretty straightforward and easy to use.
Tons of apps to choose from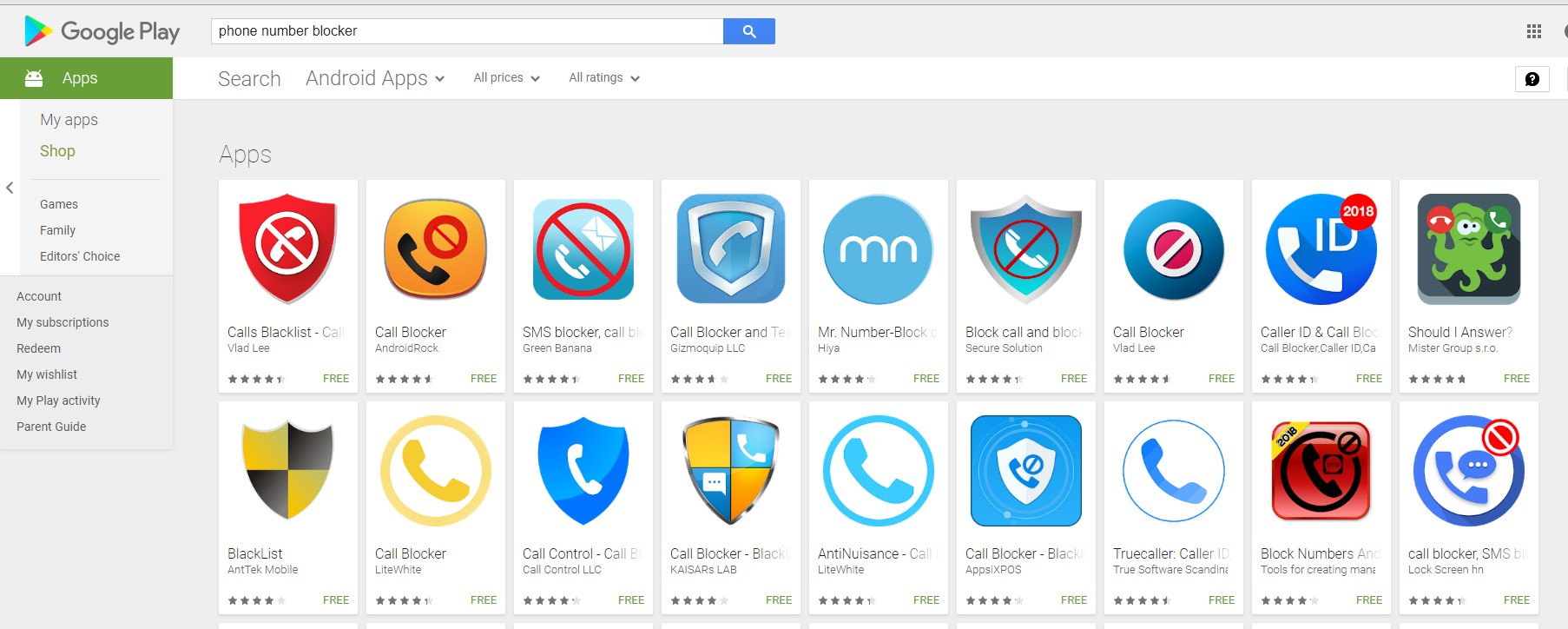 If you aren't satisfied with the functionality of this app, you can check for others in the "suggested apps" part, below the selected app, or just enter keywords that you need.
THE FINAL VERDICT
Although there are many different phones and many different versions of Android, the previously mentioned steps will definitely provide you with the solution you were looking for as they are, more or less, the same on every phone.
Choose one of these methods and you will be spam free! Thanks!