Hier leest u hoe u eenvoudig sociale media-accounts zoals Facebook, Instagram, YouTube, Twitter en Gmail kunt verwijderen.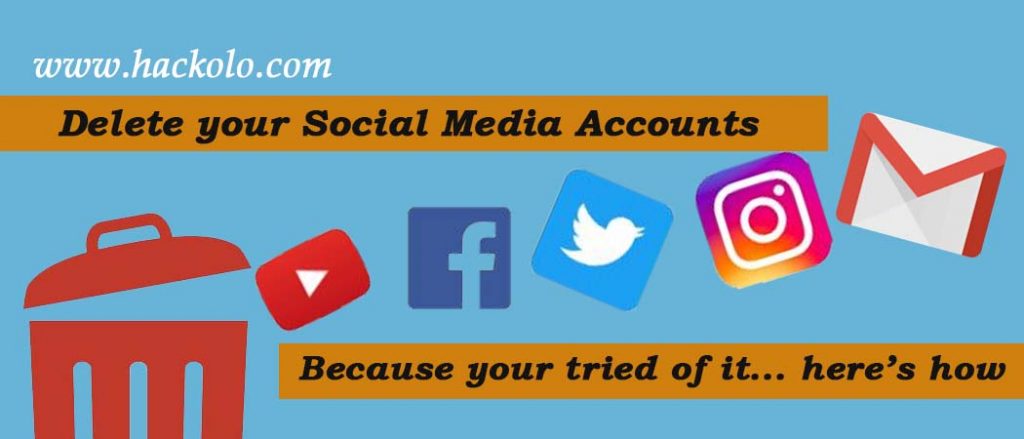 Er was eens een tijd dat mensen inloggen op hun sociale media-accounts om wat rust te vinden - sommigen ontsnappen aan de echte wereld. Ik denk echter dat de millennials er redelijk bekend mee zijn om hun sociale media-accounts een tijdje met rust te laten om wat rust te hebben. Ja, jij bent het niet alleen.
Hoewel sociale media ons leven op veel manieren en dingen op meer manieren gemakkelijker maken, heeft het niet altijd een positieve invloed op onze geest. Soms kom je in deze verslagen zulke absurde feiten en dingen tegen dat je het gevoel hebt dat je genoeg hebt gehad voor een dag of de rest van je leven. Omdat onwetendheid soms gelukzaligheid is.
Dus je hebt besloten om wat vrije tijd te nemen van sociale media. Het is een geweldige beslissing omdat je je eindelijk volledig kunt concentreren op jezelf en wat je wilt. Je zult niet duizenden mensen hebben die je niet eens kennen, hun mening naar je toe gooien. Bovendien kunt u productiever zijn omdat u niet verdrinkt in berichten van anderen.
Heeft u problemen met het verwijderen of deactiveren van uw accounts? Hier is hoe je FaceBook, Instagram, YouTube, Twitter-account, Gmail verwijdert, zodat je wat rust kunt vinden of waar je dit ook voor doet. Lees ook: Hoe u online volledig anoniem kunt worden.
Hoe Facebook, Instagram, YouTube, Twitter, Account, Gmail te verwijderen
Het is verreweg het gemakkelijkst om te verwijderen en ook terug te krijgen. Het verwijderen en deactiveren van een Facebook-account is hetzelfde. Als je genoeg mensen hebt die je hersens aan het bakken zijn of genoeg berichten om te voorkomen dat je aan het werk bent, is het tijd om de volgende stappen te volgen.
Instructies:
Ga naar Instellingen> Persoonlijke informatie> Algemeen en je zult de optie vinden om je account te bewerken of te deactiveren.
Facebook zal je vragen waarom je je account wilt deactiveren, omdat niemand er nu meer zonder leeft, nietwaar? Selecteer dus een van de opties uit de optie die ze bieden. Als je een optie selecteert waarbij een persoon betrokken is, zoals "Gepest worden door iemand", dan moet je waarschijnlijk ook een naam typen.
Het kan een beetje "Je vrienden zullen je missen" toevoegen om je te stoppen met de gezichten van de mensen met wie je het meest omgaat. Trap er niet in en typ uw wachtwoord om te deactiveren. U kunt ook gemakkelijk terugkijken door de algemene inlogprocedure te volgen.
Zijn slijm, nagellak, auto, naaien, etc. video's die je om 4 uur 's ochtends aan Instagram verslaafd houden? Het wordt tijd dat je je slaapcyclus herstelt in plaats van je overgeeft aan zinloze genoegens.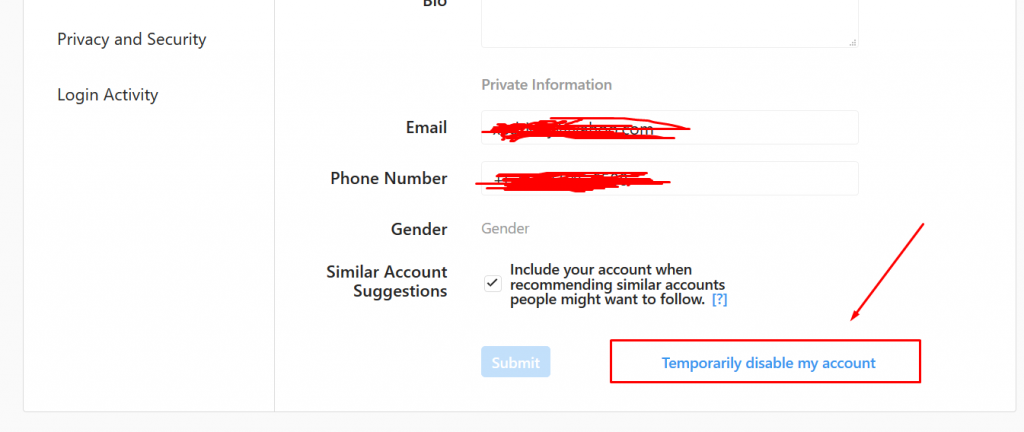 Maar Instagram is in dit geval best slim en lastig. U kunt uw account niet echt deactiveren vanuit de app zelf. U moet in feite inloggen vanaf de Instagram-website om het account te verwijderen.
Instructies:
Als u bent ingelogd, klikt u op "Profiel bewerken" onder uw profielfoto. Vervolgens vindt u een optie om uw account tijdelijk uit te schakelen. Selecteer het en geef uw redenen op voor het uitschakelen van de opties die zij u geven.
Ten slotte, om te weten dat jij het echt doet, moet je Instagram je wachtwoord geven. Selecteer vervolgens om opnieuw uit te schakelen en u bent klaar. Wist je ook dat er een methode is? hoe je snel duizenden instagram-volgers kunt krijgen?
De functies voor permanent verwijderen hebben ook dezelfde stappen.
Ben je het beu om de tweets van anderen net zo vaak te zien als dat je je moe voelt als je 's ochtends vogels hoort fluiten als je een slapeloze nacht hebt doorgebracht met het zien van tweets van mensen? Het wordt tijd dat u doet wat nodig is. Het is zelfs tijd dat u uw Twitter-account verwijdert.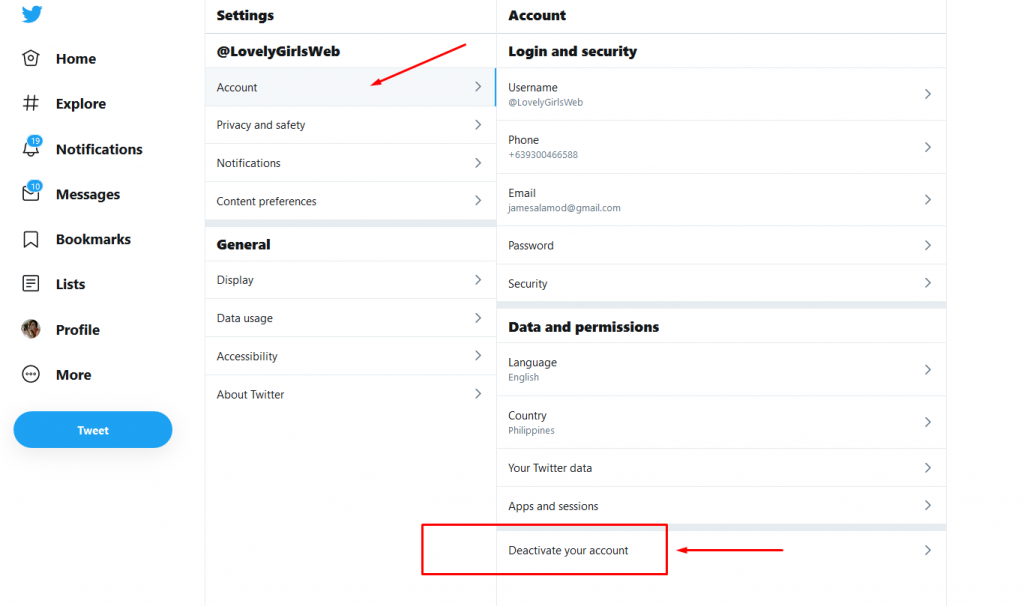 Gelukkig maakt Twitter het verwijderen van het account niet erg moeilijk voor je. Oldschool-dingen hebben gewoon een manier om op de een of andere manier ouderwets te zijn, nietwaar? U hoeft dus alleen maar op uw profielfoto te klikken.
Instructies:
Ga naar Privacy- en instellingenmenu. U kunt gemakkelijk de "Deactiveer mijn account" zien optie daar. Klik er gewoon op, vul het vereiste in en je bent een gratis vogel uit de klauwen van Twitter.
Heb je wat geopend? Youtube kanaal denk je aan de geweldige video's die je gaat posten en dan heb je zojuist iets volkomen onbeduidends gepost en niemand behalve je beste vriend heeft het bekeken, leuk gevonden en erop gereageerd? Het wordt tijd dat u dat account verwijdert, omdat het een slechte weerslag kan hebben op uw toekomst. Ik bedoel, echt, je interviewers zullen niet onder de indruk zijn van iemand die video's heeft gepost die niemand heeft bekeken.
Van een YouTube-account afkomen is ook niet zo moeilijk. Het enige dat u hoeft te doen, is inloggen op het account, naar geavanceerde instellingen gaan en de optie uw account verwijderen selecteren. Als je dat eenmaal hebt gedaan, moet je het bevestigen en dan is het gewoon verdwenen.
Je bent vrij van de littekens uit je verleden. Misschien vind je deze methode ook leuk hoe je duizenden youtube-abonnees kunt hebben.
Geen idee waarom je zoiets nuttigs zou willen verwijderen, dus laat me eerst overtuigen. U kunt Gmail volledig gebruiken voor alleen werkdoeleinden en u kunt het voor zoveel andere dingen gebruiken. Het grootste deel? Niemand ziet het wanneer je hun berichten ziet.
Hoe dan ook, ik neem aan dat uw redenen geldig zijn. Dus laten we eens kijken wat je moet doen ... Niet veel. Log gewoon in op je YouTube-account, ga naar "Account" vanuit het raster. Nadat u naar de account bent gegaan, vindt u "Accountvoorkeuren". Het enige dat u hoeft te doen nadat u het heeft gevonden, is erop klikken en vervolgens op "Mijn account verwijderen" klikken.
Dan zul je een reeks dingen vinden om te doen. Het zal meestal Gmail zijn dat probeert te achterhalen of u het echt bent (wachtwoord is een vereiste) en ook dat u het account daadwerkelijk wilt verwijderen. Afgezien daarvan heb je ook de mogelijkheid om alles te downloaden wat je nodig hebt, want Gmail is eigenlijk best een nuttige app om dingen op te slaan.
Beveilig dus eerst alles wat u nodig hebt en verwijder vervolgens het account.
Tot slot
Er zijn veel legitieme redenen waarom je zou willen weglopen van alles wat sociaal is. Vooral als het om sociale media gaat. Dus als je al je accounts wilt verwijderen en geen digitale voetafdruk van jezelf wilt behouden, ga je gang, het is een gezonde zet.
Als je dat niet wilt, kan het geen kwaad om te weten hoe. Geniet van het leven.