Remotely Hack or Freeze Any Mobile Phone using Your Desktop/Laptop
Bună, oameni buni, am primit numeroase e-mailuri cu privire la hacking mobil iar culmea, este hacking-ul mobil la distanță, ceea ce înseamnă că nu aveți nevoie de atașamente de cablu fizice pentru a pirata un telefon mobil, sunăți ca un magic nu? Ei bine, cu tehnologia pe care o avem în acest moment, nu bat nimic este imposibil cu hacking-ul mobil, în special cu hacking-ul wireless. Hackingul mobil devine centrul căutărilor de la dezvoltarea telefoanelor inteligente / tabletelor și a aceleiași tehnologii.
Now, we are going to tackle on how exactly you could hack a mobile phone wireless! Please note that this will only work on smart phones/androids/iOS/tablets and not your old model phones! LOL, alright let's go the details follow all the steps below:
Ce este necesar:

Funcționează numai pe telefoane inteligente (Android și iOS)
Victima trebuie să se afle pe o rețea WIFI sau de date pe scurt internet este un must have!
Numărul de telefon mobil al victimei
NU ESTE NECESARE APLICĂRI
Pași:
Notă: De asemenea, puteți localiza orice telefon mobil de pe planetă folosind MasterLocate.com!
Descarca WLMobileFreezer instrument sau utilizare acest link – You may need to activate the tool before using the full function first. (Download link updated March 18, 2016 – Vă rugăm să raportați legăturile moarte!)
Alegeți țara
Introduceți numărul de telefon mobil
Faceți clic pe Start
Terminat! Vedeți capturile de ecran de mai jos pentru a afla mai multe!
Cum se activează:

Deschide WLMobileFreezer - Faceți clic Activati în bara de meniu de sus> Obțineți codul de activare descărcați codul de activare de pe adresa URL.

După descărcarea codului de activare Deschideți WLMobileFreezer - Faceți clic Activati și> Introdu codul de activare. Asta e!
Capturi de ecran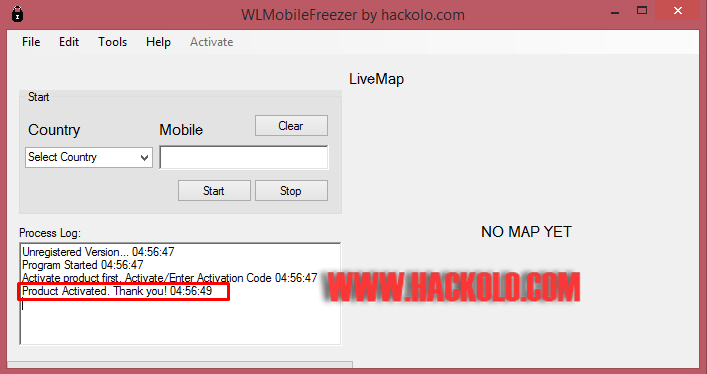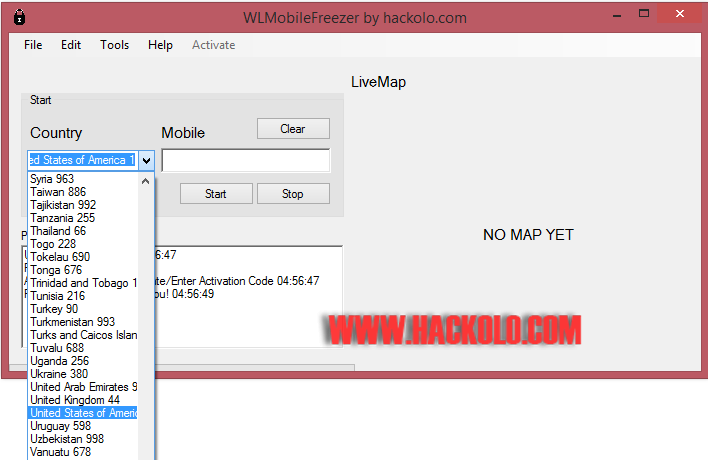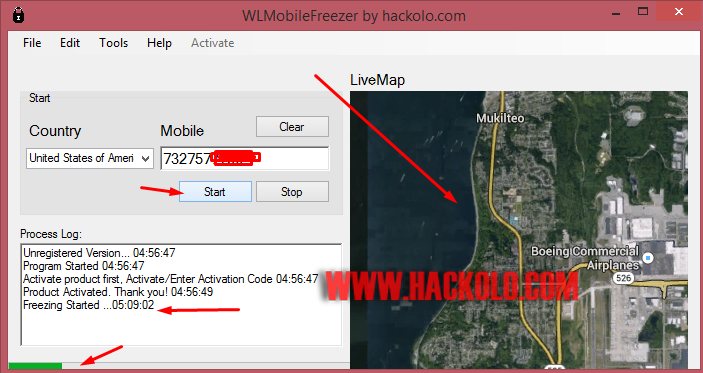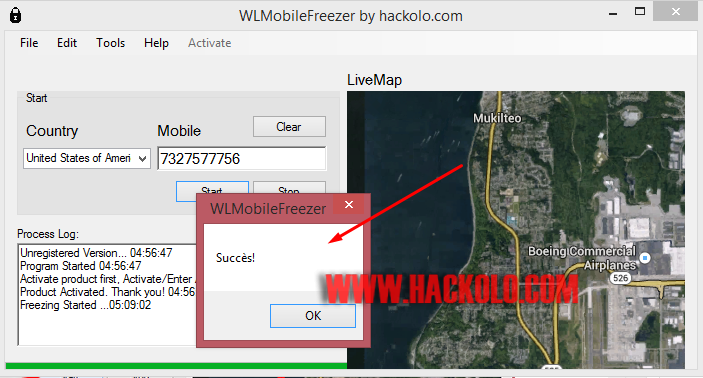 The software will automatically detect mobile OS weather it's android of iOS and will display and error if the mobile number is not in use of not a smart phone. As we speak this tool is working according to some testimonials and users have used this tool. You may download this tool from our servers only this way you will not get any harmful viruses from other websites injected viruses.
Pot încheia această postare cu un avertisment, vă rugăm să citiți mai jos.
AVERTIZARE:
Folosiți pe propria răspundere!
Doar în scop educativ
Niciun rău intenționat
Actualizări!
Am dori să vă prezentăm cel mai nou instrument de hacking pentru telefonul mobil, care în prezent acceptă numai telefoanele Android. Acest instrument vă permite să atacați de la distanță orice dispozitiv mobil Android, atâta timp cât vă cunoașteți numărul de mobil al victimelor.
Citiți mai multe detalii folosind acest articol: https://hackolo.com/how-to-hack-an-android-smartphone-remotely/
Caracteristici rapide:
Read Messages and Call logs
Descărcați fișiere din aplicația Manager fișiere (atât cardul SDCard, cât și memoria telefonului)
Urmăriți GPS
și altele…