Marshmallow Everyone?!
Well, it has been around 3 months since Google unveiled the much-awaited Android 6.0 Marshmallow. It was actually released as a preview version in May, but many improvements were made to it after that and many more updates were released before finally releasing Android Marshmallow on September 29, 2015.
However, if you think it comes with a whole lot of new and amazing features, you may end up a little disappointed. Not because the update is actually disappointing, though, but due to the fact that it rather seems a refinement and extension of many core features of the earlier Android version, Lollipop. In other words, it's probably aimed at being the "better Android lollipop".
But this doesn't mean there's nothing new to talk about. In fact, there are a quite a few noticeable improvements, as well as cool new features. The new "Now on Tap" feature, for one, is surely something that may not fail to impress most users.
Read: How to root any Android Device with Screenshots
With that said, let us take a look at what the Android Marshmallow brings to the table.
Although the appearance and design remains pretty much the same to Android Lollipop, the Android Marshmallow replaces the dialer shortcut on the lock screen with one to Google's voice search. This suggests that the voice search is an integral part of Android Marshmallow.
The voice search function has come with up some improvements as well. It has a new look and feel, and is seemingly more accurate. Furthermore, it now allows you to start apps from the lock screen.
As far as the ease of launching apps is concerned, it has definitely been ensured in Marshmallow, as you have several option for launching apps, including the new-look app drawer that can be launched by long-pressing the app drawer icon. Similarly, you can use voice commands, multitasking tab that shows the recently used apps, and app icons to launch apps.
The app drawer has been improved a bit as well, as the changes now allow users to search for apps more quickly, as well as make it easier to swipe through the list of apps, thanks to the apps being arranged vertically on the same card now as against different ones in Lollipop.
It's also easier to uninstall apps now, as while dragging apps onto the home screen, you are also given an option to uninstall them by simply dragging the app into the uninstall option.
The system UI tuner seems to be coming with some impressive changes as well in Marshmallow. Besides being able to change the battery icon to one that shows the remaining battery in percentage, there's also the option to customize the toggles by removing or replacing them with new ones. It also allows you to decide which icons to show in the status bar, meaning a much more customized experience and a lot less clutter.
In what seems to be a rather strange change, the system-wide dark theme and rotating home screen were removed. However, they did appear in some of the last few versions of the develop preview, so maybe, they will be making a comeback soon.
Google Now on Tap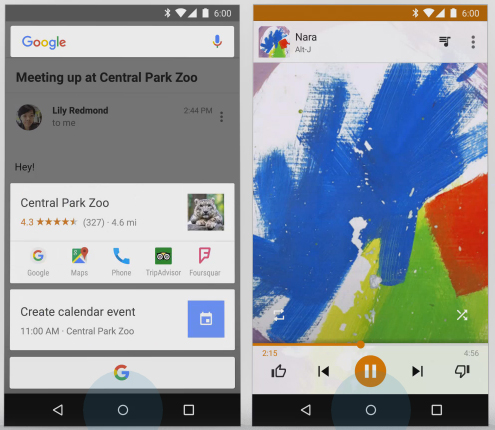 This is probably the coolest feature Android Marshmallow comes with. When Android KitKat was released, Google made its intentions clear that it's planning something big when it comes to ensuring a higher level of user-friendliness.
However, it's with Marshmallow's Now on Tap feature that it manages to actually prove where's it heading. Simply put, Now on Tap is a feature that suggests information based on what you are doing, or by reading content on the screen of your phone.
All you need to do is long-press the home button while on any screen, and based on what's on the screen, it will come up with relevant suggestions. It's turning out to be huge time saver for users, and the Marshmallow's popularity seems to be going through the roof thanks to this feature alone.
For example, if you are reading a message and talking about a restaurant with someone, launching Now on Tap may suggest Maps, Yelp, and so on).
New Voice API and Assist API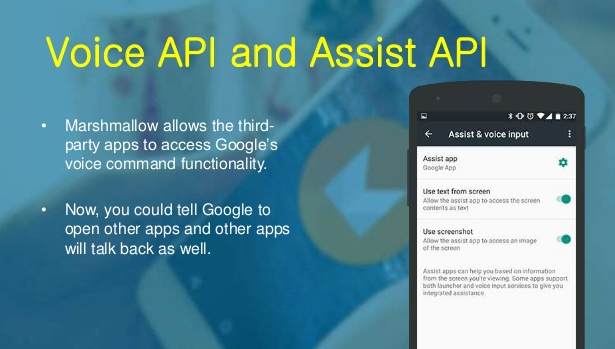 As mentioned earlier, the voice search and voice commands have been made one of the most important features in the Marshmallow, even more than they were in Lollipop.
Marshmallow would allow even the apps to talk back using the voice commands, at least in theory. Although it isn't actually a real feature yet, it's expected to be one soon. Also, the voice search will always be waiting to listen to your commands, obviously if you want it to.
Furthermore, thanks to what seems to be a surprising move from Google, users will now be able to use third-party voice apps, and even substitute the one offered by Google with them. This is in an effort to offer users more control over how they would like to use the voice search and voice commands.
Doze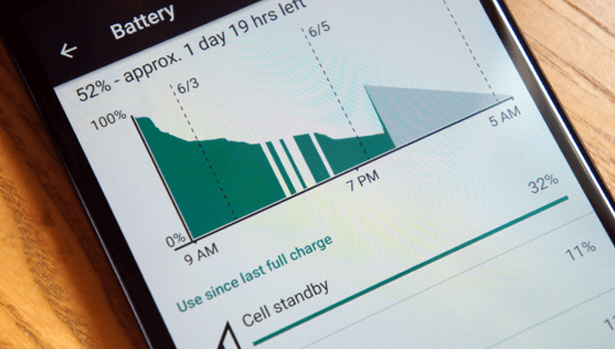 This is perhaps the biggest deal in the Marshmallow after the Now on Tap feature. Doze is also the reason many believe Marshmallow will probably bring an end to the ever-growing battery problems among Android users.
This feature would put your phone on 'hibernate' mode, after a few minutes of no activity. The process would obviously be much more complicated than this, but it's just to give you an idea.
In other words, it will help save the battery when your phone is not in use. Similarly, it may turn out to be a huge battery saver when it comes to saving battery overnight when the phone is not in use.
Currently, it's estimated that an Android phone loses around 15-25 percent of its battery power overnight. However, the Doze feature in Marshmallow is expected to reduce it to just around 3-5 percent, and we don't need to tell you what it means to you. It will probably ensure a standby time of around two weeks, to say the least.
Furthermore, the phone's in-built power saver, if any, won't be able to interfere with Doze. You would be able to use both the power saver and an unmodified Doze.
App standby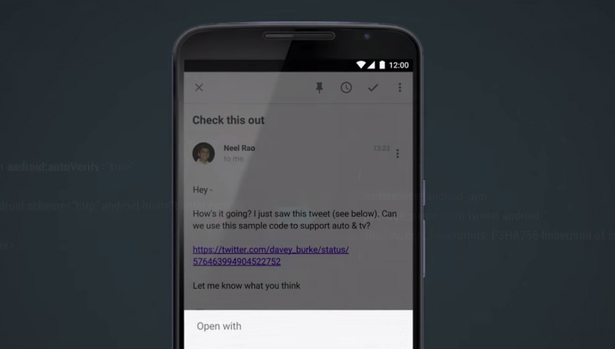 It's quite similar to Doze, and obviously aimed at saving battery, too. What it does is identifies apps that haven't been used in a while, and puts them into a deep sleep mode. This prevents such inactive apps from using your phone's system resources, Internet, running background processes, and so on.
So for example, if you haven't used an instant messenger app from a long time, it may be targeted by this feature. However, you can always prevent this from happening this to apps you would always want to be active, regardless of whether you are using them or not, by putting them on the 'whitelist', which prevents putting the mentioned apps on standby.
Reverse charging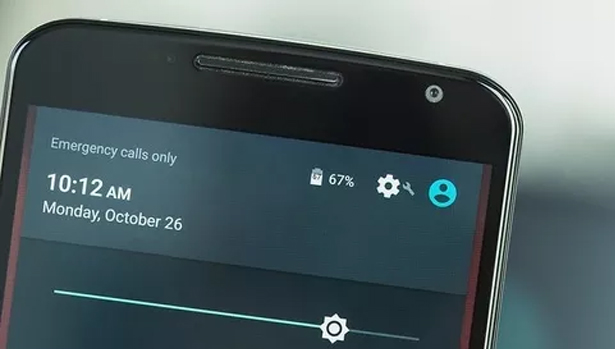 Some of the above mentioned features, including this one, prove that Google has been quite innovative with Marshmallow.
Marshmallow would also support the USB Type-C, meaning that you will be able to reverse charge your device. Although most devices don't come with a USB Type-C ports yet, or even include the required cables or adapters, Marshmallow seems to be planning for the future by including this feature.
It would also allow faster file transfer and charging, and if you aren't aware of the term, allow reverse-charging other devices using its own battery power.
'Extendable' internal storage
This really seemed to be the need of the day for Android phone users. Marshmallow would allow Android users to extend the usually extremely limited internal storage of their phone using micro-SD cards.
What this means is that you will be able to use microSD card exactly as your internal storage. However, also keep in mind that you will have to format them to a specific drive in order to do this, after which they will be useless and you won't be able to use them again in other devices.
More control over app permissions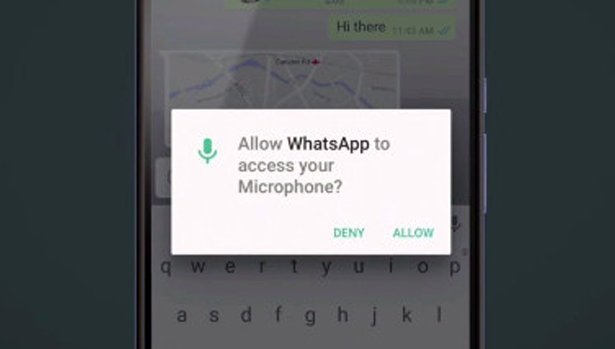 Although this may not seem as cool as the Now on Tap or other such features, it seems to be incredibly useful. Google has finally realized the importance of offering users more control over what the apps they install have access to, which iOS had realized years back.
The arrival of Marshmallow means that now you will be able to decide which permissions to be given to the apps you install, and which ones to be restricted. Some basic permissions, such as Internet access, would be given to all apps by default. However, allowing most of the other more sensitive permissions, such as access to contacts, camera, microphone, and so on, will be left to you to decide.
Some apps may not work at their best if not all permissions are granted, but it will be the app developers responsibility to make their apps run in a stable way without being given access to things they actually shouldn't be needing.
The fingerprint API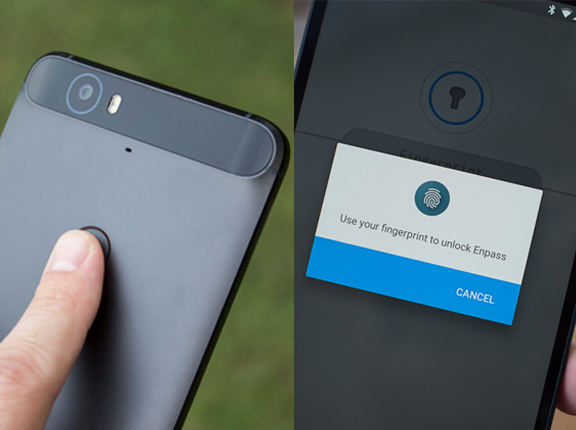 Finally, the much-awaited fingerprint API is here with Marshmallow's arrival. Both the new Nexus devices launched by Google recently come with a fingerprint scanner. Furthermore, there will also be touchless payment systems, such as Android pay, that will simply be using the fingerprint scanner and offer a very hassle-free way to make payments using Android devices.
Conclusion
Android Marshmallow seems to be more of a refinement of stock Android, than as an evolution. It addresses some of the biggest weaknesses of the earlier version, while also offering a much higher level of customization, privacy, user-friendliness, and with features like Now on Tap and reverse charging, innovation.