Remotely Hack or Freeze Any Mobile Phone using Your Desktop/Laptop
Hey Leute, ich habe zahlreiche E-Mails bezüglich erhalten mobiles Hacken Und obendrein ist es Remote-Hacking für Mobilgeräte, was bedeutet, dass Sie keine physischen Kabelanschlüsse benötigen, um ein Mobiltelefon zu hacken. Sie klingen wie eine Magie, oder? Nun, mit der Technologie, die wir gerade haben, habe ich nichts geschlagen, was mit mobilem Hacking unmöglich ist, insbesondere mit drahtlosem Hacking. Mobile Hacking wird seit dem Wachstum von Smartphones / Tablets und derselben Technologie zum Zentrum der Suche.
Now, we are going to tackle on how exactly you could hack a mobile phone wireless! Please note that this will only work on smart phones/androids/iOS/tablets and not your old model phones! LOL, alright let's go the details follow all the steps below:
Was wird benötigt:

Funktioniert nur auf Smartphones (Android und iOS)
Das Opfer muss sich in einem WIFI- oder DATA-Netzwerk befinden. Kurzes Internet ist ein Muss!
Handynummer des Opfers
KEINE APPS BENÖTIGT
Schritte:
Hinweis: Sie können auch jedes Mobiltelefon auf dem Planeten mit lokalisieren MasterLocate.com!
Herunterladen WLMobileFreezer Werkzeug oder verwenden dieser Link – You may need to activate the tool before using the full function first. (Download link updated March 18, 2016 – Bitte melden Sie tote Links!)
Wählen Sie das Land
Geben Sie die Handynummer ein
Klicken Sie auf Start
Getan! Siehe Screenshots unten, um mehr zu erfahren!
So aktivieren Sie:

Aufmachen WLMobileFreezer - Klicken aktivieren Sie in der oberen Menüleiste> Aktivierungscode abrufen Laden Sie den Aktivierungscode von der URL herunter.

Nach dem Herunterladen des Aktivierungscodes Öffnen WLMobileFreezer - Klicken aktivieren Sie und> Gib den Aktivierungscode ein. Das ist es!
Screenshots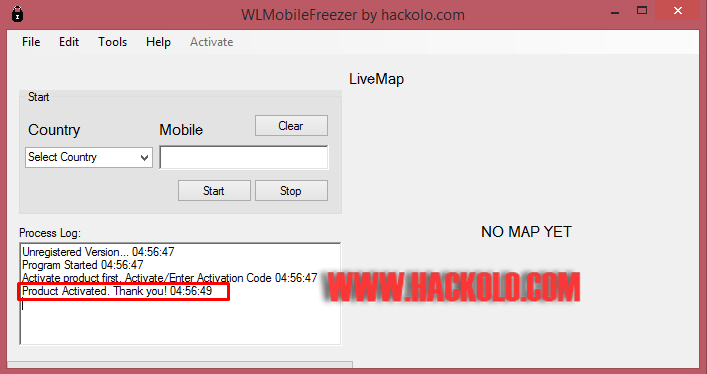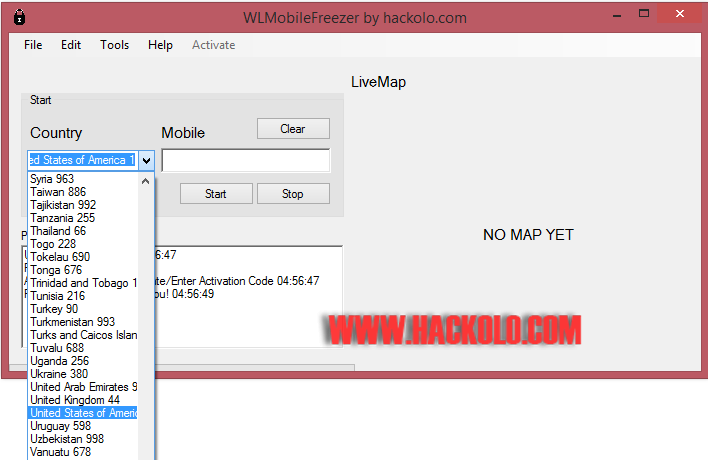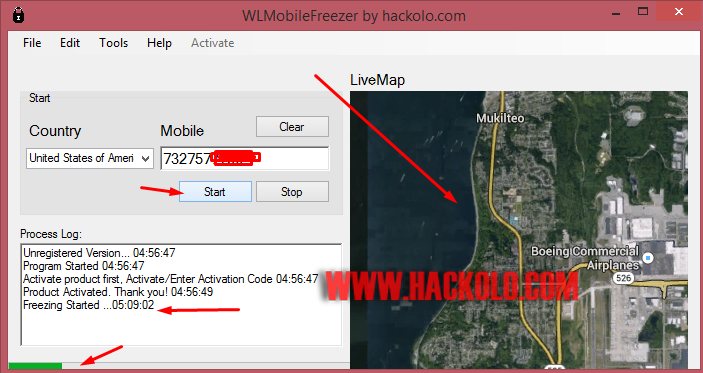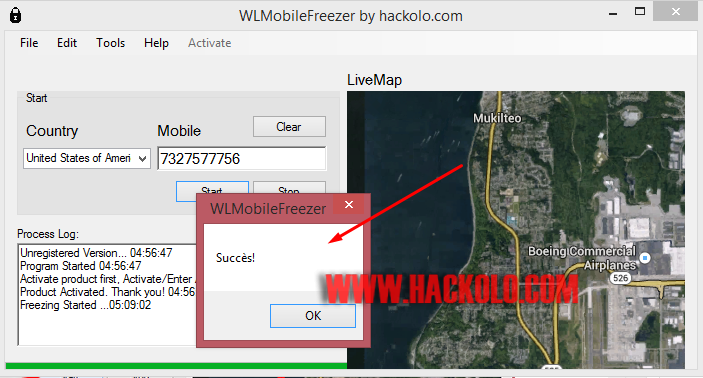 The software will automatically detect mobile OS weather it's android of iOS and will display and error if the mobile number is not in use of not a smart phone. As we speak this tool is working according to some testimonials and users have used this tool. You may download this tool from our servers only this way you will not get any harmful viruses from other websites injected viruses.
Ich kann diesen Beitrag mit einer Warnung beenden, bitte lesen Sie unten.
WARNUNG:
Benutzung auf eigene Gefahr!
Nur zu Bildungszwecken
Kein Schaden beabsichtigt
Aktualisierung!
Wir möchten unser neuestes Hacking-Tool für Mobiltelefone vorstellen, das derzeit nur Android-Telefone unterstützt. Mit diesem Tool können Sie jedes Android-Mobilgerät remote angreifen, solange Sie die Handynummer Ihres Opfers kennen.
Lesen Sie mehr über die Details in diesem Artikel: https://hackolo.com/how-to-hack-an-android-smartphone-remotely/
Schnelle Funktionen:
Read Messages and Call logs
Laden Sie Dateien über die Dateimanager-App herunter (sowohl SDCard als auch Telefonspeicher).
Verfolgen Sie GPS
und mehr…