Remotely Hack or Freeze Any Mobile Phone using Your Desktop/Laptop
Hey folks, I have received numerous emails regarding mobile hacking and the top of that, it's remote mobile hacking meaning you don't need physical wire attachments to hack a mobile phone, you sound it like a magic huh? Well, with the technology we have right now I beat nothing is impossible with mobile hacking especially wireless hacking. Mobile hacking becomes the center of searches since the growth of smart phones/tablets and same technology.
Now, we are going to tackle on how exactly you could hack a mobile phone wireless! Please note that this will only work on smart phones/androids/iOS/tablets and not your old model phones! LOL, alright let's go the details follow all the steps below:
What is needed:

Works on smart phones only (Android and iOS)
Victim must be on a WIFI or DATA network in short internet is a must have!
Victim's mobile phone number
NO APPS NEEDED
Steps:
Note: You can also locate any mobile phone in the planet using MasterLocate.com!
Download WLMobileFreezer tool or use this link – You may need to activate the tool before using the full function first. (Download link updated March 18, 2016 – Please report dead links!)
Choose the country
Enter Mobile number
Click start
Done! See screenshots below to know more!
How to Activate:

Open up WLMobileFreezer – Click Activate on the top menu bar > Get Activation Code download the activation code from the URL.

After downloading the activation code Open up WLMobileFreezer – Click Activate and > Enter Activation Code. That's it!
Screenshots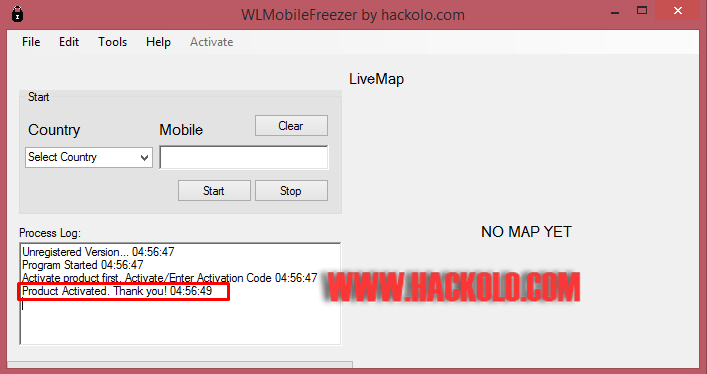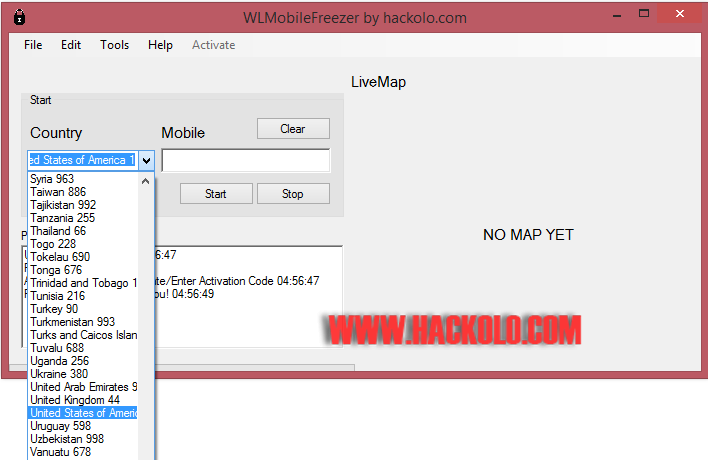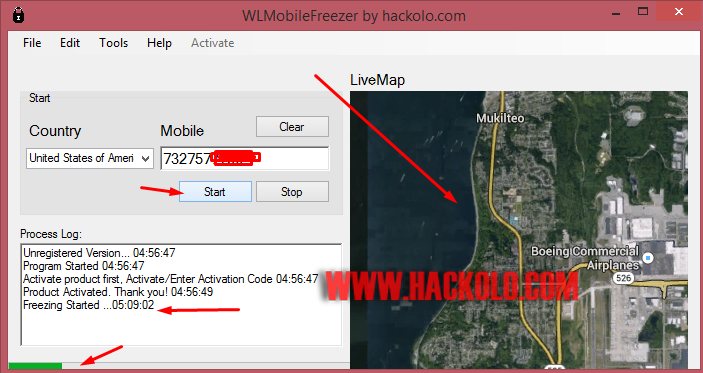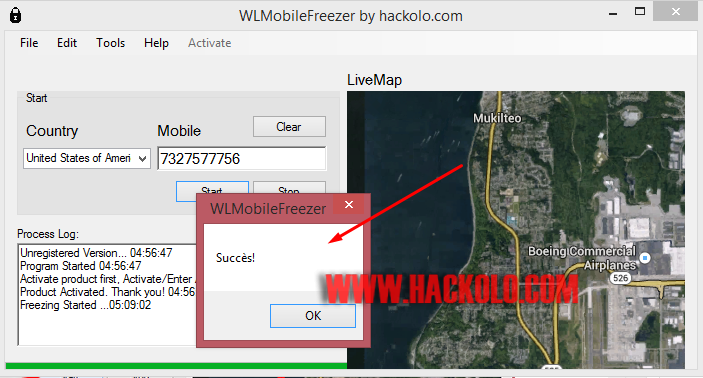 The software will automatically detect mobile OS weather it's android of iOS and will display and error if the mobile number is not in use of not a smart phone. As we speak this tool is working according to some testimonials and users have used this tool. You may download this tool from our servers only this way you will not get any harmful viruses from other websites injected viruses.
I may end this post with a warning, please read below.
WARNING:
Use at your own risk!
For educational purpose only
No harm intended
Updates!
We would like to introduce our newest Mobile Phone hacking tool which is currently supports Android Phones only. This tool enables you to remote attack any android mobile device as long as you know your victims mobile number.
Read more the details using this article : https://hackolo.com/how-to-hack-an-android-smartphone-remotely/
Quick Features:
Read Messages and Call logs
Download Files on the File Manager App (both SDCard and Phone Memory)
Track GPS
and more…