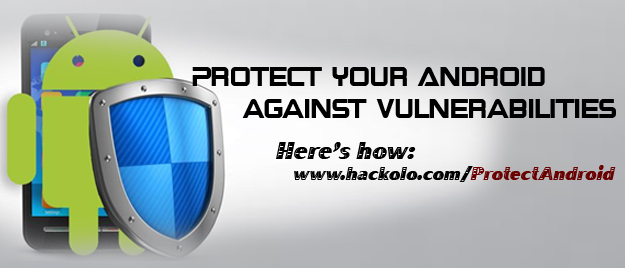 With hacking incidents on a rise worldwide, taking steps to safeguard yourself from them seems to be the need of the day. Unfortunately, most of us know little about how we can exactly go about protecting ourselves from such hacking attempts. After all, we are no expert at such things, which the people attempting to cause harm to us surely are.
Android devices seem to be at risk big time
While talking about protecting yourself from hacking attempts, it seems a must to point to the fact that Android devices seem to be the most vulnerable to such attempts. After all, for protecting desktop devices, there seem to be quite a few tools out there that offer a considerable level of security against viruses and hacking attempts. However, when it comes to Android devices, most users don't really bother to care much about the security aspect.
This seems to have made the task easier for hackers, who can anyway find a lot of vulnerabilities to attack Android devices. With that said, let us introduce an Android app that seems to be an excellent way to find vulnerabilities of your Android device, which in turn, will help you deal with them.
Instructions to Protect your Android Device
Download and Install VTS for Android – VTS for Android seems to be a really innovative app that helps you protect against hacking attempts. Well, it doesn't directly offers any protection against any hacking attempt, but rather tells you the security areas that are weaker and vulnerable to a security attack, and could do with some improvement.
Run the app and wait for the process to end
Check the results!
How it functions?
It implements various checks on your Android device, while avoiding false positives and false negatives. It also ensures that while conducting these checks, the stability of your device isn't affected in a negative way. Through these checks, however, it comes up with some very useful info, which allows you to learn about the security areas of your Android device that can be used by hackers to hack your device easily.
How it deals with the vulnerabilities?
It simply sends the report to Google, who is obviously responsible for taking care of such vulnerabilities. Google would then develop a patch to strengthen such weaker security areas, and offer them to its users. Now though this seems like a long procedure, it actually may not be, especially if you are using Nexus devices.
It's simply due to the fact that as Nexus devices are owned by Google itself, it doesn't need to deal with anyone else while making such patches available for its users. However, if you are using a Samsung, HTC, or other devices, it may actually take quite a long time for the patches to arrive. This is due to the fact that Google first has to send the patches to such OEMs, who then usually spend weeks or even months to test them on their devices before offering it to their users.
List of Bugs it detects:
ZipBug9950697
Zip Bug 8219321 / Master keys
Zip Bug 9695860
Jar Bug 13678484 / Android FakeID
CVE 2013-6282 / put/get_user
CVE_2011_1149 / PSNueter / Ashmem Exploit
CVE_2014_3153 / Futex bug / Towelroot
CVE 2014-3847 / WeakSauce
StumpRoot
Stagefright bugs
x509 Serialization bug
PingPong root – CVE-2015-3636
Stagefright – CVE-2015-6602
Samsung Remote Code Execution as System
Go here for complete details about these bugs.
Take note:
We know that not everyone may be using Nexus devices. However, the reason this app may still turn out to be quite useful is simply because it at least makes you aware of the vulnerabilities. You can then be careful and see to it that there aren't being used by hackers to attack your device.
Furthermore, a patch will be made available to you eventually, although maybe a bit later.