Remove Ads on Your Facebook App
The revenue that Facebook earns is from advertisements. However, if ads keep popping up one after the other, things can become really annoying after a certain point. As it is, Facebook does not give you an option to have them removed right at the start well, of course, t's what keeping them alive. Also, there is no point is Facebook wanting the ads removed. There is also no definitive guide by Facebook on how you can remove them.
For the start, you will have to learn how to get rid of ads on Facebook news feed and perform operations accordingly. There are some ad blocking programs that can help in cleaning your Chrome and Firefox browsers. You may also choose to download extensions for browsers. However, it does not always have to be all that difficult for you. Here are some steps that you may use to deal with ads on Facebook.
Steps you can take on Facebook App

Just log into your Facebook account and go to settings. You can locate the settings bar on the top right corner of the page.
On the left panel in the settings menu, you should be able to find the Adverts section. When you are here, you can modify the people with whom the ads are shared. When you select no one at this point, there will be a huge slash in the number of ads that you are viewing on Facebook.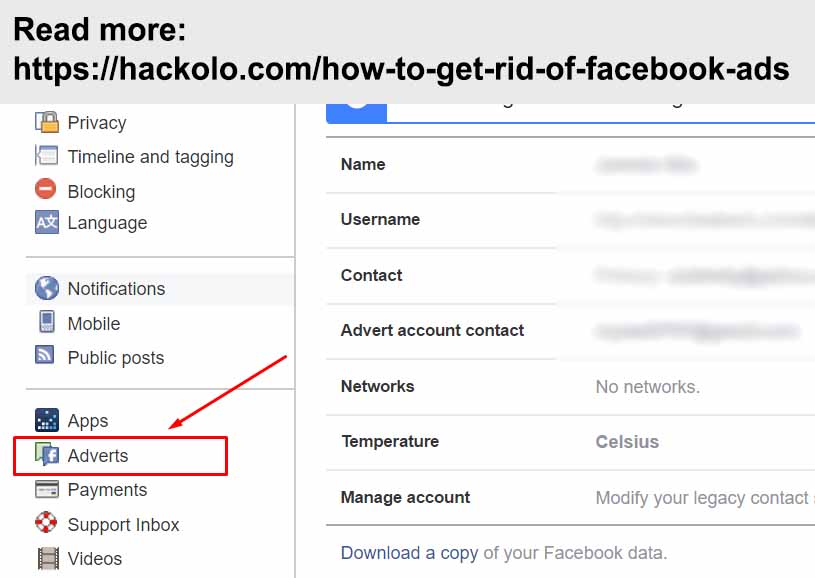 Using Ad blockers
Using an ad blocking extension can be a truly great way of going the distance when it comes to cleansing your newsfeed from ads. And more than anything else, it is really simple to use an ad blocker extension on Facebook or Facebook Adblockers that runs on android.
For Chrome users (Desktop Browser or Mobile Browser)
A recurrent complaint of Chrome users is that they do not find enough opportunities to remove ads from Chrome and this could lead to some exorbitant discussions in the forums too. However, it is important to identify and analyze a few things even before they are tested.
The truth is that it is not difficult to remove Facebook ads. Chrome offers you a number of healthy extensions that can be used to manage and remove the ads that you do not need any longer.
In fact, the plugins or extensions are not just limited to Chrome alone. There are lots of other extensions and plugins which are available for browsers like internet explorer and Mozilla Firefox. Also, these are some of the best solutions that can be used to safely do away with the ads without hurting the performance of the site.
The Danger of Using Adblocker Programs
Removing Facebook ads is a common requirement that many people have. However, what people do not realize very often is that all Facebook ads and requirements cannot be trusted all the time. There are programs that will try and get your page blocked for no reason at all. Also, you will want to try out just about everything just because it is available in the domain.
The safest way to determine the trust-worthiness of an extension is to check the number of people who have actually used it in the past. If it is high, you have a fairly reliable program in your hands.
Are ads really that bad?
Facebook is this amazing place where they let you do so many cool stuff all at the same time. You should understand that the revenues generated on the site, which in turn are used to pay the employees, come from the ads only. Also, the ads are designed and positioned on the top right of the screen. This means that they cannot hinder with your general newsfeed.
You should also note that there are several extensions that cause more ads on your new feed. Hence, it is also important to give a careful reading to all the terms and conditions that you come across while installing extensions on your browser. This generally helps a lot in most cases.