Digitale valuta "Bitcoin" maakt een grote geschiedenis!
Vanaf vandaag 17 december 2017 - De prijs per bitcoin stijgt met nog eens 10% in een tijdsbestek van 3 dagen. Volgens CoinMarketCap.com het is nu $47,980 per bitcoin $50k per coin is not a far idea! At the starting of the year, bitcoin is only around $1,000 per coin more or less. If you have bought bitcoin in January and hold your position up to date. You should have earned more than 5000%!
Sommige speculaties dat bitcoin dit jaar of begin volgend jaar zal stijgen tot $25.000 per munt, en met de huidige bitcoin-trend lijkt dat tot nu toe niet te gebeuren. Iedereen springt op de boot terwijl de totale marktkapitalisatie voor bitcoin tot bijna is gestegen $300 miljard dollar en de totale kapitalisatie voor alle digitale valuta's is nu voorbij $1 Trillion Dollars. Ik zie 1 biljoen kapitalisatie op elk moment gebeuren, omdat de prijs van bitcoin voortdurend stijgt, iedereen zal erin springen!
If you have invested $1 Million in bitcoin in January 2017 If should $40 Million now.
Bitcoin een Bubble?
Volgens een financiële goeroe is bitcoin een zeer gevaarlijke speculatieve zeepbel die binnenkort zal opduiken! Nou, daar ben ik het mee eens, aangezien de huidige trend bitcoin aan het worden is, zal iedereen denken dat dit naar beneden zal gaan en dat het moeilijk zal worden. Sommigen zeggen dat Bitcoin bijna op instorten staat. Bekijk deze grafieken en zie hoe bitcoin er een van wordt.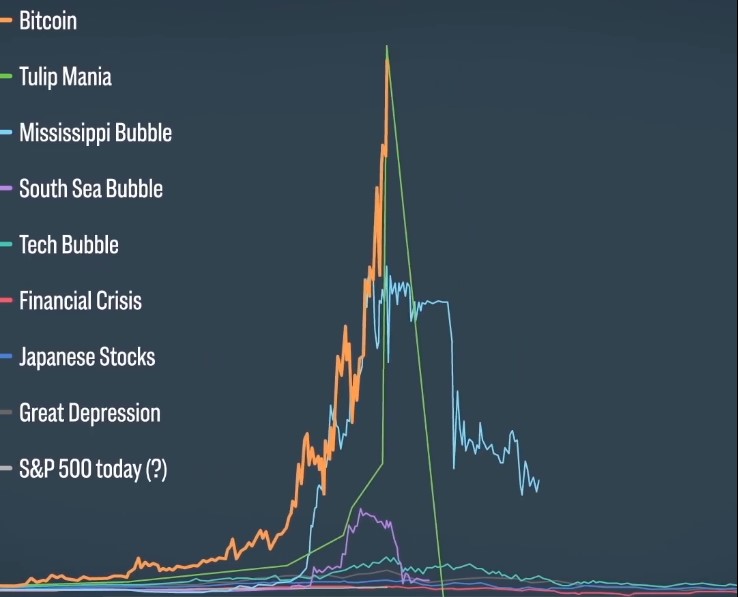 Door de grafiek te analyseren, kun je bepalen dat bitcoin bijna op zijn hoogtepunt is met tulpenmanie. Tulpenmanie is een andere populaire investering in 1636 - 1637. Als dat waar is, dan is het aan iedereen om in te pakken en uit het spel te stappen.
Bekijk hier deze volledige video hierover:

Ik ben er vrij zeker van dat iedereen bitcoin kent of er op zijn minst van heeft gehoord. Voor meer informatie over Bitcoin en hoe u deze kunt gebruiken bezoek gewoon mijn vorige blog erover hier.