Hack Snapchat-accounts eenvoudig!
Gemakkelijk Hack Snapchat-account kan gemakkelijk worden gedaan als u leert hoe je het Snapchat-wachtwoord kunt hacken. You should know that there are several ways to hack snapchat word, the best and simple way is to know the Snapchat Hack Secrets that you want to search for, and once you know hoe je een Snapchat-account kunt hacken, dan kun je gemakkelijk in iemands snapchat komen en kun je alles bekijken wat ze aan het doen zijn.
For those of you who aren't familiar with how to hack someone's accounts on social networks, there is good news. There are programs available that will able you to hack anyones snapchat account.
If you want to know how to hack someone's Snapchats, simply search for a website called "socialcheats.net". This is a website used by most snapchat hackers that refers to using software to bypass the layer of encryption that is present on most platforms in this case snapchat. With this tool, you can gain access to any snapchat account and read all the snaps that have been posted and of course get the users username account and password.
Bij socialcheats.netvind je er 3rd-party spy apps, which is considered as the best option as it provides accurate information on these types of apps that currently are in use and that works well. These apps can help you learn how to hack iemands Snapchat-wachtwoord, as there are several ways and also there are different ways of Snapchat hacks that allow you to take a peek of somebody's internet world. It allows you to view the individuals' images, videos, messages, which she/he has received or sent.
The hack that is provided at snaphackmaster is absoluut anders dan elke andere hack die je eerder hebt gezien. Dit is de juiste plek om te leren hoe je Snapchat-accountwachtwoord hackt omdat het een van de beste en gemakkelijk te gebruiken webplatforms is die u op internet kunt vinden.
Hack SnapChat Accounts using SnapHackMaster.com

Begin met het hacken van Snapchat-accounts
Klik op de "HACK-ACCOUNT "
Voer uw gebruikersnaam voor slachtoffers in
Kies uw opties om het wachtwoord te hacken en / of chatlogs te downloaden
Hack en download de slachtoffers Afbeeldingen alleen, video alleen of zelfs beide!
U kunt ook de geschiedenis van het slachtoffer downloaden! Perfect voor je vreemdgaande vriend / vriendin of vrouw / man bespioneren!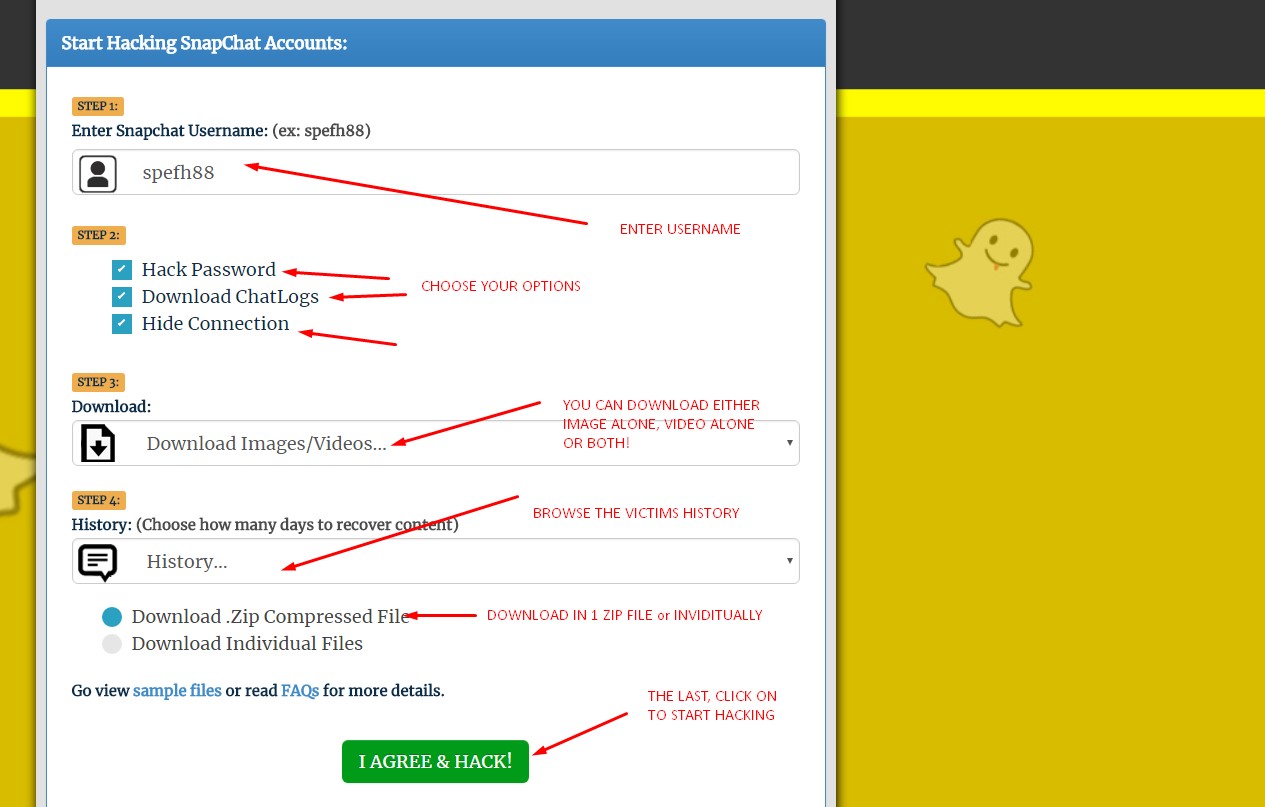 Hoe werkt het?
Deze methode lijkt veel op het hacken van een whatsapp-account. Met de beste snapshot-hack kun je elk snapchat-wachtwoordaccount hacken dat je wilt. Snapchat wachtwoord hack online allows you to crack into anybody's account, including your friend or a celebrity. The tool developed by professional actually works great; you may find various tools available online claims that they offer the better hacking results, but most of them do not really work. The best Snapchat hack app will offer multiple replacement servers and personal networks for all the web traffic. Also, with these Snapchat hack app, you don't need to worry about anything and nobody can find out that you are spying and nobody can ever figure out that you have gehackt snapchat-wachtwoord.
Once you are done spying using Snapchat Spy App, then all the details will be taken out from the website servers. This hack tool works on all devices that have an internet connection. Using this hack tool to hack Snapchat-account is gemakkelijk en vertrouwelijk en levert geen problemen op voor de gebruikers. U kunt richtlijnen vinden voor het gebruik van de hacktool, die volledige details en instructies geeft over een hacking Snapchapt-wachtwoord.
Het enige dat u hoeft te doen, is gewoon op de grote knop drukken om de procedure te starten. Deze methode werkt op zowel Android- als iPhone-gebruikers! U kunt nu dus gemakkelijk iemands Snapchat-account hacken, ongeacht het mobiele besturingssysteem. Op de website vindt u twee knoppen om het proces te starten, één onderaan en één bovenaan, druk gewoon op een van de knoppen en start het proces.
Nadat je op de knop hebt gedrukt, typ je de gebruikersnaam van de persoon die je wilt bespioneren. Zodra u het account heeft gehackt, kunt u alle berichten, afbeeldingen en video's bekijken die de personen hebben ontvangen en verzonden vanaf hun / haar account. U kunt de informatie die u hebt gehackt ook op uw mobiele apparaat of computer opslaan zonder gepakt te worden.
UPDATES:
11-02-2018: Bijgewerkt naar nieuw domein van snaphackmaster.com naar socialcheats.net
01-08-2019: Update on GUI – Very easy to use and improved performance
05-25-2019: Update on blocked domains. Added new glitching domains to infiltrate Snapchat encryption method.
03-10-2020: Improved importance and high accuracy rate on password decryption.
10-11-2020: Added new method on decrypting password hash.
01-20-2021: Added new method on accessing Snapchat password database according to users category.
[Gesponsord artikel]