Moneda digitală "Bitcoin" face o mare istorie!
Începând de astăzi 17 decembrie 2017 - Premiul pe bitcoin tocmai crește încă 10% într-un interval de 3 zile. Conform CoinMarketCap.com este acum $47,980 per bitcoin $50k per coin is not a far idea! At the starting of the year, bitcoin is only around $1,000 per coin more or less. If you have bought bitcoin in January and hold your position up to date. You should have earned more than 5000%!
Unele speculații bitcoin vor crește până la $25.000 pe monedă în acest an sau la începutul anului viitor și cu tendința bitcoin actuală care nu pare să se întâmple până acum. Toată lumea sare pe barca, deoarece capitalizarea totală a pieței pentru bitcoin a crescut aproape $300 miliarde de dolari iar capitalizarea totală pentru toate monedele digitale s-a încheiat acum $1 Trillion Dollars. Văd 1 trilion de capitalizare care se întâmplă oricând, în timp ce prețul bitcoin crește continuu, toată lumea va sări!
If you have invested $1 Million in bitcoin in January 2017 If should $40 Million now.
Bitcoin o bule?
Potrivit unor guru financiar, bitcoinul este o bulă speculativă foarte periculoasă care va apărea în curând! Ei bine, sunt de acord cu asta, deoarece tendința actuală bitcoin devine, toată lumea va crede că acest lucru va scădea și va fi greu. Unii spun că Bitcoin este aproape pe măsură ce culmea se prăbușește. Uită-te la aceste diagrame și vezi cum bitcoin devine unul dintre ele.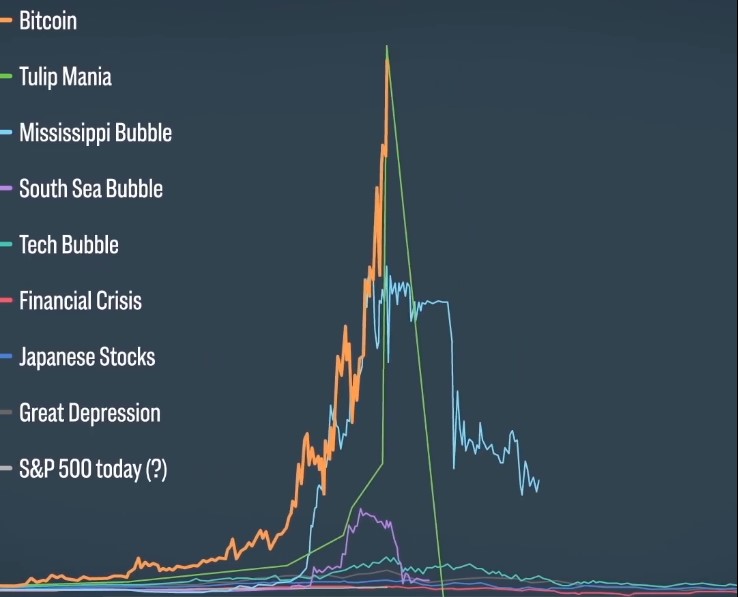 Analizând graficul, puteți stabili că bitcoinul este aproape la vârf cu mania lalelelor. Mania lalelelor este o altă investiție în tendințe în 1636 - 1637. Ei bine, dacă acest lucru ar putea fi adevărat, este la latitudinea tuturor să facă bagaje și să iasă din joc.
Urmăriți acest videoclip complet despre acest lucru aici:

Sunt destul de sigur că toată lumea știe bitcoin sau cel puțin a auzit despre asta. Pentru mai multe informații despre Bitcoin și modul de utilizare doar vizitați blogul meu anterior despre asta aici.