Digital Currency "Bitcoin" is Making a Big History!
As of today December 17, 2017 – The prize per bitcoin just surge another 10% in a span of 3 days. According to CoinMarketCap.com it is now $47,980 per bitcoin $50k per coin is not a far idea! At the starting of the year, bitcoin is only around $1,000 per coin more or less. If you have bought bitcoin in January and hold your position up to date. You should have earned more than 5000%!
Some speculations bitcoin will rise up to $25,000 per coin this year or early next year and with current bitcoin trend that doesn't seem like so far thing on happening. Everybody is jumping on the boat as the total market capitalization for bitcoin has surged to almost $300 Billion dollars and the total capitalization for all digital currencies is now over $1 Trillion Dollars. I see 1 Trillion Capitalization happening anytime soon as the price of bitcoin is continually going up everyone will be jumping in!
If you have invested $1 Million in bitcoin in January 2017 If should $40 Million now.
Bitcoin a Bubble?
According to some finance guru's bitcoin is a very dangerous speculative bubble that will pop anytime soon! Well, I agree with that since the current trend bitcoin is becoming everyone will think that this will go down and it will be hard. Some say that Bitcoin is almost as it's peak to collapse. Look at these charts and see how bitcoin is becoming one of them.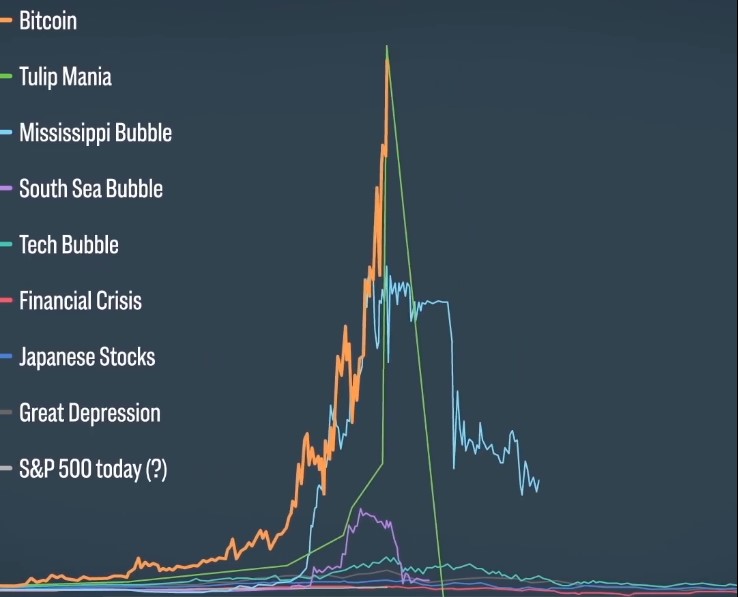 By analyzing the chart you can determine that bitcoin is almost at its peak with tulip mania. Tulip mania is another trending investment in 1636 – 1637. Well, if that might be true then it is up to everyone to pack and get out of the game.
Watch this Full Video About this here:

I'm pretty sure everyone knows bitcoin or at least heard about it. For more information about Bitcoin and how to use it just visit my previous blog about it here.