Iemands locatie lokaliseren via telefoonnummer
Locatiebepaling van mobiele telefoons op telefoonnummer is like a god-like superpower. Knowing where is someone is probably the most comforting and very valuable technology to have nowadays. You couldn't be more confident knowing your children are safe wherever they are. Unfortunately, this technology isn't available to the public. There might be some software tools available online that can trace the location of a cell phone but they can only work at a good price as well.
In dit bericht ga ik een methode met je delen waarmee je exact dezelfde service kunt krijgen zonder een enkele dollar uit je zak te spenderen. Natuurlijk niet alle functies die de premiumsoftware biedt, maar de belangrijkste functie is Iemand geografisch lokaliseren met behulp van zijn mobiele nummer is meer dan genoeg voor een gratis dienst. Ja, je leest het goed, geef niets uit aan het gebruik van deze krachtige tool.

Op de technologie van vandaag is het zeer zeldzaam om iemand te zien die niet voornamelijk een smartphone en mobiele apparaten vasthoudt, iPhone, Android, tablets, Smart Watch en meer. Deze mobiele telefoons worden geleverd met een GPS-apparaat dat erg handig zal zijn voor ons onderwerp. De locatie van een Android-telefoongebruikers volgen by just using its mobile number is now a very easy thing to do. Moms with less knowledge in techie things will find this tool very easy to use.
If you are worried about your child being away from you then this post is perfectly fits your needs. This post feature a tool that tracks the location of your love ones wherever they are whenever they are all you have to do is click a button and it will automatically track the location of the persons mobile device using the GPS feature.
Verwant: Hoe gestolen mobiele telefoon te lokaliseren en terug te krijgen!
Ben je opgewonden? Lees hieronder meer wat deze tool kan doen.
Kenmerken:
Geo Lokaliseer de huidige positie van iemand met behulp van het mobiele telefoonnummer.
No App to install on the victims mobile phone.
100% Gratis te gebruiken - GEEN verborgen kosten
Een zeer eenvoudig te gebruiken software-GUI
Volgt de locatie bijna onmiddellijk.
Val nooit op dat u iemand volgt.
Totale anonimiteit
Gratis updates voor 1 jaar
Momenteel bezig met Windows OS
Ondersteunde telefoons
Alle soorten mobiele telefoons, zolang deze een SIM-kaart heeft of natuurlijk een mobiel nummer en GPS heeft.
Android, iOS, Windows, BlackBerry - ALLES!
Instructies
NOTITIE: Als deze methode niet werkt, kunt u MasterLocate.com - is nog een geweldige tool voor het volgen van de locatie van mobiele apparaten en meer en meer functies! Deze tool volgt de mobiele telefoon met behulp van het mobiele nummer van de bestemming. Het downloadt ook doelen GPS-logs, berichtenlogs, Facebook-logs, browsergeschiedenislogs en nog veel meer! ...
NEW UPDATED METHOD TO LOCATE MOBILE LOCATION by just using Mobile Number – GPSCellPhoneLocator.com
GPSCellPhoneLocator.com is the only service that locates a cell phone by its number anywhere in the world. It does not require access to any information on your phone. Just enter the number that you want to locate and our system will return the current location of the device. If it cannot locate this number, we alert you immediately that we were unable to find its location using this method.
Simply download this tool –> Klik hier om te downloaden (WLMobileFreezer-tool) of deze link – 

download link updated 2023 –

Meld dode links!
PLEASE NOTE THAT WLMOBILEFREEZER TOOL HAS STOPPED WORKING!!!
Installeer op uw pc (Windows OS - Win7, Win8 en Win8.1) 32-bits en 64-bits besturingssysteem
Voer het mobiele telefoonnummer van de slachtoffers in het veld in
Druk op "Zoek de huidige positie"
Wacht een paar minuten en het zal binnenkort verschijnen.
Dat is het! U kunt ofwel de huidige positie vergrendelen, zodat u hem / haar kunt volgen wanneer uw slachtoffer gaat.
This method is 2023 Updated and in compliance with International Mobile Security laws
NOTITIE:

Het slachtoffer moet zijn / haar gps hebben ingeschakeld! Anders werkt dit proces NIET!
Screenshot
Dit is hoe het eruit ziet in de GUI. Voer het mobiele nummer in en selecteer het land.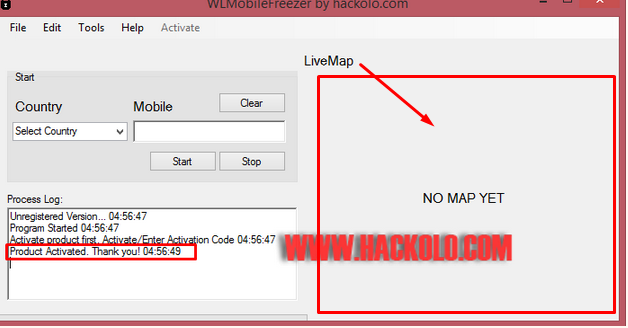 This is the updated LiveMap after entering the mobile number. The map will show you the exact location of the person you are looking.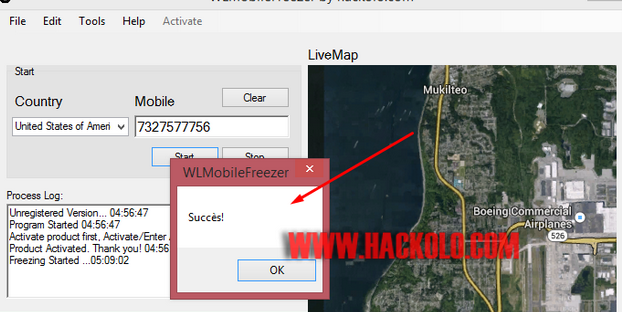 Toegang tot de WhatsApp-app op afstand
Voor toegang tot deze app is mogelijk een extra tool nodig, maar maak je geen zorgen, want we hebben je gedekt. En u hoeft geen andere tools te downloaden en te installeren - we hebben een online Whatsapp Hacker-tool which can be accessed online. This tool accesses someone's WhatsApp activity such as messages, call logs, media files such as music, pics, and videos. All this Remotely!
Maak je geen zorgen meer
Now you do not have to worry anymore! Just ask your children to constantly turn on their GPS on their mobile phone as you can constantly check on their location. However, if your children refuse to do so then we can't do anything about it since we only rely on the GPS feature on their phones to locate them.
How to Find Someone's Location on iPhone
Deze methode werkt op alle soorten mobiele apparaten en dat geldt ook voor iPhone-gebruikers zijn niet vrijgesteld. Spoor gratis de locatie van een mobiele telefoon op met behulp van deze krachtige software zonder verplichtingen. Vertrouw ons, dit is de enige GPS-telefoontracker je zult het ooit nodig hebben als je het hebt geprobeerd te gebruiken. We hebben een heleboel recensies gekregen in de commentaarsectie hieronder.
Veel plezier met WLMobile Freezer Tool
Zet hun telefoons stil!
Deze tool die kan zijn gratis downloaden bevriest ook de mobiele telefoon van uw slachtoffer door gewoon zijn mobiele telefoonnummer te gebruiken. Het slachtoffer moet echter ook verbinding hebben met internet, bij voorkeur is een wifi-verbinding goed.
GROTE UPDATE !!!

We have just released our latest and biggest update which is more powerful tool! Download TotalMobSecurity door Hackolo.com met 3 maanden GRATIS PROEF! Gaan hier voor meer informatie.
UPDATES:
6-8-2019 - GROTE UPDATE! Werkt nu naar behoren - verwijderde advertenties en opgeloste bugs die lange wachttijden veroorzaakten.
3-5-2020 – Improved security system with updated GUI for better performance
1-15-2021 – New and Updated Servers
We hebben de codeverificatie verwijderd tijdens het opstarten! Dit om het proces veel sneller te laten verlopen.
20-1-2020 - UPDATES : GPSCellphoneLocator.com is actief en volgt dagelijks duizenden mobiele nummers wereldwijd. Zonder gerapporteerde fouten en vertragingen.
3-15-2021 – updates : Bug fixed during the process of acquiring the location data that has showing 404.
10-5-2021 updates: Added support on the New versions of Android
11-22-2021 updates: Added support on the New version of Android
12-05-2021 Bug easily fixed when using the messages module and the user dashboard panel.
1-1-2022 – Happy New Year! But first we fixed a Bug on download the call logs
1-10-2022 updates: added support on new Version of Android. Bug removed on the process or saving data from the victims mobile device.
6-6-2022 WLMOBILEFREEZER TOOL has finally retired. After 8 years in service we no longer support updates for this product. thank you for your continued support.