How to Get Text Messages from Someones Phone without Touching The Actual Phone
Ja, je hebt de titel goed gehoord, het is nu mogelijk om iemands sms-berichten op hun mobiele telefoon op afstand te hacken met de technologie die we momenteel hebben, zijn de mogelijkheden eindeloos. Tegenwoordig zie je zelden dat iemand geen smartphones zoals Android, iOS en Windows gebruikt, ze hebben de onbeperkte mogelijkheden in vergelijking met die normale mobiele telefoons met meer geheugen en miljoenen ontwikkelde apps op de markt, je hebt alleen iemand nodig om een programma voor je te coderen .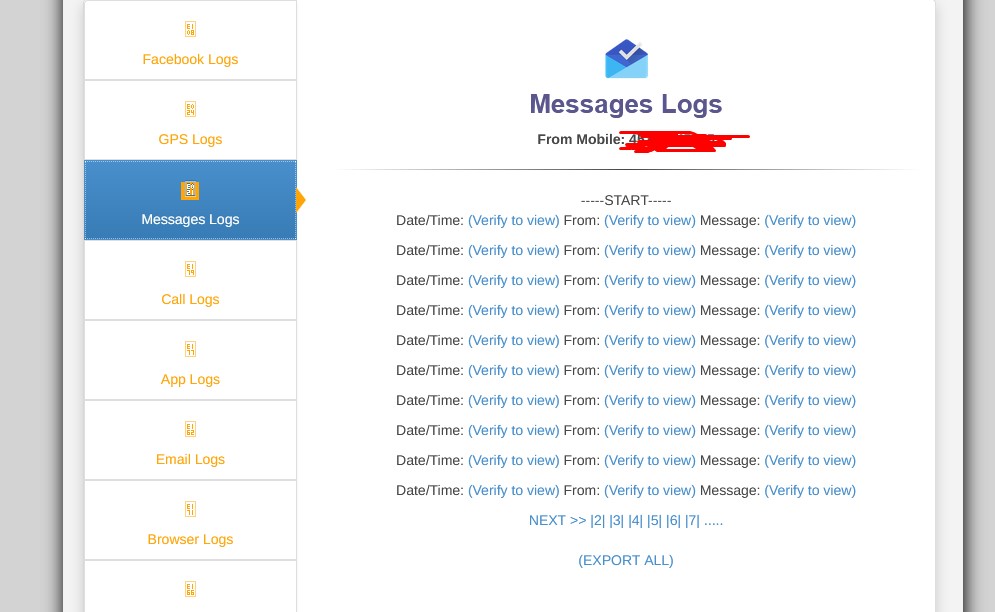 BIJWERKEN: We are proud to say that this method still works after 2 years of revealing! Constantly updated to this year 2023.
Het proces omvat het op afstand downloaden van berichten op iemands mobiele telefoon via internet. Uw gateway is het mobiele nummer van het slachtoffer. U moet het mobiele nummer van het slachtoffer opvragen en dit invoeren op het veld waar het om gevraagd wordt. Het slachtoffer moet verbinding hebben met het internet, bij voorkeur een WIFI-verbinding, omdat de gegevens helemaal niet stabiel zijn. Volledige details over de onderstaande instructies.
Op afstand tekstberichten hacken op de telefoon van iemand met hun mobiele nummer

Sounds like magic right? However, this is a possible thing to do with the software tools I am going to share with you below you can just list James Bond on their mission impossible movies with high-end spy tools. Spy anyone, even your cheating husband or wife. Are you ready? Read the full instructions below to get started.
Verwant: Hoe u smartphones kunt bespioneren met deze app
Instructies
Notitie: Als deze methode niet werkt! Je kunt gebruiken MasterLocate.com in plaats daarvan - dit is een online tool die de locatie van de mobiele telefoon traceert op telefoonnummer. Het registreert ook de sms-berichten van de doelen, oproeplogboeken, browsergeschiedenislogboeken, WhatsApp-chats / oproepen, GPS-locatielogboeken en nog veel meer! Bekijken!
Eerste, download deze tool gratis beschikbaar - downloadlink bijgewerkt op 18 maart 2016 - Meld dode links!
Install and Enter the mobile number on the field
Klik hieronder op "Verifiëren" en wacht tot het proces is voltooid
Klik nu direct daarna op "Hack"
U kunt nu het berichtenlogboek in de rechterkolom van de tool zien die u kunt downloaden
Download de berichtenlogboeken inclusief inbox-berichten, concepten, verzonden items
De tool kan ook snuffelen in oproeplogboeken, gemiste oproepen, ontvangen oproepen en uitgaande oproepen, best handig toch?
Notitie: Deze tool werkt alleen op Windows OS-pc's en werkt alleen op SmartPhone-apparaten zoals Android en iOS, slimme tabbladen en andere slimme apparaten.
Deze tool hackt ook de huidige positie van het slachtoffer. Ja! Een globe-positioneringssysteem-tracer. Traceer altijd en overal waar u maar wilt! De gps van de slachtoffers moet echter eerst worden ingeschakeld om de tool te laten werken.
Screenshot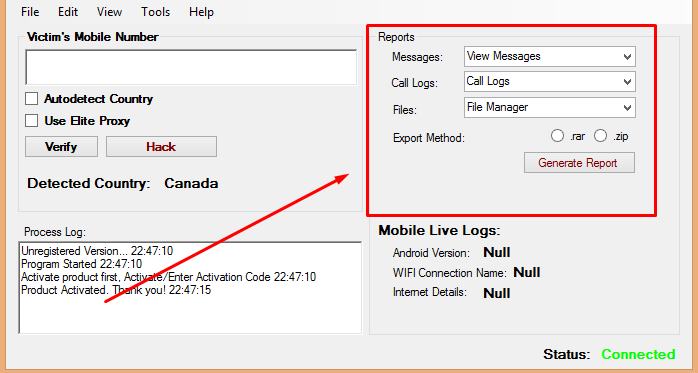 WhatsApp-hack
Deze tool kan geen WhatsApp-berichten hacken. U kunt echter een afzonderlijk online gebaseerd WhatsApp-hacktool (Geen extra download vereist) gebruik het gratis samen met andere tools die op onze website worden gedeeld.
Wat kan deze tool doen?
Hakt WhatsApp-berichten, bestanden zoals afbeeldingen, muziek, videoclips en geschiedenisbrowser. Geschiedenisbrowser is tot nu toe de beste functie, het herstelt verwijderde bestanden en berichten binnen een bereik van maximaal 30 dagen. Heel erg goede tool als je het mij vraagt.
Can I view text messages from another phone?
Yes! You can view text messages from another phone if you are using an GPSCellphonelocator.com that allows you to view contents of a phone that you are not physically can get a hold of. Simply enter the victims mobile phone number and let the app do the magic. GPSCellphonelocator.com also that allow you to see the current location of the phone, view text messages from another phone, including Android Messages, iMessage, and WhatsApp.
Is there a way for someone to spy on your text messages?
Yes! The only method that works right now is the use of a website called GPSCellphonelocator.com is a great way to keep track of someone's location and see what they're doing on their phone. The website is easy to use and has a simple interface, so you can quickly get up and running.
You can track messages, photos, videos and more. You will also be able to see the current location at any time. This is great if you are concerned about your children or employees, who may be in danger or doing something they shouldn't be doing.
Tot nu toe zijn er meer dan 58.000 accounts gehackt!
Bijwerken!
Veelgemaakte fout verholpen
Bug-ID 6565 opgelost
Verwijdering van niet-gebruikte functies
1-22-2018 - Bug opgelost bij het comprimeren van berichten van het slachtoffer en tijdens het uploadproces
3-25-2018 - Grote bug opgelost bij het ophalen van locatielogboeken op Android Oreo.
3-10-2019 - Online bug gevonden en gerepareerd gerapporteerd door Android-gebruikers.
1-10-2021 - Gemigreerd naar een snellere server. Geen lange laadtijd meer.