Blokkering van vervelende e-mails op uw Gmail-account
Vervelende e-mails of spam-e-mails die je onzin blijven bezorgen en of je dingen promoten die je niet wilt, zullen binnenkort eindigen nadat je deze zeer eenvoudige tutorial hebt gelezen. Het blokkeren van ongewenste e-mails in gmail is echter heel eenvoudig, er hoeft geen software te worden geïnstalleerd en er is geen codering nodig, aangezien het geheim al in gmail staat en je alleen hoeft te leren hoe je het moet gebruiken en daarom ben ik hier om je te leren hoe! Dus laten we beginnen.
BIJWERKEN: Er is een nieuwe methode om ongewenste e-mails in uw persoonlijke e-mailaccount te vermijden. Zie hieronder
Stap-voor-stap handleiding
De lange methode
Eerst moet u e-mailadressen kopiëren of verzamelen die u wilt blokkeren. Een gemakkelijke benadering is om een voor een naar de e-mails te gaan en hun e-mailadressen te kopiëren en in een notitieblokbestand te plakken.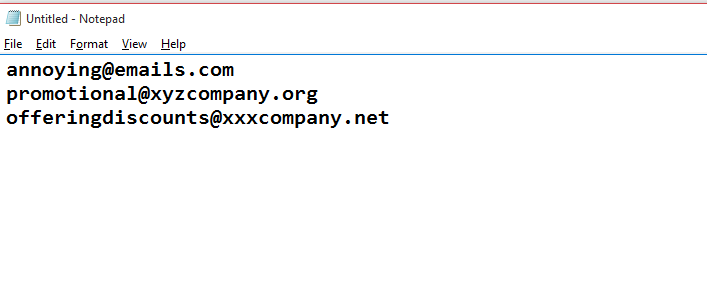 Open nu uw gmail-account.
Klik op de "Uitrusting"Pictogram net onder je profielfoto in de rechterbovenhoek en klik op"Instellingen '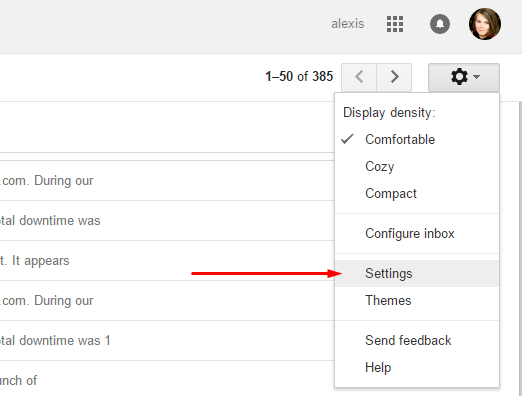 Klik op de "Filters en geblokkeerde adressen"En maak vervolgens een filter.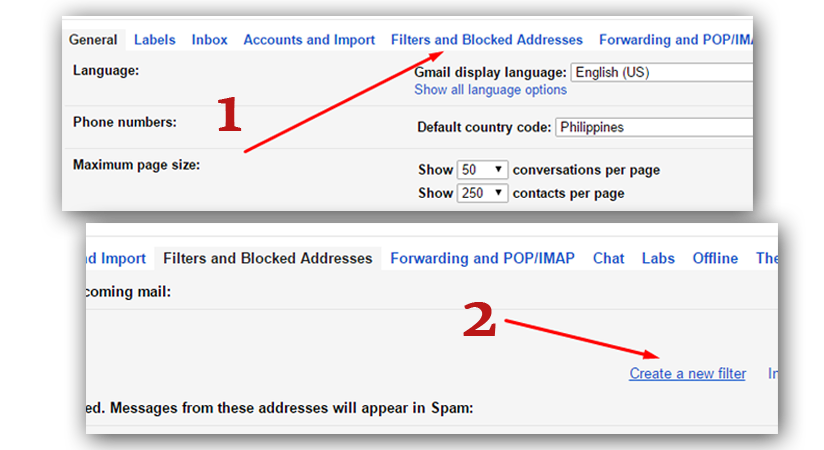 Typ het e-mailadres dat u wilt blokkeren in het veld "van" en voer uw eigen e-mailadres in het veld "naar" in. In de onderstaande afbeelding wordt gedetailleerd uitgelegd hoe u deze instelt.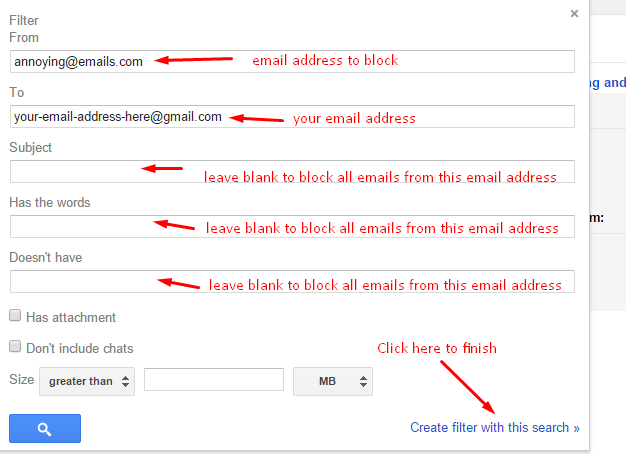 Klik op "Filter maken met deze zoekopdracht om verder te gaan op het tweede tabblad Instellingen. Afbeelding hieronder zal in grote details uitleggen. (Opmerking: laat "Onderwerp", "Bevat de woorden", "Heeft niet" blanco om automatisch elke e-mail te selecteren die dat e-mailadres u heeft gestuurd.)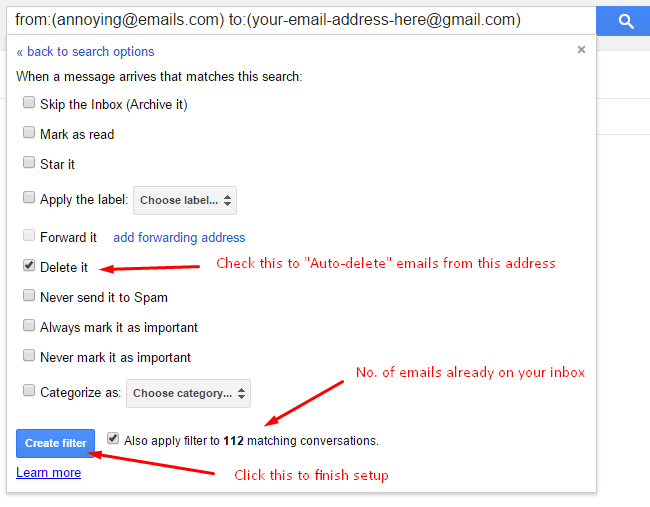 Volg gewoon mijn instellingen als je alleen e-mails van een bepaald e-mailadres wilt blokkeren, tenzij je andere ideeën in gedachten hebt, voel je vrij om deze te verkennen.

En zo blokkeer je ongewenste e-mails, blijf je weg van je gmail-accounts. Ik weet niet zeker of dit van toepassing is op andere mailservers zoals yahoo en msn, maar ik ben er vrij zeker van dat deze functie al beschikbaar is op die mailservers.
EEN ANDERE METHODE VOOR HET BLOKKEREN VAN ONGEWENSTE E-MAILS
Om perfect te voorkomen dat u e-mails van vreemden ontvangt, kunt u een tijdelijke e-maildienstwebsites gebruiken, zoals Instant-Email.org. Dit soort website genereert een tijdelijk e-mailadres voor u en u kunt dit e-mailadres gebruiken zoals u dat wilt. U kunt er e-mails over ontvangen en deze alleen voor tijdelijke doeleinden lezen. Lees voor meer informatie over deze service mijn complete gids erover.
Deze tutorial is vrij ongecompliceerd. Ik hoop dat je van mij leert en deel alsjeblieft met anderen!