Maak uw eigen wifi-hotspot met laptop of desktop
U kunt nu uw laptop of desktop in een wifi-router veranderen en eenvoudig onbeperkte hotspots creëren! Deel uw bestaande bekabelde / draadloze internetverbinding met anderen door uw eigen hotspot te creëren en hier uw eigen wachtwoord aan toe te wijzen. Je kunt ze zelfs vragen om te betalen als je wilt. Hier leest u hoe u het kunt doen.
Waarom een wifi-hotspot gebruiken?
Er zijn verschillende redenen waarom u een Wifi hotspot en sommige zijn als volgt:
Probleem 1: U heeft uw internetverbinding en wilt deze delen met anderen die dat niet hebben. Schakel vervolgens uw wifi-hotspot in.
Probleem 2: U wilt geld verdienen met uw internetverbinding en u wilt een WIFI Hotspot maken met een wachtwoord ervan waarin gebruikers eerst betalen voordat ze toegang krijgen.
Hoe maak je een wifi-hotspot met je Windows 10 desktop of laptop?
Volg de onderstaande instructies en sta versteld van hoe eenvoudig ze te implementeren zijn.
Methode 1:
Met behulp van de functie van Windows 10 OS
Maak een WIFI-hotspot op Windows 10
De eenvoudigste manier om dit te doen, is door Windows 10 te gebruiken, omdat je geen software van derden nodig hebt om je eigen wifi-hotspot te maken. U moet echter de nieuwste updates van deze versie van Windows installeren, aangezien deze functie eraan is toegevoegd.
Stap 1: Open de algemene instellingenvensters
Druk op de Windows-knop op uw toetsenbord en klik op het pictogram Instellingen "Versnelling".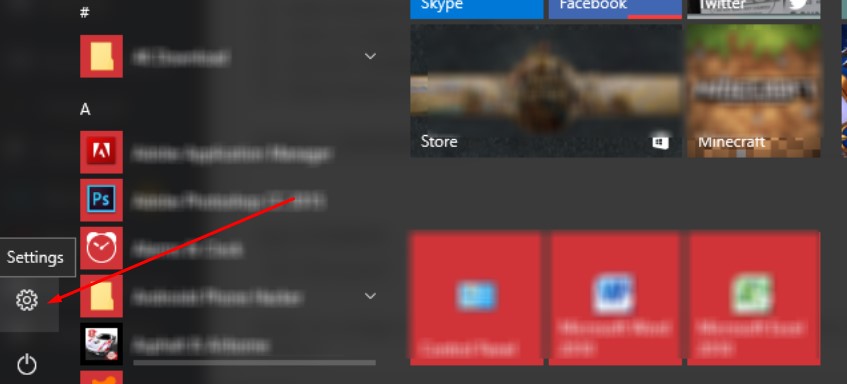 Stap 2: Klik op Netwerk- en internetinstellingen
Je hebt bijgewerkt ramen 10 zou deze functie beschikbaar moeten hebben en zou geen probleem moeten zijn om te vinden. Als u deze functie niet kunt vinden, werk dan uw Windows 10 bij.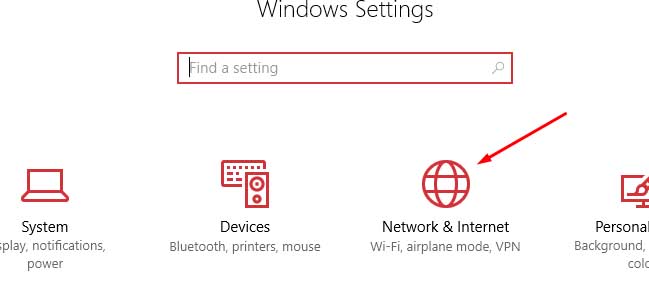 Stap 3: U kunt nu uw wifi-hotspot instellen
Klik op de mobiele hotspot en vink "Aan" aan. Bewerk uw wifi-naam en wachtwoord. U bent nu klaar om uw WIFI-hotspot aan anderen bekend te maken. Houd er rekening mee dat u maximaal 8 apparaten aan uw wifi-netwerk kunt toevoegen.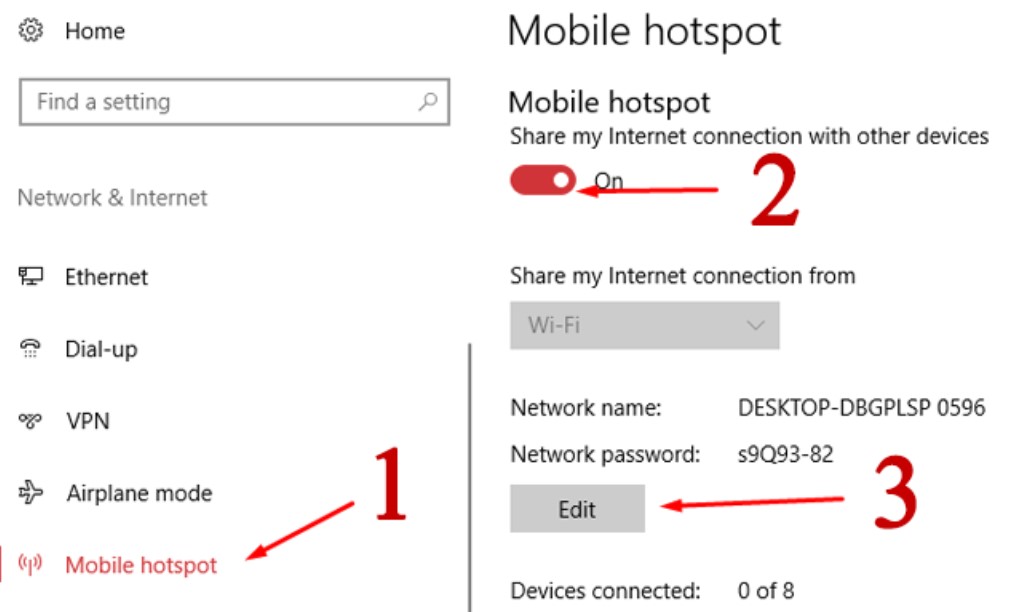 Op deze versie van Windows is alles heel eenvoudig te implementeren. Mocht u problemen ondervinden met deze tutorial, geef dan hieronder commentaar.
Methode 2: commerciële software gebruiken
Windows 7, Windows 8, Windows 8.1 en Windows 10 OS voor deze methode.
Bij deze methode gaan we commerciële software gebruiken die heel veel functies heeft als je serieus wilt worden met het commercialiseren van je internetverbinding. Enkele van de belangrijke kenmerken van deze software zijn dat u een beperking kunt toevoegen aan elk apparaat dat is verbonden met uw WIFI-hotspot. U kunt bijvoorbeeld de tijd beperken dat het apparaat is verbonden of de bandbreedte beperken die het apparaat moet gebruiken.
Maak een WIFI-hotspot met Connectify Hotspot
Klik op de knop "Nu kopen" als u de volledige versie van de software wilt kopen of klik op "Downloaden" om het product onmiddellijk te downloaden en de gratis versie te gebruiken met de beperking natuurlijk. Deze beperkingen zijn echter niet zo belangrijk, aangezien u nog steeds volledig gebruik kunt maken van de software.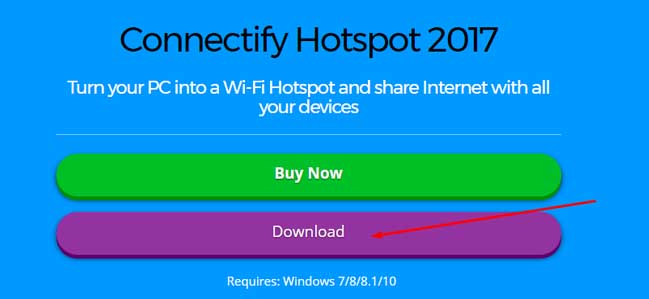 Stap 2: Installeer en open Connectify Hotspot 2017
Mogelijk moet u uw pc opnieuw opstarten om de software met succes te installeren. Na de installatie bent u nu klaar om Connectify Hotspot 2017 te gebruiken. Houd er rekening mee dat we de gratis versie van de software gebruiken, dus we kunnen de WIFI-naam niet wijzigen. U kunt het wifi-wachtwoord echter nog steeds bewerken. Daarna bent u klaar om uw Hotspot-verbinding te starten.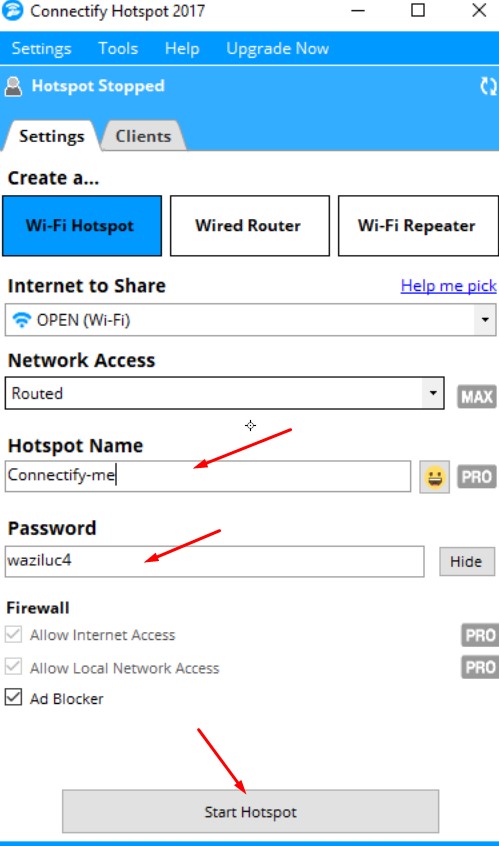 Stap 3: Controleer uw mobiel voor de hotspot
Ga naar uw mobiele WIFI-tabblad en controleer het WIFI-netwerk dat u zojuist hebt ingeschakeld.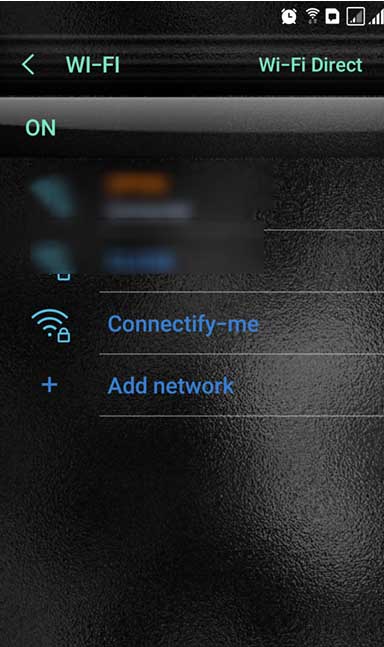 Herinneringen: Merk op dat u de hotspot die u met beide methoden hebt gemaakt, alleen kunt gebruiken wanneer uw pc is ingeschakeld.
Dus dat waren beide methoden die ik heb gebruikt en momenteel gebruik om een wifi-hotspot te creëren bij mij thuis en voor het publiek. Deel gerust uw eigen methode door hieronder te reageren. Bedankt voor het lezen.