Hackează conturile Snapchat cu ușurință!
Uşor Hack contul Snapchat se poate face cu ușurință dacă înveți cum să hack parola Snapchat. You should know that there are several ways to hack snapchat word, the best and simple way is to know the Snapchat Hack Secrets that you want to search for, and once you know cum să hack contul Snapchat, atunci puteți intra cu ușurință în snapchat-ul cuiva și puteți arăta tot ceea ce fac.
For those of you who aren't familiar with how to hack someone's accounts on social networks, there is good news. There are programs available that will able you to hack anyones snapchat account.
If you want to know how to hack someone's Snapchats, simply search for a website called "socialcheats.net". This is a website used by most snapchat hackers that refers to using software to bypass the layer of encryption that is present on most platforms in this case snapchat. With this tool, you can gain access to any snapchat account and read all the snaps that have been posted and of course get the users username account and password.
La socialcheats.net, puteți găsi 3rd-party spy apps, which is considered as the best option as it provides accurate information on these types of apps that currently are in use and that works well. These apps can help you learn how to hack pe cineva parola Snapchat, as there are several ways and also there are different ways of Snapchat hacks that allow you to take a peek of somebody's internet world. It allows you to view the individuals' images, videos, messages, which she/he has received or sent.
The hack that is provided at snaphackmaster este absolut diferit de orice alt hack pe care l-ați văzut înainte. Acesta este locul potrivit pentru a învăța cum să hack Snapchat hack contul contului deoarece este una dintre cele mai bune și ușor de utilizat platforme web pe care le puteți găsi pe Internet.
Hack SnapChat Accounts using SnapHackMaster.com

Începeți să hackerați conturile Snapchat
Faceți clic pe "CONT HACK "
Introduceți numele de utilizator al victimelor
Alegeți opțiunile pentru a hack parola și / sau a descărca jurnale de chat
Trageți și descărcați victimele numai imagini, videoclipuri singure sau chiar ambele!
De asemenea, puteți descărca istoricul victimei! Perfect pentru spionându-ți iubitul / iubita înșelător sau soția / soțul!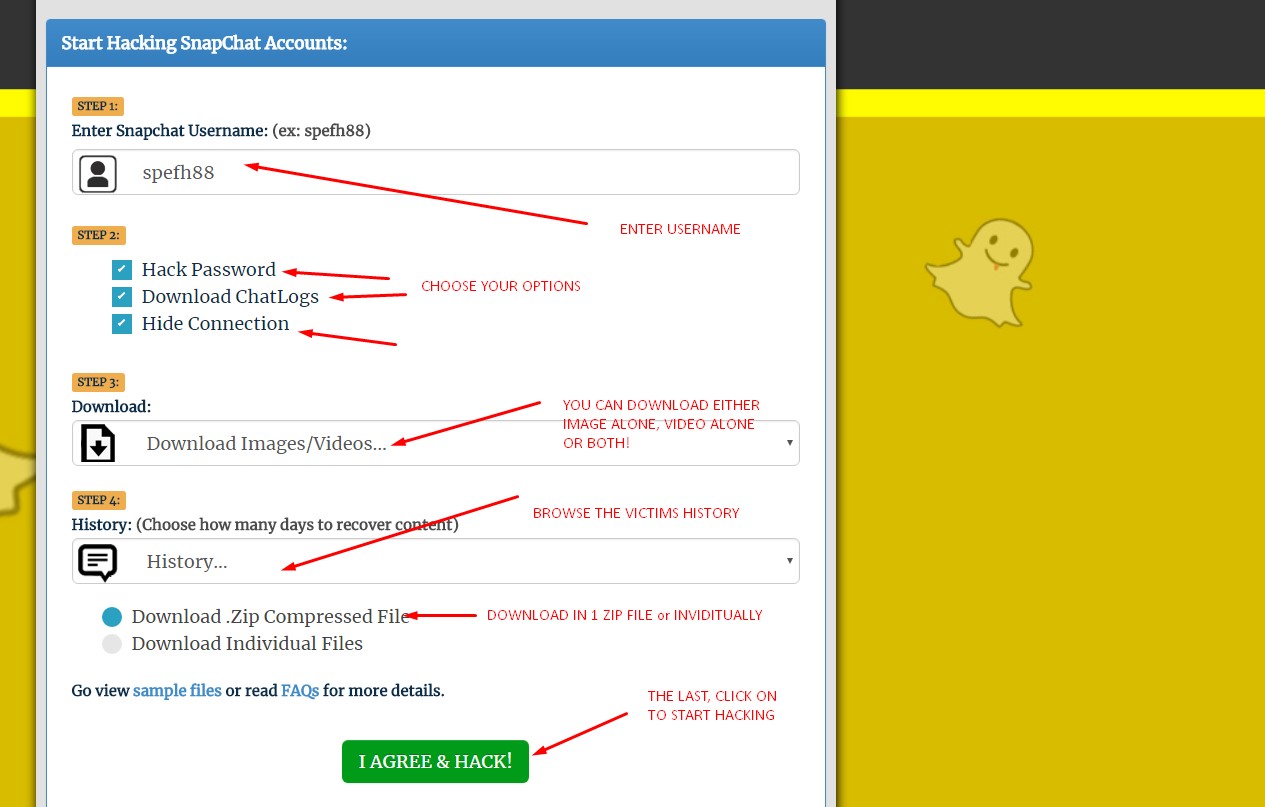 Cum functioneazã?
Această metodă este destul de similară cu hacking un cont WhatsApp. Cel mai bun hack instantaneu vă poate permite să intrați în orice cont de parolă Snapchat pe care îl doriți. Snapchat hack hack online allows you to crack into anybody's account, including your friend or a celebrity. The tool developed by professional actually works great; you may find various tools available online claims that they offer the better hacking results, but most of them do not really work. The best Snapchat hack app will offer multiple replacement servers and personal networks for all the web traffic. Also, with these Snapchat hack app, you don't need to worry about anything and nobody can find out that you are spying and nobody can ever figure out that you have parola Snapchat piratată.
Once you are done spying using Snapchat Spy App, then all the details will be taken out from the website servers. This hack tool works on all devices that have an internet connection. Using this hack tool to hack contul Snapchat este ușor și confidențial și nu creează nicio problemă pentru utilizatori. Puteți găsi instrucțiuni despre cum să utilizați instrumentul de hack, care oferă detalii complete și instrucțiuni despre un hacking parola Snapchapt.
Tot ce trebuie să faceți este să apăsați butonul mare pentru a începe procedura. Această metodă funcționează atât pe utilizatorii Android, cât și pe cei de la iPhone! Deci, puteți acum să hackuiți cu ușurință contul Snapchat, indiferent de sistemul de operare mobil. Pe site, puteți găsi două butoane pentru a începe procesul, unul în partea de jos și unul în partea de sus, trebuie doar să apăsați oricare dintre butoane și să începeți procesul.
După ce apăsați butonul, tastați numele de utilizator al persoanei pe care doriți să o spionați. Odată ce ați piratat contul, puteți vizualiza toate mesajele, imaginile și videoclipurile pe care persoanele le-au primit și le-au trimis din contul său. Puteți, de asemenea, salva informațiile pe care le-ați piratat pe dispozitivul dvs. mobil sau pe computer fără a fi prins.
ACTUALIZĂRI:
11-02-2018: Actualizat la un domeniu nou de la snaphackmaster.com la socialcheats.net
01-08-2019: Update on GUI – Very easy to use and improved performance
05-25-2019: Update on blocked domains. Added new glitching domains to infiltrate Snapchat encryption method.
03-10-2020: Improved importance and high accuracy rate on password decryption.
10-11-2020: Added new method on decrypting password hash.
01-20-2021: Added new method on accessing Snapchat password database according to users category.
[Articol sponsorizat]