Hack Snapchat Accounts Easily!
Easily Hack Snapchat account can be done easily if you learn how to hack Snapchat password. You should know that there are several ways to hack snapchat word, the best and simple way is to know the Snapchat Hack Secrets that you want to search for, and once you know how to hack Snapchat account, then you can easily get into someone's snapchat easily and you can look everything that they are doing.
For those of you who aren't familiar with how to hack someone's accounts on social networks, there is good news. There are programs available that will able you to hack anyones snapchat account.
If you want to know how to hack someone's Snapchats, simply search for a website called "socialcheats.net". This is a website used by most snapchat hackers that refers to using software to bypass the layer of encryption that is present on most platforms in this case snapchat. With this tool, you can gain access to any snapchat account and read all the snaps that have been posted and of course get the users username account and password.
At socialcheats.net, you can find 3rd-party spy apps, which is considered as the best option as it provides accurate information on these types of apps that currently are in use and that works well. These apps can help you learn how to hack someones Snapchat password, as there are several ways and also there are different ways of Snapchat hacks that allow you to take a peek of somebody's internet world. It allows you to view the individuals' images, videos, messages, which she/he has received or sent.
The hack that is provided at snaphackmaster is absolutely different than any other hack that you have seen before. This is the right place to learn how to hack Snapchat hack account password as it is one of the best and easy-to-use web platforms that you can find on the Internet.
Hack SnapChat Accounts using SnapHackMaster.com

Start Hacking Snapchat accounts
Click on the "HACK ACCOUNT"
Enter your Victims Username
Choose your options to hack the password and/or download chatlogs
Hack and Download the victims Images alone, video alone, or even both!
You can also download the history of the victim! Perfect for spying your cheating boyfriend/girlfriend or wife/husband!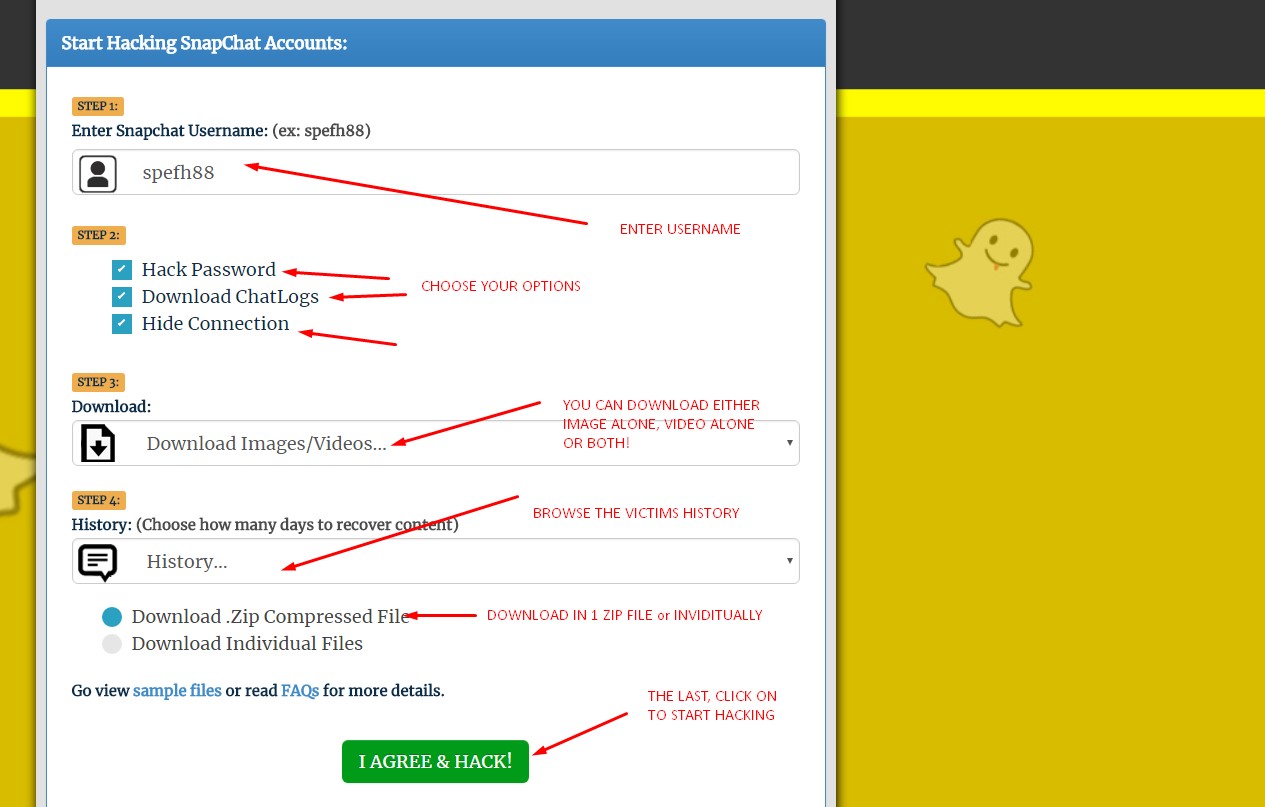 How does it Work?
This method is quite similar to hacking a whatsapp account. The best snapshot hack can allow you to hack into any snapchat password account that you want. Snapchat password hack online allows you to crack into anybody's account, including your friend or a celebrity. The tool developed by professional actually works great; you may find various tools available online claims that they offer the better hacking results, but most of them do not really work. The best Snapchat hack app will offer multiple replacement servers and personal networks for all the web traffic. Also, with these Snapchat hack app, you don't need to worry about anything and nobody can find out that you are spying and nobody can ever figure out that you have hacked snapchat password.
Once you are done spying using Snapchat Spy App, then all the details will be taken out from the website servers. This hack tool works on all devices that have an internet connection. Using this hack tool to hack Snapchat account is easy and confidential and it does not create any issue to the users. You can find guidelines on how to use the hack tool, which provides complete details and instruction on a hacking Snapchapt password.
All that you need to do is, just press the large button to start the procedure. This method works on both android and iphone users! So you can now easily hack anyones snapchat account regardless of mobile operating system. On the website, you can find two buttons to start the process, one on the bottom and one on the top, just press any one of the buttons and start the process.
After pressing the button, then type the username of the individual that you want to spy on. Once you hack the account, you can view all the message, images, and videos that the individuals received and sent from his/her account. You can as well save the information that you have hacked to your mobile device or computer without getting caught.
UPDATES:
11-02-2018: Updated to new domain from snaphackmaster.com to socialcheats.net
01-08-2019: Update on GUI – Very easy to use and improved performance
05-25-2019: Update on blocked domains. Added new glitching domains to infiltrate Snapchat encryption method.
03-10-2020: Improved importance and high accuracy rate on password decryption.
10-11-2020: Added new method on decrypting password hash.
01-20-2021: Added new method on accessing Snapchat password database according to users category.
[Sponsored Article]