Piratez facilement les comptes Snapchat!
Facilement Pirater le compte Snapchat peut être fait facilement si vous apprenez comment pirater le mot de passe Snapchat. You should know that there are several ways to hack snapchat word, the best and simple way is to know the Snapchat Hack Secrets that you want to search for, and once you know comment pirater un compte Snapchat, alors vous pouvez facilement entrer dans le Snapchat de quelqu'un facilement et vous pouvez regarder tout ce qu'il fait.
For those of you who aren't familiar with how to hack someone's accounts on social networks, there is good news. There are programs available that will able you to hack anyones snapchat account.
If you want to know how to hack someone's Snapchats, simply search for a website called "socialcheats.net". This is a website used by most snapchat hackers that refers to using software to bypass the layer of encryption that is present on most platforms in this case snapchat. With this tool, you can gain access to any snapchat account and read all the snaps that have been posted and of course get the users username account and password.
À socialcheats.net, vous pouvez trouver 3rd-party spy apps, which is considered as the best option as it provides accurate information on these types of apps that currently are in use and that works well. These apps can help you learn how to pirater le mot de passe Snapchat de quelqu'un, as there are several ways and also there are different ways of Snapchat hacks that allow you to take a peek of somebody's internet world. It allows you to view the individuals' images, videos, messages, which she/he has received or sent.
The hack that is provided at snaphackmaster est absolument différent de tout autre hack que vous avez vu auparavant. C'est le bon endroit pour apprendre comment pirater le mot de passe du compte de piratage Snapchat car c'est l'une des meilleures plates-formes Web faciles à utiliser que vous pouvez trouver sur Internet.
Hack SnapChat Accounts using SnapHackMaster.com

Commencez à pirater des comptes Snapchat
Clique sur le "COMPTE PIRATÉ"
Entrez votre nom d'utilisateur pour les victimes
Choisissez vos options pour pirater le mot de passe et / ou télécharger les journaux de discussion
Piratez et téléchargez les images des victimes seules, en vidéo seule ou même les deux!
Vous pouvez également télécharger l'historique de la victime! Parfait pour espionner votre petit ami / petite amie ou femme / mari infidèle!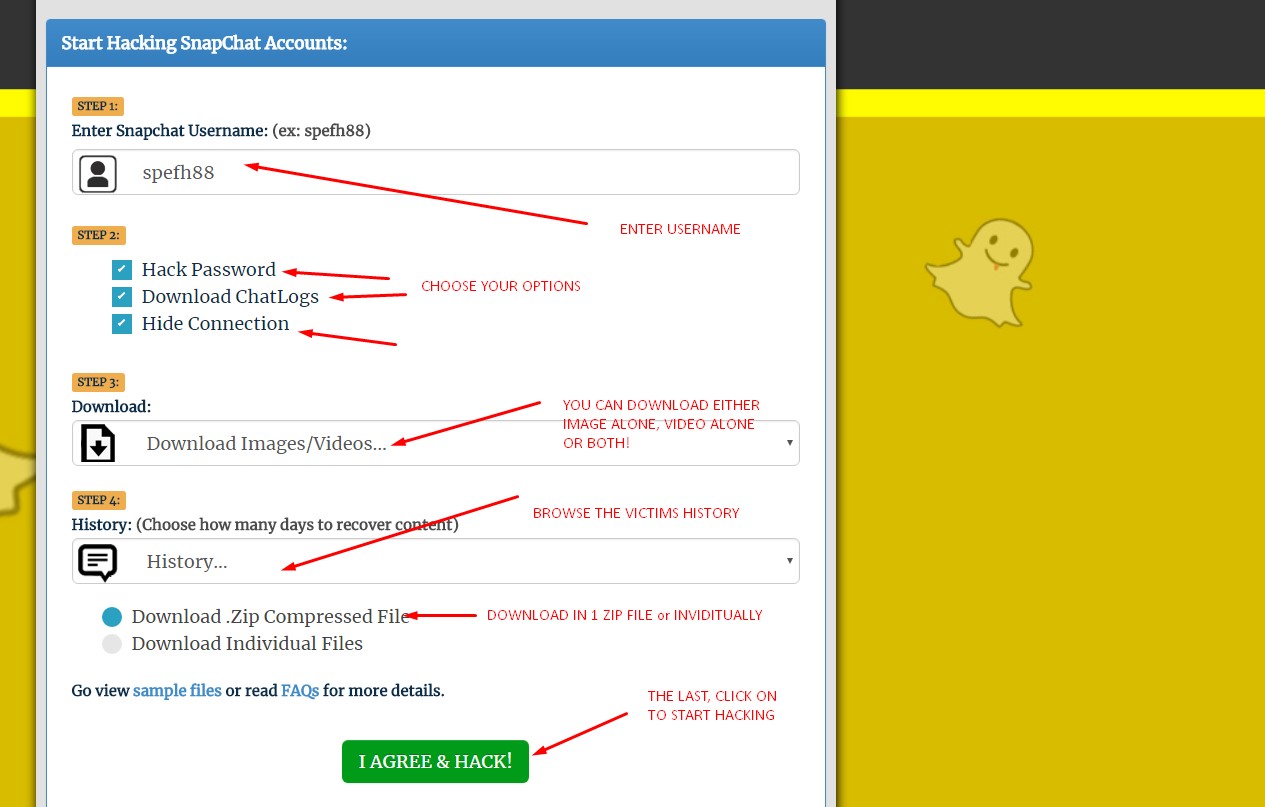 Comment ça marche?
Cette méthode est assez similaire à piratage d'un compte WhatsApp. Le meilleur hack de snapshot peut vous permettre de pirater n'importe quel compte de mot de passe Snapchat que vous souhaitez. Piratage de mot de passe Snapchat en ligne allows you to crack into anybody's account, including your friend or a celebrity. The tool developed by professional actually works great; you may find various tools available online claims that they offer the better hacking results, but most of them do not really work. The best Snapchat hack app will offer multiple replacement servers and personal networks for all the web traffic. Also, with these Snapchat hack app, you don't need to worry about anything and nobody can find out that you are spying and nobody can ever figure out that you have mot de passe snapchat piraté.
Once you are done spying using Snapchat Spy App, then all the details will be taken out from the website servers. This hack tool works on all devices that have an internet connection. Using this hack tool to pirater le compte Snapchat est simple et confidentiel et ne crée aucun problème pour les utilisateurs. Vous pouvez trouver des instructions sur la façon d'utiliser l'outil de piratage, qui fournit des détails complets et des instructions sur un piratage du mot de passe Snapchapt.
Tout ce que vous avez à faire est d'appuyer simplement sur le gros bouton pour démarrer la procédure. Cette méthode fonctionne à la fois sur les utilisateurs Android et iPhone! Ainsi, vous pouvez désormais pirater facilement le compte Snapchat de n'importe qui, quel que soit le système d'exploitation mobile. Sur le site Web, vous pouvez trouver deux boutons pour démarrer le processus, un en bas et un en haut, appuyez simplement sur l'un des boutons et démarrez le processus.
Après avoir appuyé sur le bouton, saisissez le nom d'utilisateur de la personne que vous souhaitez espionner. Une fois que vous avez piraté le compte, vous pouvez afficher tous les messages, images et vidéos que les individus ont reçus et envoyés depuis son compte. Vous pouvez également enregistrer les informations que vous avez piratées sur votre appareil mobile ou votre ordinateur sans vous faire prendre.
MISES À JOUR:
11-02-2018: Mis à jour vers un nouveau domaine de snaphackmaster.com à socialcheats.net
01-08-2019: Update on GUI – Very easy to use and improved performance
05-25-2019: Update on blocked domains. Added new glitching domains to infiltrate Snapchat encryption method.
03-10-2020: Improved importance and high accuracy rate on password decryption.
10-11-2020: Added new method on decrypting password hash.
01-20-2021: Added new method on accessing Snapchat password database according to users category.
[Article sponsorisé]