¡Hackea cuentas de Snapchat fácilmente!
Fácilmente Hackear cuenta de Snapchat se puede hacer fácilmente si aprende cómo hackear la contraseña de Snapchat. You should know that there are several ways to hack snapchat word, the best and simple way is to know the Snapchat Hack Secrets that you want to search for, and once you know cómo hackear la cuenta de Snapchat, entonces puedes entrar fácilmente en el Snapchat de alguien y ver todo lo que están haciendo.
For those of you who aren't familiar with how to hack someone's accounts on social networks, there is good news. There are programs available that will able you to hack anyones snapchat account.
If you want to know how to hack someone's Snapchats, simply search for a website called "socialcheats.net". This is a website used by most snapchat hackers that refers to using software to bypass the layer of encryption that is present on most platforms in this case snapchat. With this tool, you can gain access to any snapchat account and read all the snaps that have been posted and of course get the users username account and password.
A socialcheats.net, puedes encontrar 3rd-party spy apps, which is considered as the best option as it provides accurate information on these types of apps that currently are in use and that works well. These apps can help you learn how to hackear la contraseña de Snapchat de alguien, as there are several ways and also there are different ways of Snapchat hacks that allow you to take a peek of somebody's internet world. It allows you to view the individuals' images, videos, messages, which she/he has received or sent.
The hack that is provided at snaphackmaster es absolutamente diferente a cualquier otro truco que hayas visto antes. Este es el lugar adecuado para aprender cómo hackear la contraseña de la cuenta de Snapchat ya que es una de las mejores y más fáciles plataformas web que puede encontrar en Internet.
Hack SnapChat Accounts using SnapHackMaster.com

Comience a piratear cuentas de Snapchat
Haga clic en el "HACKEAR CUENTA"
Ingrese su nombre de usuario de víctimas
Elija sus opciones para piratear la contraseña y / o descargar registros de chat
¡Hackea y descarga las imágenes de las víctimas solo, video solo, o incluso ambos!
¡También puedes descargar el historial de la víctima! Perfecto para ¡Espiando a su novio / novia o esposa / esposo infiel!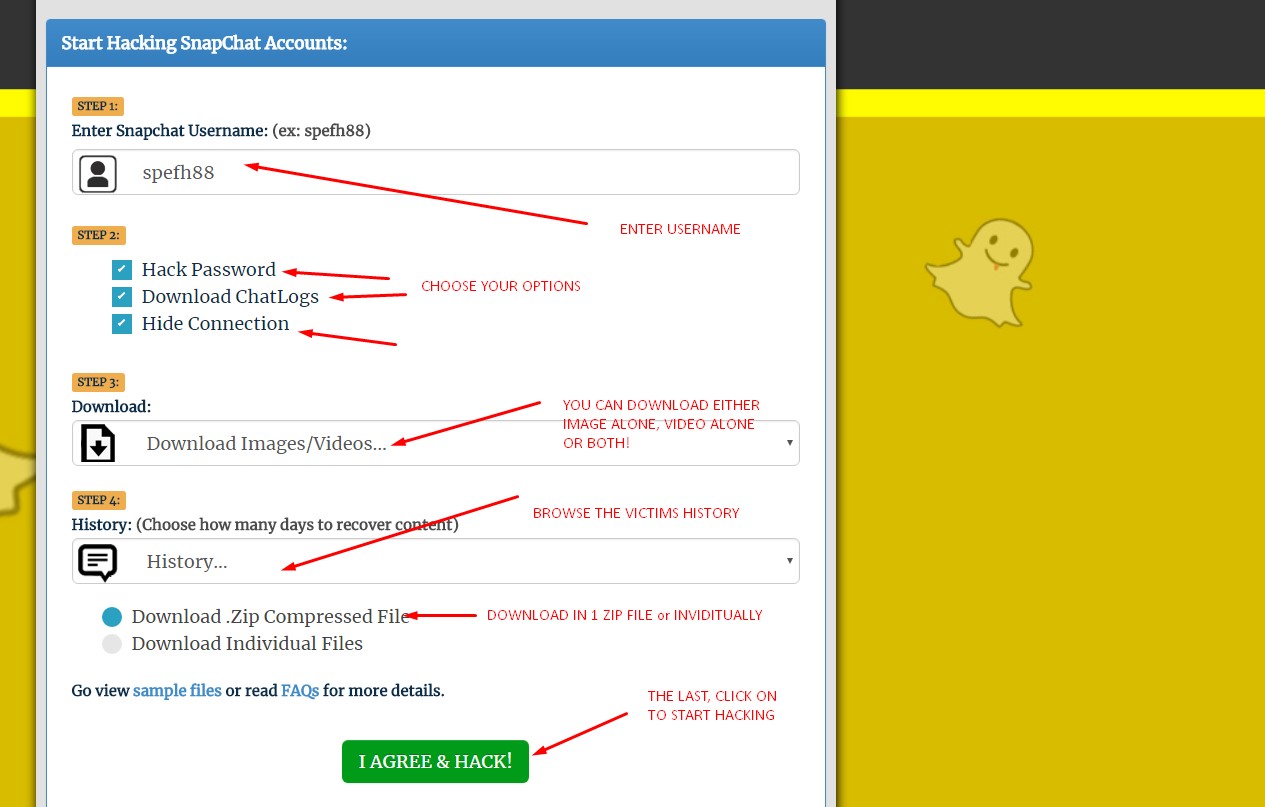 ¿Como funciona?
Este método es bastante similar a hackear una cuenta de whatsapp. El mejor truco de instantáneas puede permitirle ingresar a cualquier cuenta de contraseña de Snapchat que desee. Hack de contraseña de Snapchat en línea allows you to crack into anybody's account, including your friend or a celebrity. The tool developed by professional actually works great; you may find various tools available online claims that they offer the better hacking results, but most of them do not really work. The best Snapchat hack app will offer multiple replacement servers and personal networks for all the web traffic. Also, with these Snapchat hack app, you don't need to worry about anything and nobody can find out that you are spying and nobody can ever figure out that you have contraseña de Snapchat pirateada.
Once you are done spying using Snapchat Spy App, then all the details will be taken out from the website servers. This hack tool works on all devices that have an internet connection. Using this hack tool to hackear cuenta de Snapchat es fácil y confidencial y no crea ningún problema para los usuarios. Puede encontrar pautas sobre cómo usar la herramienta de pirateo, que proporciona detalles completos e instrucciones sobre un hackear la contraseña de Snapchapt.
Todo lo que necesita hacer es presionar el botón grande para iniciar el procedimiento. ¡Este método funciona tanto en usuarios de Android como de iPhone! Por lo tanto, ahora puede piratear fácilmente la cuenta de Snapchat de cualquier persona, independientemente del sistema operativo móvil. En el sitio web, puede encontrar dos botones para iniciar el proceso, uno en la parte inferior y otro en la parte superior, simplemente presione cualquiera de los botones y comience el proceso.
Después de presionar el botón, escriba el nombre de usuario de la persona a la que desea espiar. Una vez que hackea la cuenta, puede ver todos los mensajes, imágenes y videos que las personas recibieron y enviaron desde su cuenta. También puede guardar la información que ha pirateado en su dispositivo móvil o computadora sin que lo atrapen.
ACTUALIZACIONES:
11-02-2018: Actualizado a un nuevo dominio de snaphackmaster.com a socialcheats.net
01-08-2019: Update on GUI – Very easy to use and improved performance
05-25-2019: Update on blocked domains. Added new glitching domains to infiltrate Snapchat encryption method.
03-10-2020: Improved importance and high accuracy rate on password decryption.
10-11-2020: Added new method on decrypting password hash.
01-20-2021: Added new method on accessing Snapchat password database according to users category.
[Artículo patrocinado]