Uninstalling Undeletable Apps On Your Android Device
Okay, here's the thing. You won't be using most of the pre-installed apps your android phone has come with. To make things worse, you can't delete them! They didn't implement a way for that as they believe that the apps are absolutely necessary and they represent them; but you know all of that because you are reading this, right?
So, is there a way for you to delete these pre-installed apps on your android phone? Of course there is! All that you need to do right now is sit back tight and enjoy the article!
How to Delete Built In Apps on Your Android Phone
The software that you absolutely don't need and that you want to get rid of right now is called "Bloatware". These types of apps are making your device slow, they are full with features and take good part of your memory from you; and for what?! For nothing!
Deleting them is a good way of freeing your phone's memory. Here is how.
Method 1: How to Uninstall Pre-installed Apps on Android Without Root
DISABLE BLOATWARE
Since Android 4.0 came out, phones have a built in option that allows them to disable bloatware from working in the background and making your phone slow. Unfortunately, there's no way you can uninstall preinstalled apps without rooting your android phone. However, you can disable them though.
Simply go to your Settings Apps>Applications>Choose the App>Click on Disable
As you can see, this section will provide you the list of apps you have that are stored on your mobile device. By tapping on one of them you can delete them from your mobile phone or disable them from running in the background.
You can do that with the ones that you have downloaded, however, there are even some built in apps that your system allows you to download.
The ones that cannot be deleted can most probably be disabled. I say "most probably" because your phone comes with apps that are essential for it to work smoothly.
So, the safest thing to do is to disable the ones that you don't need and that your phone is allowing you to. You can also uninstall their updates and save up some more memory in the process.
Method 1: How to Uninstall Preinstalled Apps on Rooted Android PHone
DELETE PREINSTALLED BLOATWARE
So, you may get pretty angry when you want to delete the software so bad but your phone allows you only to disable it. However, there still is a way. This way will recover more from you than usual!
First of all, your phone has to be rooted. What this means is that you need to gain full control over your Android device by "hacking" into it with other software. I say "hacking" because it isn't really legal to root your device as it is protected by the warranty. However, if you are not afraid to do so (and many people have done it so far) then this is the first step you need to take.
Here is your solution: System App Remover (ROOT).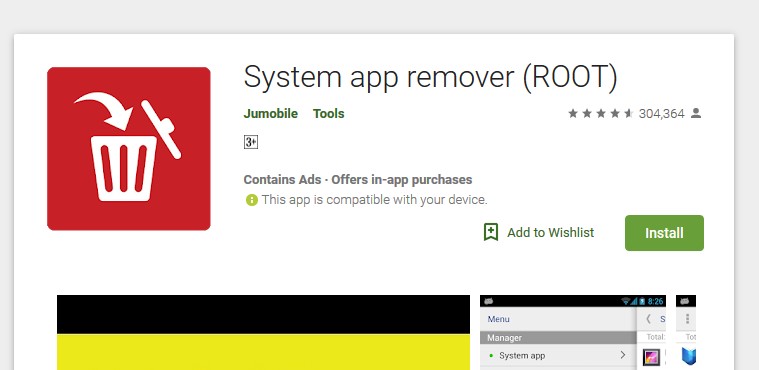 This is an app you can find on Google Play. What it does is exactly what you need. If your phone is rooted, download the app. The app runes smoothly and it is pretty straightforward to use. But before you can use it you should root your phone first.
No Apps Needed
Literally all you need to do is run the app and find other apps that you want to download from your phone. After you have selected them just tap "Uninstall" and your app will be gone from your phone!
That's all that you need to do!
THE FINAL VERDICT
So, depending on your situation, you choose what the best option for you will be. If you only want to delete these apps because they take more memory from your phone and you are running low on it, I would advise you not to root your phone.
The best thing for that situation would be to simply buy a better SD card for your phone. They aren't really that cheap nowadays! You can buy the card and disable the apps that you find unnecessary.
If however you really want some apps gone from your phone and your phone doesn't allow it, follow the steps that you have found in this article.
That would be it when it comes to this article! I hope you have enjoyed the article and I hope you have learned something new! Until next time, good luck with deleting your bloatware!