Use Android Apps on PC? We have a solution for that!
It is estimated that roughly 1.4 billion people from around the world use Android operating system for their phone. Providing a wide range of apps and games, Android is popular for its simplicity and potential. As there are many apps and games that are unique to Android, it is not uncommon to want to search for a way to bring the Android experience to your computer. With that in mind, let us take a moment to review the Logiciel d'émulation KOPLAYER et voyez comment il résiste aux logiciels concurrents actuellement disponibles.
Qu'est-ce que KOPLAYER?
KOPLAYER is free Android emulation software that is made for people with computers that run Windows operating systems. Recently, KOPLAYER also added support for MAC operating systems as well. KOPLAYER is a free emulation tool that is built on the x86 architecture. This means that KOPLAYER can support OpenGl and hardware acceleration. The benefit to people running KOPLAYER is an Android emulation tool that is faster and more reliable than the competition. Capable of supporting multiple accounts, KOPLAYER supports things like integrated Google Play, keyboard, gamepads, and video recording. With 99% of apps running on the KOPLAYER Android emulator, it has quickly become one of the best emulation tools out there.
Avantages
100% Logiciel GRATUIT qui n'a pas besoin de vous pour installer des applications sponsorisées. Au moins pour l'instant.
Ceux qui bénéficient le plus de KOPLAYER sont ceux qui aiment les jeux Android. Avec de nombreux jeux uniques au système Android, seul un émulateur de confiance comme KOPLAYER peut garantir que les jeux fonctionnent pleinement.
Les joueurs peuvent profiter d'un affichage net sur un écran d'ordinateur beaucoup plus grand au lieu d'avoir à plisser les yeux sur leurs appareils mobiles.
L'accès simplifié au clavier et à la liaison permet aux utilisateurs de créer leur configuration idéale, tandis que la capacité d'enregistrement vidéo vous permet de partager votre expérience avec d'autres. Si vous êtes intéressé par Pokemon Go, Clash of Clans, Clash Royale, Tahu Bulat, ROBLOX, Seven Knights, ou plus, l'émulateur KOPLAYER vous couvrira.
Un autre avantage majeur de l'émulateur KOPLAYER est qu'il bénéficie du soutien enthousiaste d'une équipe dédiée de programmeurs. Contrairement à d'autres émulateurs qui crachent et meurent à mesure que les créateurs perdent tout intérêt, KOPLAYER dispose d'une équipe suffisamment nombreuse pour que les mises à jour soient constantes et que l'accès reste ouvert.
En plus des mises à jour de l'émulateur, les créateurs de KOPLAYER publient également des guides sur la façon de jouer à certains jeux ou d'accéder à certaines applications pour mieux aider leurs clients.
Désavantages
If you are already familiar with a different Android emulator, than you may not want to go with KOPLAYER. While KOPLAYER takes a unique approach that provides more functionality and options, it will require getting familiar with a different emulator. BlueStacks, Andy, and MEmu all have their advantages and disadvantages that are worth checking out if you can't stand KOPLAYER. However, with a little bit of time spent installing and learning the emulating software, you may just want to consider KOPLAYER.
Un autre inconvénient de KOPLAYER est qu'il n'est actuellement pas pris en charge par MyBot, qui est largement considéré comme le meilleur bot gratuit de Clash of Clans disponible. Pour ceux qui aiment Clash of Clans et aiment les bots, envisagez plutôt BlueStacks.
Télécharger et installer
Téléchargez simplement KOPLAYER en visitant leur site officiel.
Installez le logiciel et vous avez terminé!
Ajoutez votre compte Google
Installez vos applications / jeux Android préférés et commencez à jouer.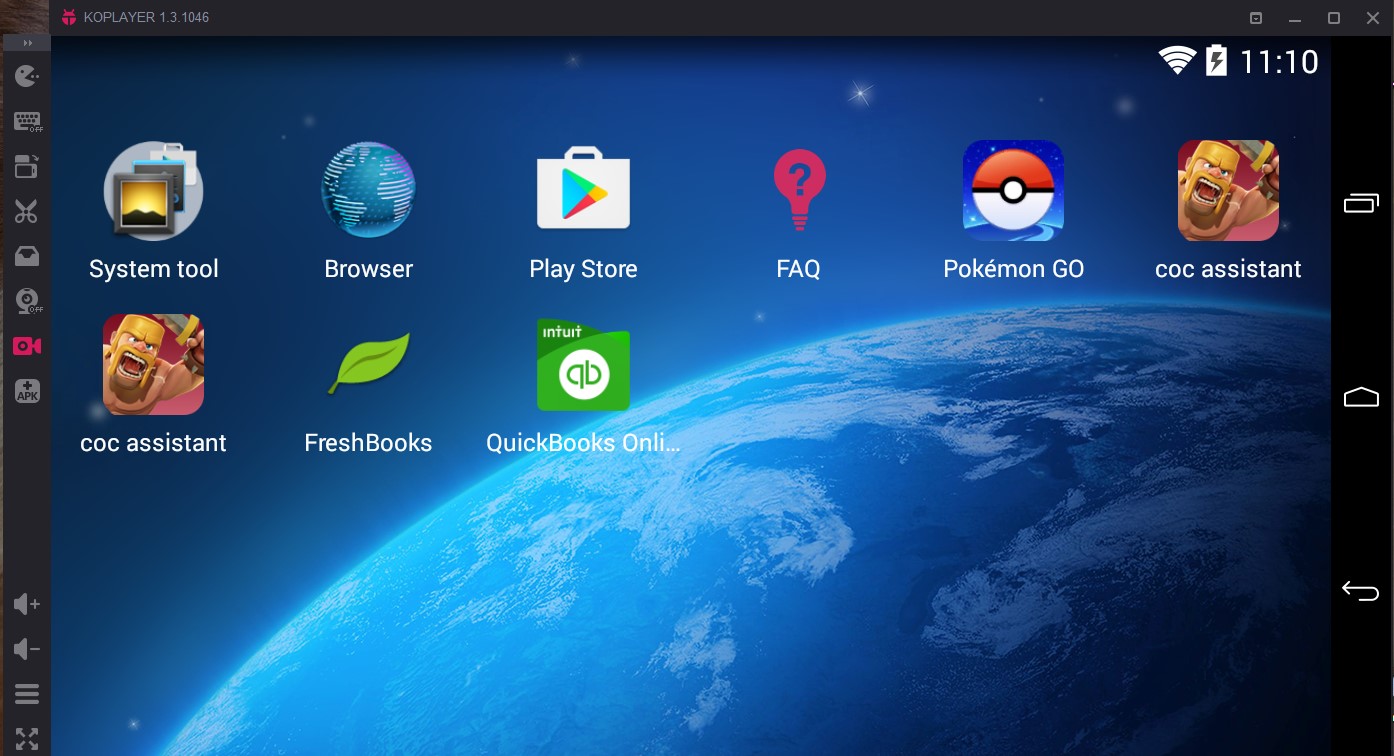 Désormais, utiliser des applications / jeux Android sur votre PC n'a jamais été aussi simple. Vous pouvez même accéder à votre compte de jeu stocké sur votre mobile sur votre PC, ajoutez simplement le compte Google que vous avez utilisé sur eux. Jouez à Clash of Clans sur PC, utilisez WhatsApp sur votre PC ce logiciel vous aidera certainement!
Vous pouvez également utiliser BlueStacks. Ce logiciel est 100% similaire à KOPlayer.