Use Android Apps on PC? We have a solution for that!
It is estimated that roughly 1.4 billion people from around the world use Android operating system for their phone. Providing a wide range of apps and games, Android is popular for its simplicity and potential. As there are many apps and games that are unique to Android, it is not uncommon to want to search for a way to bring the Android experience to your computer. With that in mind, let us take a moment to review the KOPLAYER-emulatiesoftware en kijk hoe goed het bestand is tegen concurrerende software die momenteel beschikbaar is.
Wat is KOPLAYER?
KOPLAYER is free Android emulation software that is made for people with computers that run Windows operating systems. Recently, KOPLAYER also added support for MAC operating systems as well. KOPLAYER is a free emulation tool that is built on the x86 architecture. This means that KOPLAYER can support OpenGl and hardware acceleration. The benefit to people running KOPLAYER is an Android emulation tool that is faster and more reliable than the competition. Capable of supporting multiple accounts, KOPLAYER supports things like integrated Google Play, keyboard, gamepads, and video recording. With 99% of apps running on the KOPLAYER Android emulator, it has quickly become one of the best emulation tools out there.
Voordelen
100% GRATIS software waarvoor u geen gesponsorde apps hoeft te installeren. Tenminste voor nu.
Degenen die het meest profiteren van KOPLAYER zijn degenen die houden van Android-gaming. Met veel games die uniek zijn voor het Android-systeem, kan alleen een vertrouwde emulator zoals KOPLAYER garanderen dat de games volledig werken.
Gamers kunnen genieten van een helder uitziend scherm op een veel groter computerscherm in plaats van te moeten turen op hun mobiele apparaten.
Dankzij de gestroomlijnde toegang tot het toetsenbord en de binding kunnen mensen hun ideale opstelling creëren, terwijl u via video-opname uw ervaringen met anderen kunt delen. Of je hierin geïnteresseerd bent Pokemon Go, Clash of Clans, Clash Royale, Tahu Bulat, ROBLOX, Seven Knights of meer, de KOPLAYER-emulator zal je helpen.
Een ander groot voordeel van de KOPLAYER-emulator is dat deze de enthousiaste ondersteuning heeft van een toegewijd team van programmeurs. In tegenstelling tot andere emulators die sputteren en sterven als de makers hun interesse verliezen, heeft KOPLAYER een groot genoeg toegewijd team dat updates constant is en de toegang open blijft.
Naast updates voor de emulator geven de makers van KOPLAYER ook handleidingen uit over het spelen van bepaalde games of het openen van bepaalde apps om hun klanten beter te helpen.
Nadelen
If you are already familiar with a different Android emulator, than you may not want to go with KOPLAYER. While KOPLAYER takes a unique approach that provides more functionality and options, it will require getting familiar with a different emulator. BlueStacks, Andy, and MEmu all have their advantages and disadvantages that are worth checking out if you can't stand KOPLAYER. However, with a little bit of time spent installing and learning the emulating software, you may just want to consider KOPLAYER.
Een ander nadeel van KOPLAYER is dat het momenteel niet wordt ondersteund door MyBot, die algemeen wordt beschouwd als de beste gratis beschikbare Clash of Clans-bot. Voor degenen die van Clash of Clans en van bots houden, overweeg in plaats daarvan BlueStacks.
Download en installeer
Gewoon downloaden KOPLAYER door hun officiële website.
Installeer de software en je bent klaar!
Voeg uw Google-account toe
Installeer je favoriete Android-apps / -games en begin met spelen.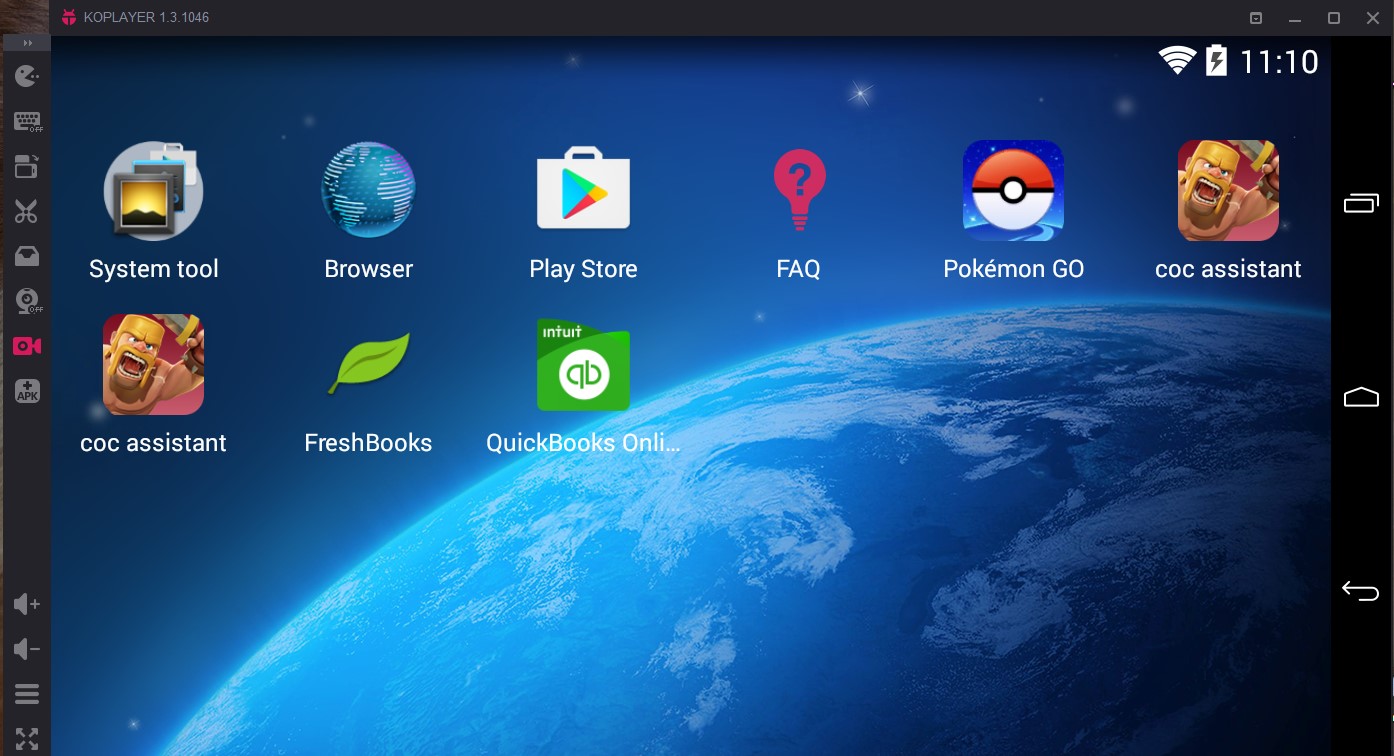 Het gebruik van Android-apps / -games op uw pc was nog nooit zo eenvoudig. Je hebt zelfs toegang tot je opgeslagen spelaccount op je mobiel naar je pc, voeg gewoon het Google-account toe dat je erop hebt gebruikt. Speel Clash of Clans op pc, gebruik WhatsApp op je pc deze software zal zeker een grote hulp voor je zijn!
Als alternatief kunt u ook BlueStacks gebruiken. Deze software is 100% vergelijkbaar met KOPlayer.