When downloading and using new applications on new smartphones, there is always something new that you could learn every day. The story is the same with new Whatsapp users. Whatsapp has more than a billion users, with thousands of downloads every day. It's easy to download and extremely easily to use, but the app comes with some hidden tricks and functions, which cannot be figured out during first use. These hidden features can be activated quite easily, but a user needs to know about the basic functions and features of Whatsapp first to activate these.
This guide is simply to make the entire process a whole lot easier for you. Here, we have listed some of the finest tricks and hidden features of Whatsapp that you can activate. But first, we will look at a few details regarding the app itself. So read on to find out more.
Whatsapp and How it Works
This wonderful app is the perfect little IM app available for almost all smartphone platforms. Once privately owned, the app was purchased by Mark Zuckerburg two years ago. Using this app, users can send images, audio messages, text messages, videos, and even call a friend using Wi Fi connectivity. This app has been named the most popular IM app in the entire world for 4 years in a row, and is very much justifiable, with wonderful features and over a billion users. The Whatsapp servers handle almost 250 million videos and more than 42 billion text messages almost every day.
We will now look at a few tips and tricks that you can unlock while you use Whatsapp. Read on to find out more.
Top 6 Whatsapp Tips and Tricks
Whatsapp comes with several hidden features which you should definitely try a hand at. Starting from simple things like deleting texts, to avoid blue ticks to keep your online status hidden, there are many tricks that you can read about that will surely make your Whatsapp usage much more meaningful. Given below are a few of these tricks:
1. Secure chats with passcode option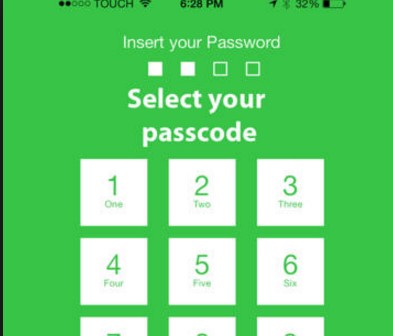 Whatsapp itself has no passcode feature, but if you download highly reviewed Android third party apps, you can easily secure all your chats with a PIN or password, so that no one else can read it. Apps like Smart AppLock, AppLock, Chat Block, etc, are perfect for an Android device. Apps like Whatsapp Locker and Lock for Whatsapp Messenger are perfect for Windows and Blackberry devices respectively.
---
2. Whatsapp on Web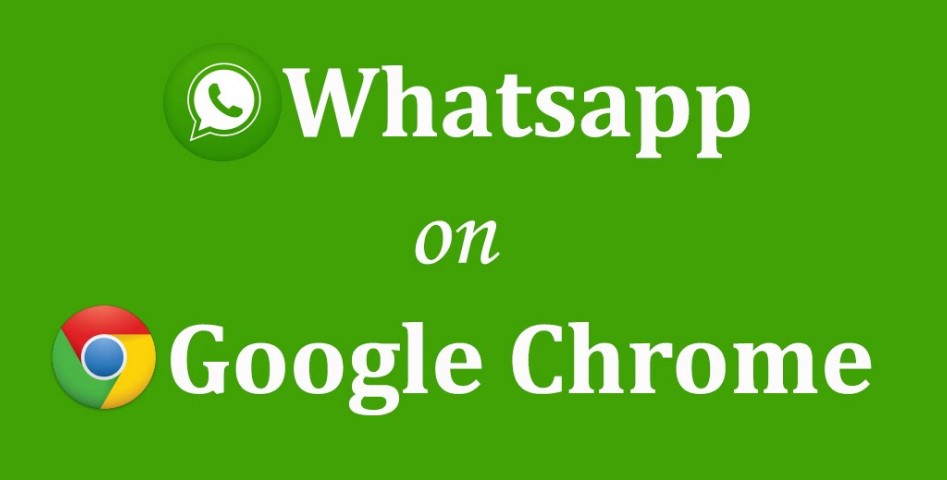 Whatsapp for Web – Desktop and laptop users can breathe a bit easy now. All smartphone users can now use their favorite IM app right from the comfort of their workstation or home PCs. You just need Google Chrome on your computer, open the Whatsapp on Web homepage, scan a particular QR code with the scanner on your app, and follow each and every instruction given after that.
All your chats and notifications will be provided on your desktop, using which, you can reply to each and every text you receive. Your phone needs to have an active data connection for the Whatsapp on Web feature to work, because without connection, the app and the web will be out of sync.
---
3. Keep read receipts and timestamps hidden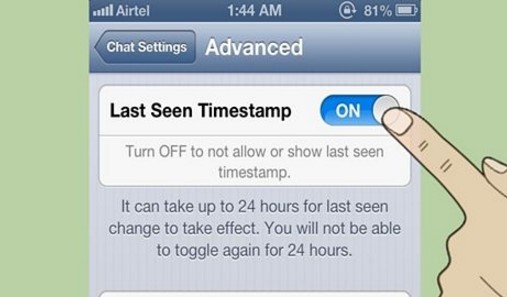 Your Whatsapp contact list comes with many features, such as the LAST SEEN feature under the user's name. This indicates the time when the user was last online. But if you, as a user, want to hide this information from anyone snooping around, you just need to go to Settings > Account > Privacy, and choose the privacy option you selected. Also, when someone sends you a text and you read it, that particular user can see a blue tick beside the message, stating that you have read the message. If you do not want to disclose whether or not you have read the message, simply go to Settings > Account > Privacy, and untick the box with the label READ RECEIPTS. These two options will surely maintain your privacy from stalkers.
---
4. Archiving all memorable and important chats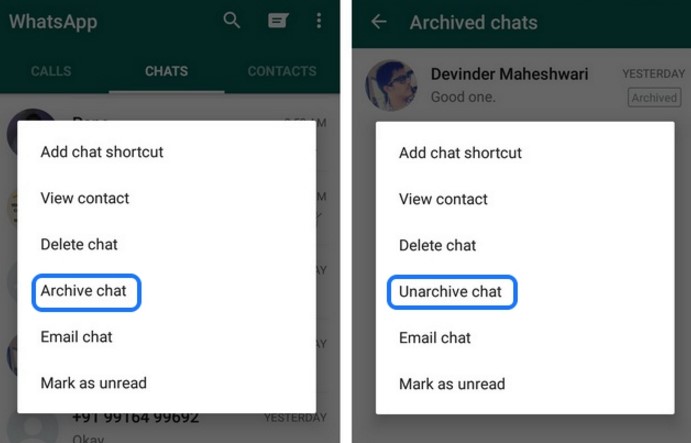 Some of the chats on your Whatsapp may be extremely memorable, or important for the kind of work you do. Sometimes chats might get deleted accidentally, and simply cannot be recovered. In such a case, archiving your chats is a much better idea. You can take a backup of all your chats on your SD Card or in your synched Google Drive so that they can be recovered or read when you need them. The option to archive all chats can be found in the settings menu of Whatsapp.
---
5. Determining the read time of your sent message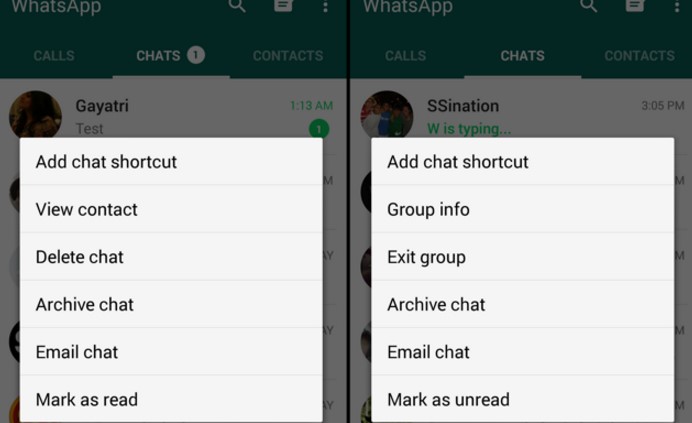 When you send a message to a certain user, check marks appear beside the message. A single check means the message is sent, a double grey check means the message has been delivered, and a double blue check means the message has been read. Now do you want to find out when your message was read and delivered? The process is quite simple. Long press the message till it is highlighted. Press the "i" button that appears on the top right corner after the message is highlighted, which will tell you the time of delivery and the time it was read.
---
Whatsapp does not showcase any advertisements, and has recently been declared as free for life. Earlier, a user had to pay a nominal subscription free after one year of free usage. But this new lifetime free usership has given rise to the number of users in the last one year. Any user can download the app from the Google Playstore for Android, iTunes store for Apple devices, OVI Store for Windows mobiles, and now it is also available on Blackberry smartphones as well. After downloading the app and installing it, you need to enter your mobile number for registration. You need to enter your real number because your contacts will be synchronized with your chat list on Whatsapp so that you can chat with your friends effectively.
Did you know that….
You can hack anyone's whatsapp account? Want to know more? Simply visit this link.